This Smoky Vegan Soup Offers Plenty Of Protein (And It's Freezer-Friendly)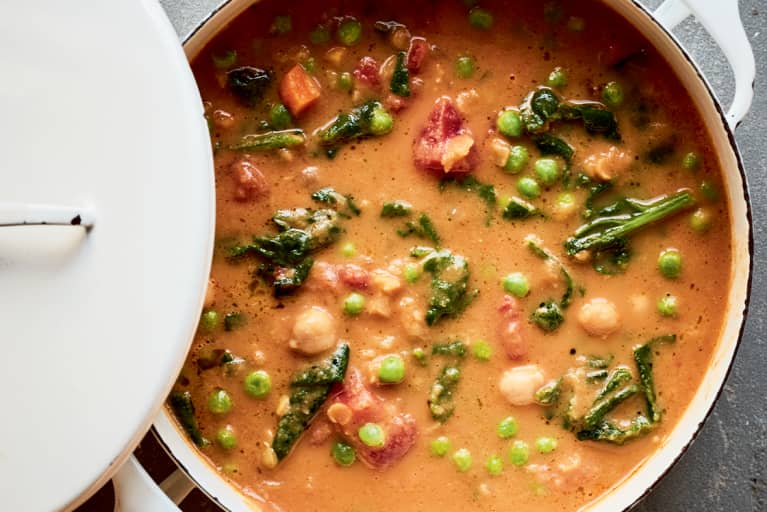 Our editors have independently chosen the products listed on this page. If you purchase something mentioned in this article, we may
earn a small commission
.
For a vegetarian recipe made almost entirely from pantry staples (and I mean true staples, not staples from some well-stocked dream kitchen), this soup is surprisingly delicious. It's thickened by pureeing a portion of the soup and then stirring it back into the pot. The soup takes just 30 minutes to come together, start to finish, yet tastes like you spent all day in the kitchen, and it's good for you, too. The soup can be frozen for up to 3 months. Defrost it overnight in the refrigerator and then reheat it on the stovetop over medium heat until hot.
It's important to use red lentils, as opposed to another variety, as they cook quickly and thicken the soup nicely. The recipe only calls for ⅓ cup; don't be tempted to add more or the soup will turn to sludge. For the cooked vegetables, feel free to use any quick-cooking, frozen, or leftover vegetables you have on hand. The recipe is extremely flexible and very hearty!
Smoky Chickpea, Red Lentil & Vegetable Soup
2 tablespoons olive oil
1 medium yellow onion, finely chopped
4 garlic cloves, minced
1 large carrot, diced
Heaping ¼ teaspoon smoked paprika
¾ teaspoon ground cumin
4 cups low-sodium vegetable broth
1 (14½-ounce) can diced tomatoes, with their juice
⅓ cup red lentils
½ teaspoon dried thyme
2 bay leaves
1 teaspoon salt
¼ teaspoon freshly ground black pepper
1 (15.5-ounce) can chickpeas, drained and rinsed
1 cup cooked vegetables, such as peas or chopped green beans
Heat the oil in a large saucepan or Dutch oven over medium heat. Add the onion and cook, stirring occasionally, until soft, about 5 minutes. Add the garlic, carrot, smoked paprika, and cumin; cook, stirring frequently so the garlic doesn't brown, about 2 minutes more.
Add the broth, diced tomatoes, lentils, thyme, bay leaves, salt, and pepper and bring to a boil. Cover the pot and reduce the heat to a simmer; cook for 10 minutes. Add the chickpeas, re-cover the pot, and cook 10 minutes more. Fish out the bay leaves.
Transfer 2 cups (480 mL) of the soup to a blender and puree until smooth, (Be sure to remove the center knob from the blender lid and cover the lid with a dishtowel to avoid splatters.) Add the pureed soup back to the pot and stir. Taste and adjust the seasoning if necessary; if you want the soup to be thicker, puree a bit more of the soup.
Add the cooked vegetables to the soup and simmer until the soup is hot and the vegetables are warmed through. Ladle the soup into bowls and serve.
Reprinted with permission from Once Upon a Chef: Weeknight/Weekend. Copyright © 2021 by Jennifer Segal. Photographs copyright © 2021 by Johnny Miller. Published by Clarkson Potter/Publishers, an imprint of Penguin Random House.