You Can Make These 10-Minute Plant-Based Pancakes Any Day Of The Week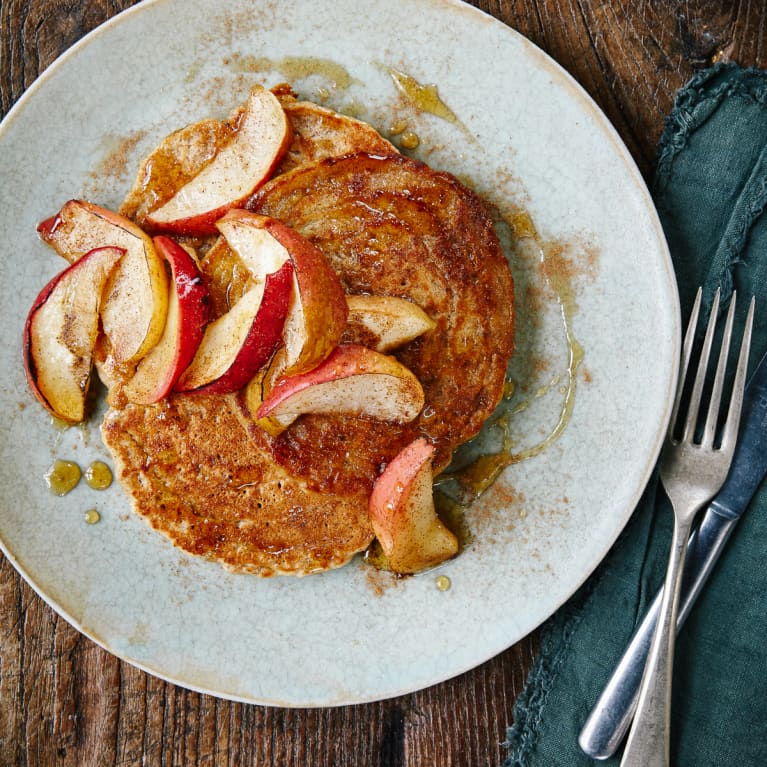 Matt is a pancake obsessive—he would have them every day for breakfast if he could—so these are a staple in our house. They couldn't be easier to throw together, and I love the mix of cinnamon, apple, and maple—it gives them such great flavor.
We normally have them just with lots of almond butter during the week or with these baked apple slices on the weekend.
200 g plain flour (we use gluten-free)
150 g porridge oats
1 teaspoon baking powder
1 teaspoon ground cinnamon, plus extra to serve
300 ml almond or oat milk, plus more if needed
5 tablespoons unsweetened apple purée
2 tablespoons maple syrup
1 teaspoon chia seeds
Coconut oil, for frying
1 apple, halved and cored
½ tablespoon coconut oil, melted
1 teaspoon coconut sugar
Ground cinnamon, to taste
If you're making the baked apple, preheat the oven to 180°C or 350°F. Cut each apple half into around 5 slices and mix with the coconut oil, coconut sugar, and a pinch of cinnamon. Spread out on a lined baking sheet and bake for 10 minutes until golden.
Place the flour, oats, baking powder, and cinnamon in a bowl, and slowly pour the almond or oat milk into the mixture, whisking until smooth.
Add the apple purée, maple syrup, and chia seeds, and stir through, then give the mixture a final whisk. It should be a smooth, thick batter—but you can add a little more almond or oat milk if you need to.
Place a large frying pan over medium heat and add the coconut oil—we normally start with about half a tablespoon. Once melted, spoon 3 tablespoons of batter into the pan to make a round pancake.
Let it cook for 1 to 2 minutes, until the top is no longer runny, then flip it over and let it cook for a further 2 minutes. Repeat with the rest of the mixture until all of the pancakes are ready. You can keep them warm in an oven set to 120ºC fan if needed.
Serve the pancakes with the baked apple slices and a pinch of cinnamon.