These Bliss Balls Have A Secret Ingredient That Will Make Your Skin Glow

Contributing Food Editor
By Liz Moody
Contributing Food Editor
Liz Moody is a food editor, recipe developer and green smoothie enthusiast. She received her creative writing and psychology degree from The University of California, Berkeley. Moody is the author of two cookbooks: Healthier Together and Glow Pops and the host of the Healthier Together podcast.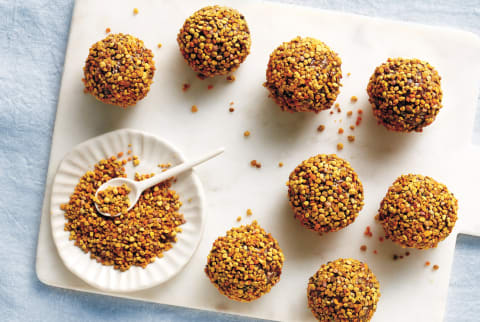 January 29, 2018
Kate Bradley's Bliss Bites: Vegan, Gluten- & Dairy-Free Treats From the Kenko Kitchen is filled with creative snack options. These bliss balls are like little bites of sunshine, designed to make your skin absolutely glow. They have good fats, omega-3s, and magnesium-rich pepitas, which can help combat the stress that's so often a skin saboteur. They also contain antioxidant-rich spices, hormone-balancing maca, and bee pollen, a potent anti-inflammatory that'll help reduce skin redness.
Get Ya Glow On Bliss Balls
These balls are a variation on my original superfood balls and will add brightness to any dull day! Not only do they look like balls of sunshine, but they are also packed with spices and seeds to help make you shine from the inside out! The bee pollen can be left out or substituted with desiccated (shredded) coconut for rolling.
60 g (2 oz / ½ cup) sunflower seeds
70 g (2½ oz / ½ cup) pepitas (pumpkin seeds)
40 g (1½ oz / ½ cup) white chia seeds
65 g (2¼ oz / ⅔ cup) pecan nuts
30 g (1 oz / ¼ cup) hemp seeds
2½ tablespoons bee pollen (optional)
1 tablespoon ground cinnamon
½ teaspoon ground turmeric
1 teaspoon maca powder
¼ teaspoon ground ginger
10 medjool dates (about 200 g / 7 oz), pitted
70 g (2½ oz) dried figs
1 teaspoon vanilla extract
90 g (3 oz / ¼ cup) raw honey or rice malt syrup
bee pollen or desiccated coconut, for rolling
Place the sunflower seeds, pepitas, and chia seeds in your food processor or blender and pulse them together until a fine meal forms. Add the pecans and pulse just a few times or until they are broken up but still have plenty of texture (see note below).
Transfer the mixture to a bowl and add the hemp seeds, bee pollen (if using), cinnamon, turmeric, maca powder, and ginger.
In the clean food processor or blender, place the dates, figs, vanilla, and honey, then process until everything is smooth.
Add the date mixture to the bowl with the dry ingredients, and use a wooden spoon to mix them together well. You may need to get your hands in there and really mush the ingredients together if mixing with a spoon is not doing the trick. (Just make sure you wash your hands first!) Add a tablespoon of water if the mixture seems too dry.
Take about a tablespoon of the mixture at a time and roll it into 2½-cm (1-in) balls. Roll the balls in the bee pollen or desiccated coconut to lightly coat, then place them in an airtight container and refrigerate or freeze them. These will keep for up to 2 weeks in the fridge and a couple of months in the freezer.
NOTE: If you want a softer truffle, pulse the ingredients until everything is a fine meal.
And do you want to turn your passion for wellbeing into a fulfilling career? Become a Certified Health Coach! Learn more here.