These Dill Roasted Chickpeas Are The Perfect Grab & Go Vegan Snack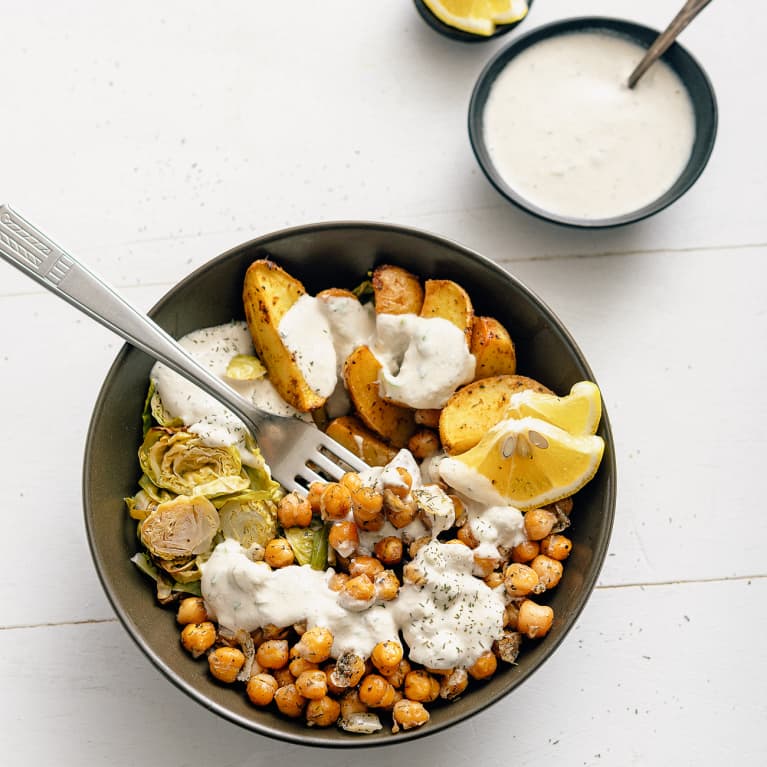 Our editors have independently chosen the products listed on this page. If you purchase something mentioned in this article, we may
earn a small commission
.
When it comes to vegan dishes, flavor is key. That's why these dill roasted chickpeas are the perfect side, snack, or main dish (yes, really!), depending on your hunger level. With a significant amount of protein and fiber, these chickpeas will keep you full and satiated long after the meal is over.
You could roast these chickpeas and snack on them on-the-go (perfect to satisfy you during long car rides) or pair them with potato wedges and Brussels sprouts and assemble them into the filling, aesthetically-pleasing dish below. We assure you that the result is a plant-based bowl of heaven.
Dill-Roasted Chickpeas With Potato Wedges
2 (15-ounce [425 g]) cans chickpeas, drained and rinsed
⅓ cup (45 g) diced yellow onion
2 teaspoons (10 ml) sunflower oil
1 teaspoon dried dill
½ teaspoon salt
½ teaspoon garlic powder
¼ teaspoon black pepper
1 pound (455 g) Yukon Gold potatoes, cut into wedges
2 teaspoons (10 ml) sunflower oil
2 teaspoons (4 g) lemon pepper
½ teaspoon paprika
Pinch salt
12 ounces (340 g) Brussels sprouts, shaved
½ cup (110 g) vegan sour cream
2 tablespoons (30 ml) water
1 tablespoon (3 g) minced chives
2 teaspoons (10 ml) lemon juice
¼ teaspoon dried dill
Pinch salt
4 lemon wedges
Preheat the oven to 400ºF (200ºC, or gas mark 6) and line two baking sheets with parchment paper.
In a bowl, combine the chickpeas, onion, oil, dill, salt, garlic powder, and pepper, tossing until evenly coated.
Spread the mixture out on one of the baking sheets.
In a bowl, combine the potatoes, oil, lemon pepper, paprika, and salt, tossing until evenly coated.
Spread the wedges out on the other baking sheet in a single layer. Place the baking sheets in the oven and roast for 20 minutes.
Flip the potatoes and move the chickpeas to one side of the baking sheet. Spread the Brussels sprouts next to the chickpeas. Put the sheets back in the oven on opposite racks and roast for another 20 minutes.
Meanwhile, whisk together vegan sour cream, water, chives, lemon juice, dried dill, and salt. Refrigerate the sauce until ready to serve.
To serve, divide the chickpeas, potatoes, Brussels sprouts, and lemon wedges between 4 bowls or storage containers. Drizzle with sour cream sauce just before serving. The sauce and the dishes can be stored separately in the refrigerator for up to 7 days.
And do you want to turn your passion for wellbeing into a fulfilling career? Become a Certified Health Coach! Learn more here.