This Vegan Beetroot Curry Is Easy To Make & Bursting With Flavor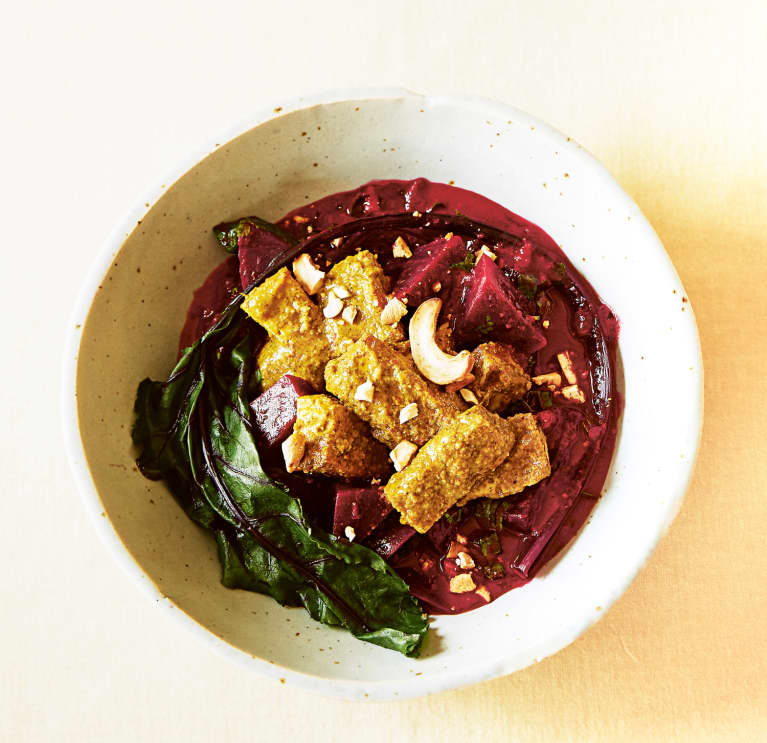 Our editors have independently chosen the products listed on this page. If you purchase something mentioned in this article, we may
earn a small commission
.
At mbg, we're always looking for new and creative ways to make our favorite meals. Enter Annie Nichols' Vegan Beetroot Curry: A take on a classic Indian dish that's jam-packed with veggies and fragrant flavors. The beets in this recipe are high in antioxidants and aid in liver detoxification, making this curry your ultimate staple for clean eating this fall.
What's more, this recipe includes tons of vitamin C with ingredients like ginger, lemon, and orange juice (hello, cold season!), and the cashew and peanut topping offers just the right amount of protein needed for a satisfying, nutrient-dense dinner, even if you decide to nix the tofu and leave the dish as is. The aromatic spices will make your kitchen smell so heavenly, and your friends and family will be shocked to know that whipping up this dish actually took no time at all (but you don't have to tell them that).
4 tbsp. vegetable oil
12 curry leaves (optional, but recommended)
75-g / 2⅔-oz. piece fresh ginger root, peeled and finely grated
4 cloves garlic, crushed
1 red chili, deseeded and finely chopped
6 green cardamom pods, crushed
1 tsp. ground cumin
1 cinnamon stick
finely grated zest and juice of 1 orange
400-g / 14-oz. can chopped tomatoes
400-ml / 14-fl.-oz. can coconut milk
1 liter / 4½ cups vegetable stock
8 raw beetroot (beets), with leaves if possible, peeled and cut into large chunks
1 tbsp. palm or light brown sugar, plus extra to taste
juice of 4 limes or 2 lemons, or a mix of both
small bunch of fresh coriander (cilantro), chopped
salt and freshly ground black pepper
handful of cashews, peanuts, or pecans, toasted and crushed, to serve
Heat the oil in a saucepan.
Add the curry leaves, if using, then add the garlic, ginger, chili, cardamom, cumin, cinnamon, and orange zest.
Stir fry for about 3 minutes, then add the orange juice, tomatoes, coconut milk, and stock.
Season, bring to a boil, add the chopped beetroot (beets) and sugar, and bring to a boil again.
Reduce the heat and simmer for 25 to 30 minutes, or until the beetroot is tender when tested with the point of a knife.
Meanwhile, wash the beetroot leaves. Remove and discard any thick stalks, and chop the leaves roughly. Once the beetroot is tender, stir the leaves into the pot and cook until tender.
Check the curry for seasoning, and squeeze in half of the lime or lemon juice.
Taste, adding more juice and sugar if desired, then stir in the chopped coriander (cilantro).
Serve the curry topped with tofu and crushed nuts (optional, but totally recommended).
And do you want to turn your passion for wellbeing into a fulfilling career? Become a Certified Health Coach! Learn more here.