3 Yoga Poses That Have Completely Unexpected Mental Benefits
mbg Contributor
By Leigh Weingus
mbg Contributor
Leigh Weingus is a New York City based freelance journalist writing about health, wellness, feminism, entertainment, personal finance, and more. She received her bachelor's in English and Communication from the University of California, Davis.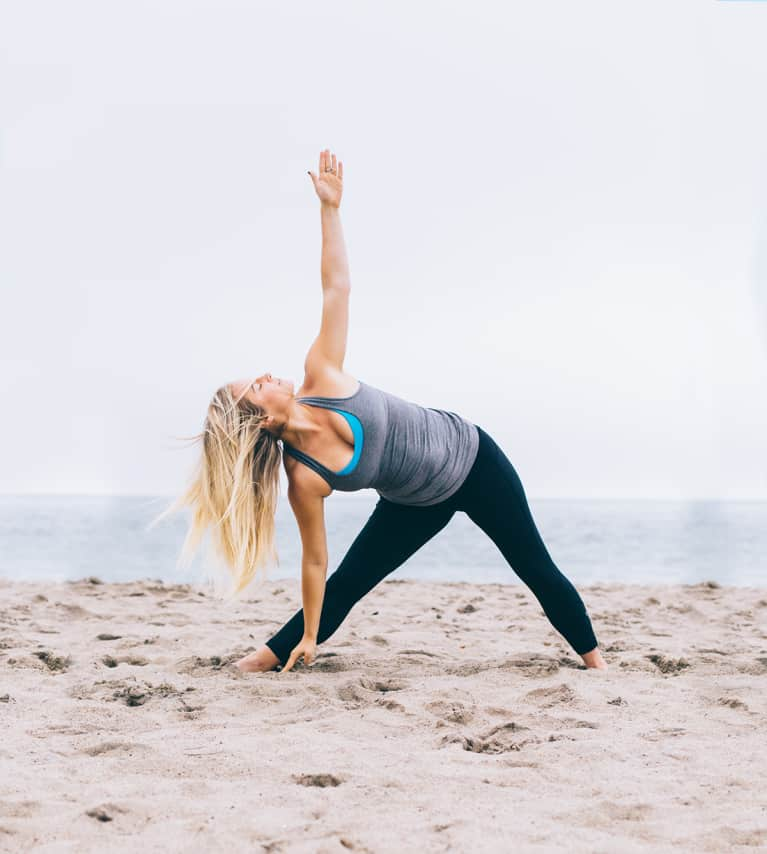 Our editors have independently chosen the products listed on this page. If you purchase something mentioned in this article, we may
earn a small commission
.
Although I've been practicing yoga for a decade, I often shy away from more advanced poses unless I'm feeling unusually ambitious. I rarely do handstands, and I even skip crow pose half the times my teacher suggests it in class. Most of the time I'm convinced I won't be able to do these poses, so why bother? But a recent conversation with Jordan Younger, also known as The Balanced Blonde and author of Breaking Vegan, got me thinking: Maybe those intimidating advanced poses are worth it.
Why? They have some awesome benefits, and as Jordan pointed out, the intimidation factor is often in our heads. "There are so many advanced poses we can challenge ourselves with that people just assume they can't do because they've never done it before," she told me. "Or maybe they've just never tried them. But they're worth trying. You can use the wall! Hold each of these poses for 30 seconds and you'll feel a huge difference."
Here are Jordan's favorite advanced yoga poses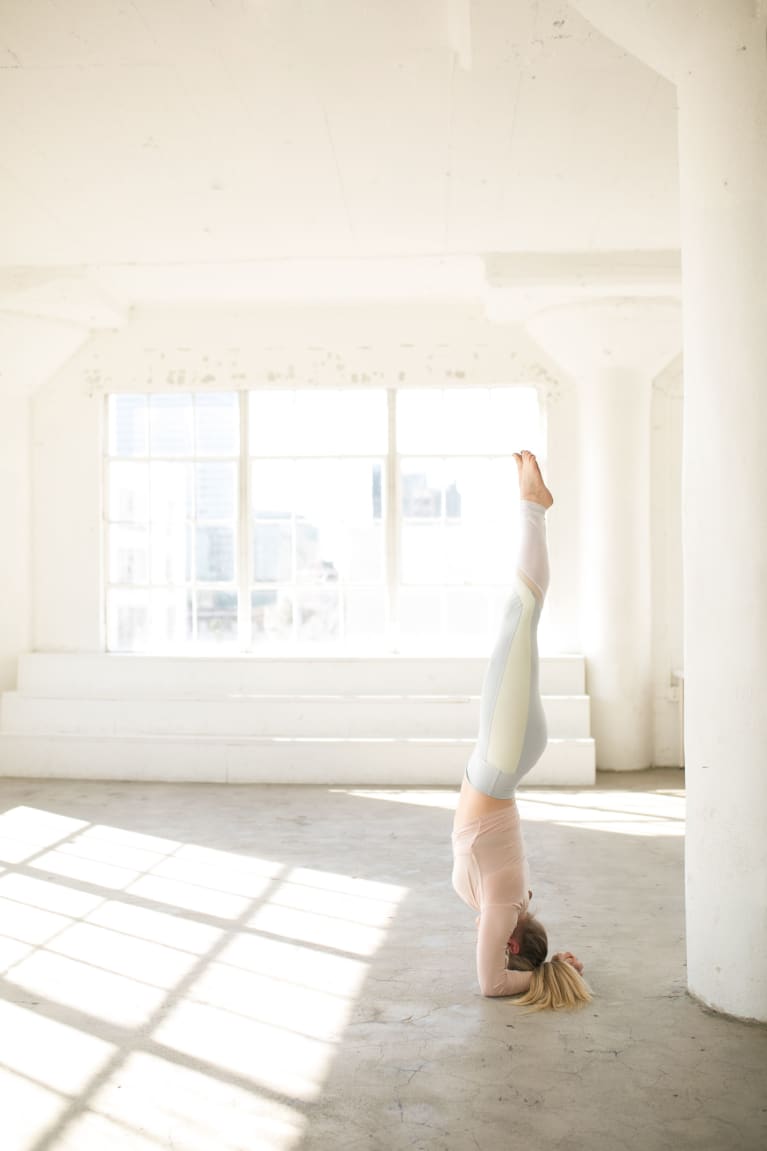 I love forearm stand. To come into it, just come onto your forearms, walk your feet in like you're in dolphin, and kick up into forearm stand. It's such an energizing pose. I do it if I'm feeling really stressed or panicked. Just going into an inversion like that is so good for stress release. I do them all day long.
I would recommend doing a short, at-home home flow before kicking up into forearm stand. This pose is particularly amazing because you play around with taking your toes off the wall, and it shows people that they're a lot stronger than they think they are. Then, if you do it a little farther away from the wall, you can do the hollow back and come into scorpion. It's such a heart opener. If you're breathing into that heart space and you come out of the pose and do it a few times, you'll feel like a different person.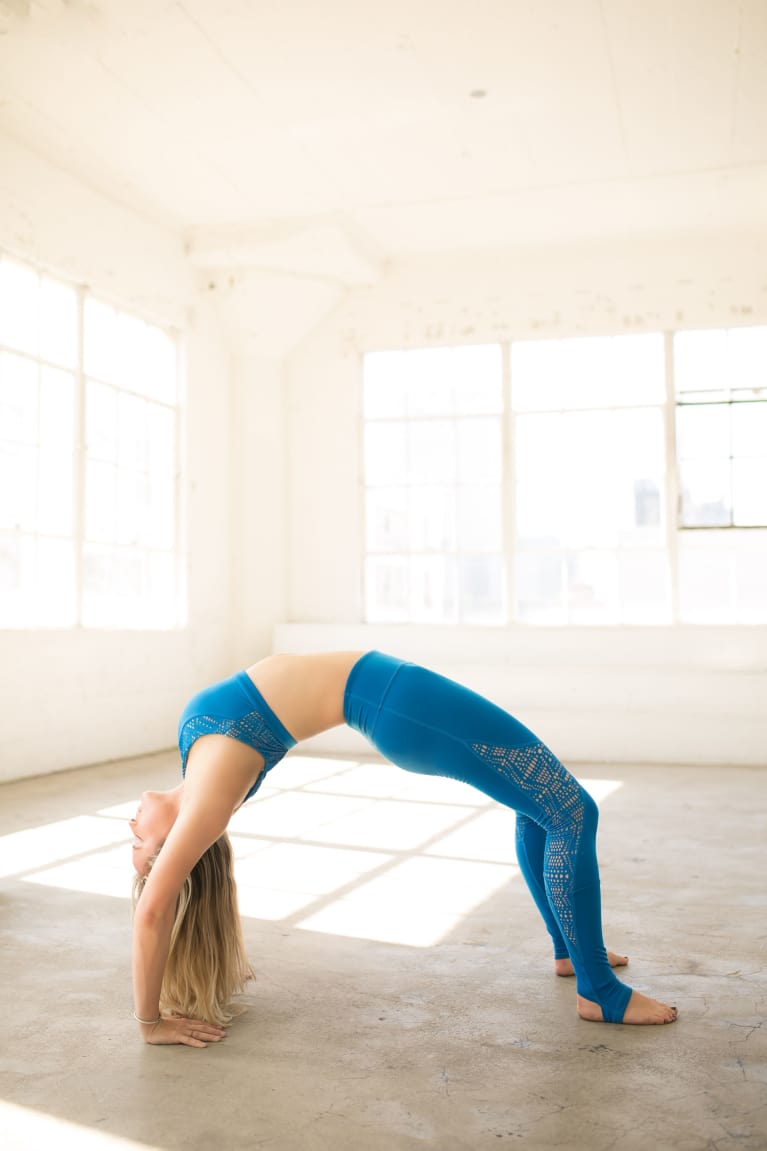 Wheel pose revs up your energy, opens up your heart space, and alleviates blocked stress. It's also great for anyone who sits a lot because it opens up the shoulders and back. It also opens up the throat chakra, which is great for those of us who work from home and maybe haven't talked all day. So if you do have to hop on a phone call or do a podcast recording, in my case, you're more primed for that.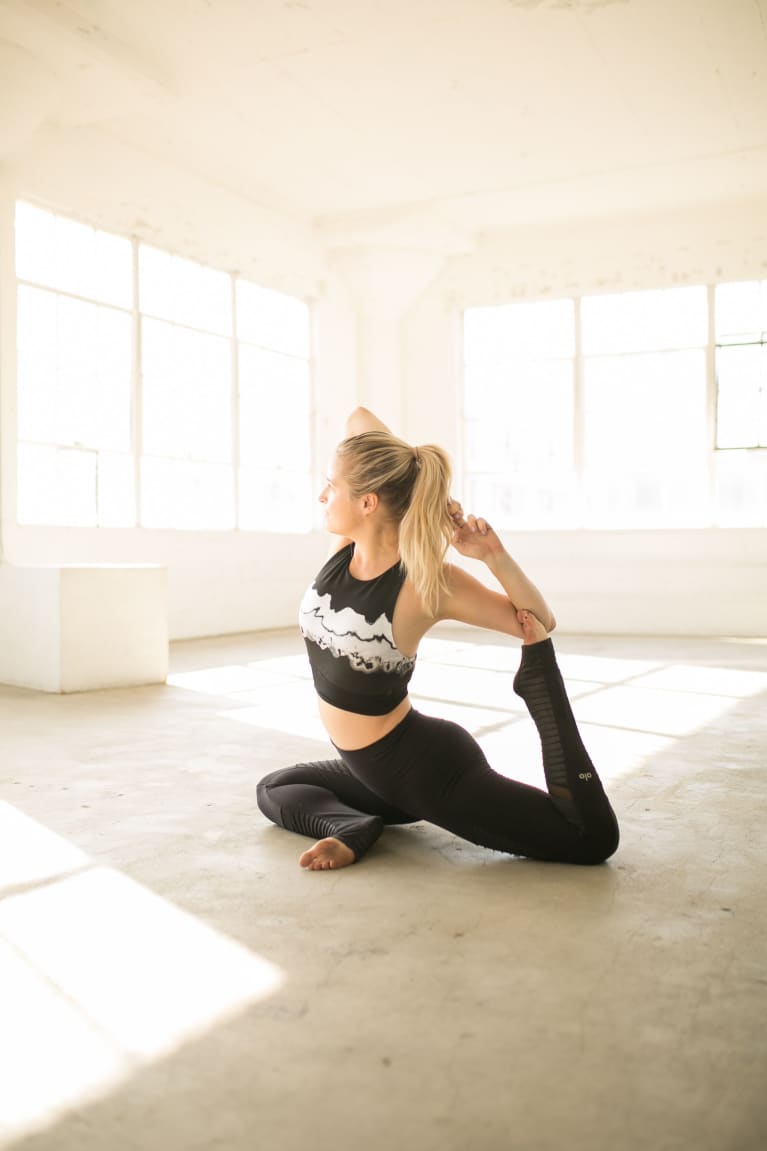 People think they can't do this one, but most of the time they can. You don't have to fully bind behind your head, but you can come into pigeon, bend your back knee, and give yourself a little thigh stretch. I love this pose because hip openers are so good for stress release and emotional release.
In Chinese medicine, they say our hips are what carry us through life. Our hips know where we're supposed to go and carry that blocked emotion. So if you feel stuck—whether it's in your relationship, career, or something else—if you hold those hip openers and go deeper, you'll get so many benefits.