Faster Than Takeout: These 5-Ingredient Recipes Will Get Dinner On Your Table, Stat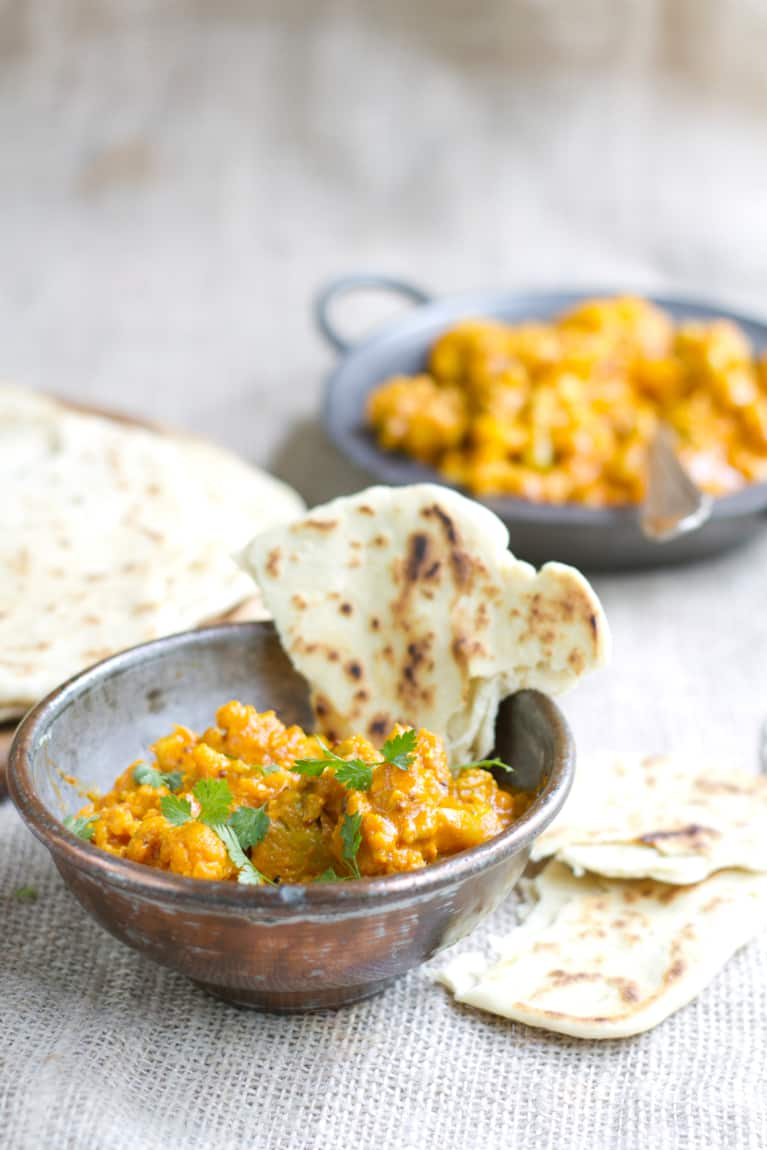 Ever have one of those days where nothing goes as planned?
Me too.
I know it can be tempting to reach for the delivery menu when things are hectic and chaotic. But as you know, that's when you actually need a good home-cooked meal even more. Something to nurture and nourish.
This is where it's invaluable to have an extremely simple recipe (or three!) in your repertoire. Knowing how to pull together a quick dinner with only a handful of ingredients with minimal steps and minimal equipment is a game changer.
It can change dinner prep from another stressful task to cross off your list to a chance to relax and unwind.
Here are three of my favorite five-Ingredient dinners that all only use one pot or pan—so easy to cleanup as well!
Sweet Potato + Chickpea Tagine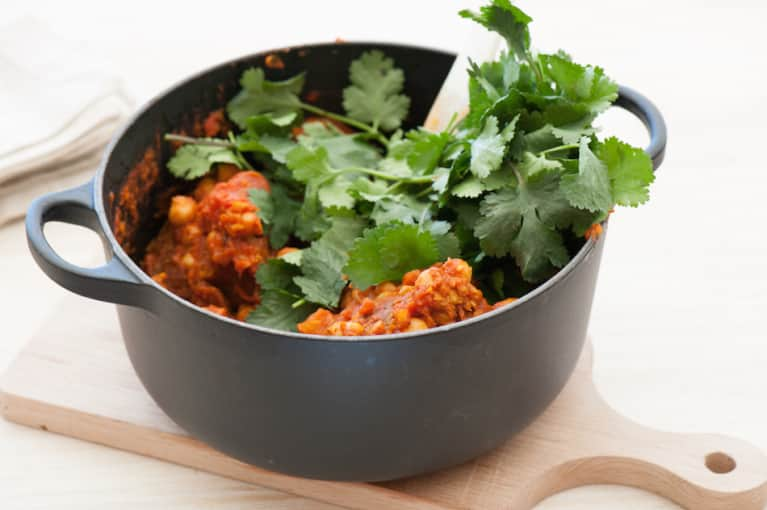 A tagine is just the Moroccan version of a stew. They come in all sorts of varieties, but I particularly love this combo of chickpeas and sweet potato. The spices really bring this dish to life.
If you can get your hands on the Moroccan spice blend "ras el hanout" that's great, but if not, just use 1 teaspoon each of ground turmeric, ground coriander, and ground ginger.
Takes: 40 minutes
Serves 2
Ingredients
1 can chickpeas (14oz / 400g), drained
1 tablespoon ras el hanout (or see variations below)
1 can tomatoes (14oz / 400g)
2 small sweet potatoes, chopped into 1-inch chunks
1 bunch cilantro (coriander), chopped
Method
1. Heat a medium pot on medium heat. Add a little oil and cook the spice for 30 seconds.
2. Add tomatoes and sweet potato. Simmer covered for 20 minutes.
3. Stir and continue to cook uncovered for another 10 to 15 minutes or until the sweet potato is cooked and the sauce is reduced and thickened slightly.
4. Add chickpeas to the pot. Allow to warm through.
5. Taste. Season with salt and pepper. Serve with cilantro on top.
No ras el hanout?: Replace with 1 teaspoon each of ground turmeric, coriander, and ginger or another Moroccan spice blend.
Different legumes: Replace chickpeas with 240g (9oz) cooked or canned lentils or beans.
Different herbs: Mint or basil are also lovely here. Or use baby spinach or some salad for the greenery.
More veg: Feel free to add in whatever veg you feel like. If they need cooking, allow extra time to simmer in the sauce with the lid on.
More protein: Serve with toasted pine nuts or almonds. Some cooked chicken or spicy sausages can also be a nice addition.
More authentic: Add in ¼ preserved lemon finely sliced.
Carb lovers / more substantial: Serve with couscous.
Short on time: Replace sweet potato with an extra can of chickpeas. Simmer uncovered for 5 minutes.
Tomatoey Lentils With Feta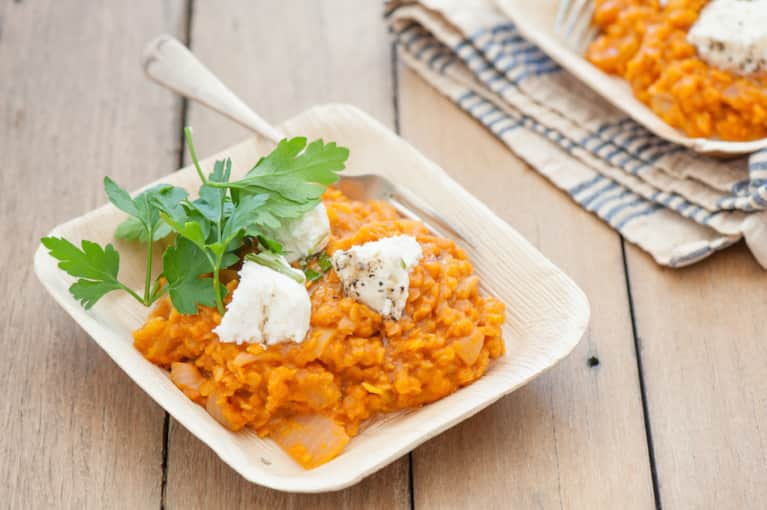 This is essentially a "risotto" made a bit healthier by using red lentils, which have much more protein and fiber. The best news is you get that lovely oozy risotto texture with hardly any stirring effort at all, so it's actually easier than a risotto as well.
Takes: 30 minutes
Serves 2
Ingredients
1 onion, peeled and chopped
4 tablespoons tomato paste
3 cups water
7oz (200g) dried red lentils
2 handfuls marinated feta
1 bunch flat-leaf parsley, leaves picked
Method
1. Heat a little oil in a medium saucepan and cook onion over medium heat until soft but not brown. About 5 to 10 minutes.
2. Add lentils, tomato paste, and 3 cups water.
3. Bring to a simmer and cook uncovered, stirring every now and then for about 15 minutes or until the lentils are tender and everything is oozy.
4. Taste and season with salt. Divide between two plates and serve hot topped with feta and parsley.
Short on time?: Skip the onion and bring the water to a boil in the kettle before adding to the pot.
Creamier: Stir in a few tablespoons of butter at the end for an even richer dish.
Vegan / dairy-free: Replace the feta with grilled eggplant slices or semi-dried tomatoes for some flavor and textural excitement.
Different cheese: Regular feta can be nice or try sliced brie or shaved pParmesan.
Different lentils: Red lentils are the best because they cook so quickly. Other lentils can be used, but be prepared for them to take longer to cook, up to 40 minutes for some.
Carnivore: Add cooked chorizo or other sausage.
Carb lovers / more substantial: Serve with crusty bread and butter or wrapped in warm tortillas.
More veg: Stir in baby spinach or shredded kale at the end.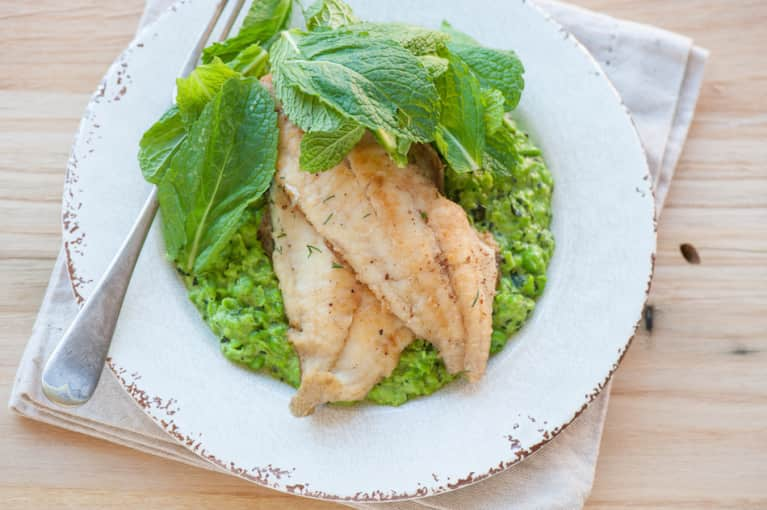 Frozen peas are such a brilliant vegetable to keep on hand. I love how they will sit patiently in the freezer until you need some fresh greenness. While the pea puree is super tasty with fish it also goes well with chicken or even lamb cutlets.
Takes: 15 minutes
Serves 2
Ingredients
1lb (450g) frozen peas
4 tablespoons butter
2 tablespoons lemon juice
1 bunch mint, leaves picked
Method
1. Heat a frying pan on a medium-high heat. Rub fish with oil and season. Cook non-skin-side down for 3 minutes or until golden brown.
2. Turn the fish and cook for another 2 to 3 minutes or until cooked to your liking. Remove from the pan.
3. Place the peas and butter in your fish cooking pan. Cook on a medium-high heat, stirring until the peas are hot and the butter melted—a minute or two.
4. Add half the mint and puree the pea mixture using a stick blender or mashing with a fork until you're happy with the texture. I like it a little chunky.
5. Taste and season peas with salt and the lemon juice.
6. Serve fish on a bed of the pea puree topped with the extra mint leaves.
Dairy-free: replace butter with a peppery extra virgin olive oil or coconut oil.
Vegetarian: replace fish with sliced halloumi. Cook peas first and then pan fry halloumi until golden brown on both sides and serve halloumi really hot. A fried or poached egg would also be good.
More substantial: serve with crusty bread and butter or roast potatoes.
More veg: serve with a green salad or grilled veg like eggplant, zucchini, or capsicum (bell peppers).