Want To Be A Morning Workout Person? Here's Exactly What To Do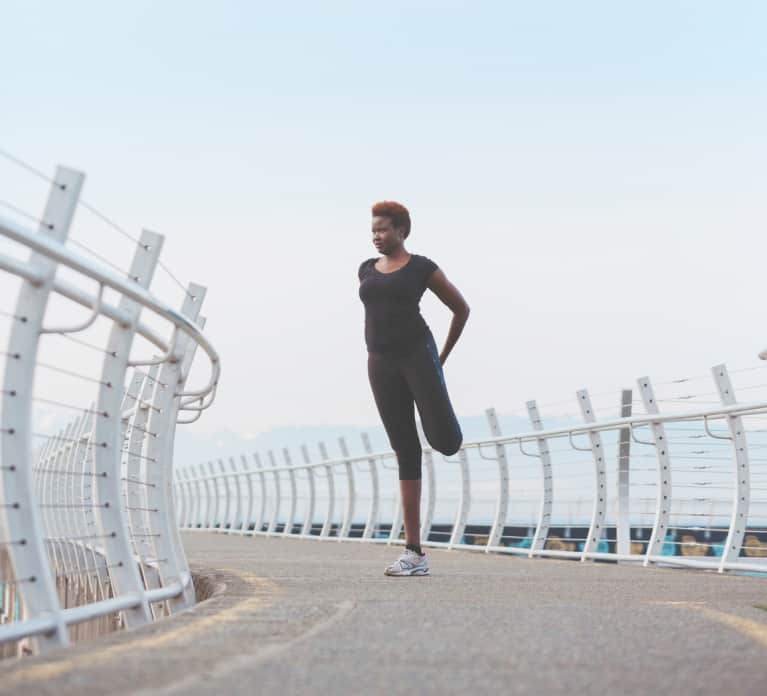 As a personal trainer and healthy lifestyle coach, I hear my fair share of excuses and reasons why someone can't work out—the most popular being "I don't have enough time." And I get it, we live in a fast-paced society and our schedules are jam-packed with countless responsibilities, leaving us feeling exhausted at the end of the day; the last thing we want to do is lace up our sneakers and go to the gym!
When I first started training, I would suggest a midday workout during lunch breaks, but the reality is that lunch breaks have become obsolete. How many times per week do you find yourself chained to your desk or stuck in a meeting during your well-deserved lunch hour? So, that leaves us with the only other option—morning workouts. This is where I typically hear an "Oh I can't do that, I'm not a morning person and I can't afford to wake up early!"
30 minutes in the morning can change your whole day.
Here's the dilemma: Most of us are overworked, overstressed, and overwhelmed. We deprive ourselves of adequate sleep, nutritious foods, and self-care each day. It's important that we take the time to exercise and move our bodies daily. Thirty minutes of physical activity has been proven to increase energy, mental focus, and clarity; reduce stress and anxiety; create more happiness and joy; and—of course—help us achieve a healthy weight. This is all by budgeting 30 minutes, only 4 percent of your day, for working out.
"If you want something you've never had, you have to do something you've never done" is a mantra that I live by when I let my excuses keep me stuck in an unfavorable situation. It means we have to make sacrifices and get a bit uncomfortable to create a healthy and successful habit that can change our life.
Here's how to become a morning workout person.
Here are the five steps I share with my clients to help them establish a morning workout habit, and it amazes me at how their lives change once they get them down. During our 6 a.m. sessions they report having more energy, higher productivity, and better focus all day. Many of them feel more accomplished and even notice that their sleeping and eating habits improve—not to mention successful weight loss!
1. Establish a set bedtime.
I've found that most people don't have a bedtime; they just fall asleep whenever they fall asleep, while they are watching TV, reading emails, or mindlessly scrolling through countless social media pages. Having a set bedtime helps to train the body to develop proper circadian rhythms and leads to more rested and effective sleep.
To set a bedtime, first identify how many hours of sleep you would ideally need to function, choose your ideal wakeup time to make your morning workout, and then work backward to find your new bedtime. The key is to keep this bedtime and wake up time the same each day to truly create a habit.
2. Power down 30 minutes before bed.
Thirty minutes before your new bedtime, you should "power down." This is when you put the phone on "Do Not Disturb" mode, shut down the computer, turn off the TV, and get into bed. This will help calm the body and mind and prepare you for sleep. You can do some light reading or journaling, but keep it positive and light, stay away from stressful emails, the news, or business articles that can keep the emotions high and the mind active.
3. Set your intention for tomorrow.
A positive thought or intention about the next day can help you wake up feeling motivated and energized. If you go to bed thinking "Ugh, I have to work out in the morning; it's going to be cold and awful," you'll wake up groggy and cranky and filled with dread. Instead, get excited about your workout and how it will set the tone for the rest of your busy day. Train your mind to focus on having a positive and successful day, visualize successful outcomes, and focus on one thing you are looking forward to.
4. Place your alarm and a glass of water at least 5 feet away from your bed.
To avoid hitting the snooze button 80 times and skipping your workout, place your phone or alarm at least 5 feet away from your bed. This way you have to physically get up to turn it off. Placing a glass of water next to your alarm will also remind you to hydrate since you're in a mild state of dehydration while you sleep. Movement and hydration will signal the mind and the body that it is time to start the day.
5. Get dressed in the bathroom.
Now that you're awake, immediately move to the bathroom, where you will at least wash your face, brush your teeth, and get dressed. Don't get dressed in your bedroom. Trust me, your comfy bed (and sleeping partner) will tempt you to crawl back in and forgo your workout.
Now that you have accomplished these five steps you are awake, hydrated, and ready to face the world (or at least your workout). This can be a great way to help you to eliminate the excuse of not being a morning person and help you to start working out first thing. With any new habit, give it time. But the steps I just shared will help make developing this new habit just a little bit easier.