Got Leftover Pumpkin? Use It In This Vegan & Gluten-Free Black Bean Chili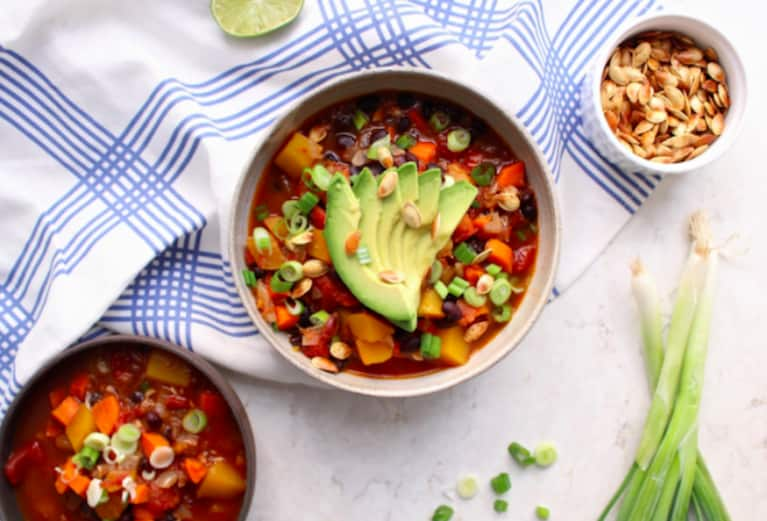 Fall is in the air, and what better way to celebrate than with the all-star of fall produce—pumpkin! Pumpkins not only can be used as autumn decorations, they can also be the shining ingredient in a warm and hearty vegan chili.
Give yourself a hug from the inside out and make this simple, flavorful, and extremely nourishing pumpkin and black bean chili!
Pumpkin + Black Bean Chili
1½ cups dried black beans, soaked overnight (or 2½ cups canned black beans)
1 piece of kombu (if cooking beans from dried)
1 medium pumpkin, peeled, seeded, and cubed, yielding about 4 cups (Feel free to use other types of winter squash such as butternut, kabocha, or red kuri). Reserve seeds.
2 large carrots, peeled and cut into a large dice
1 yellow onion, diced
6 garlic cloves, minced
2 tablespoons olive oil
1 teaspoon smoked paprika
1 teaspoon cumin
½ teaspoon chili powder
½ teaspoon ground cinnamon
24 oz. jarred diced tomatoes
2 cups vegetable stock or water
sea salt + black pepper
Garnishes: scallions, cilantro, lime, pepitas, avocado, plain yogurt
If using dried beans that have been soaked overnight, rinse and place into a pot. Cover beans with 2 inches of filtered water and add two smashed cloves of garlic, kombu, and a teaspoon of salt. Bring to a boil and let simmer with the lid partially covered for 45 minutes, or until beans are firm but tender to the bite. Strain and set aside.
In a large pot over medium heat, warm the olive oil. Add the smoked paprika, cumin, chili powder, and cinnamon. Toast spices for 30 seconds or until fragrant.
Add the onion, garlic, pinch of salt, and sauté, coating the aromatics in the spices. Cook until translucent, about three minutes. Add the carrots and sauté for another three minutes. Add the pumpkin and the black beans to the pot; mix to combine. Add the tomatoes, stock, a pinch more salt, and black pepper, and bring to a boil. Reduce heat to a simmer and partially cover. Cook for 40 to 50 minutes or until carrots and pumpkin are tender and liquid has reduced.
While the chili cooks, rinse and dry the pumpkin seeds. Place them on a parchment-paper-lined sheet tray and toss with a teaspoon olive oil and whichever spices you may prefer. I like ½ teaspoon each of paprika and cumin. Toss to combine and cook at 375°F for 15 minutes, tossing halfway through. Finish with salt.
To serve the chili, ladle into bowls, and garnish with your selected toppings.