This Vegan Apple-Raspberry Crisp Is Fall In A Bowl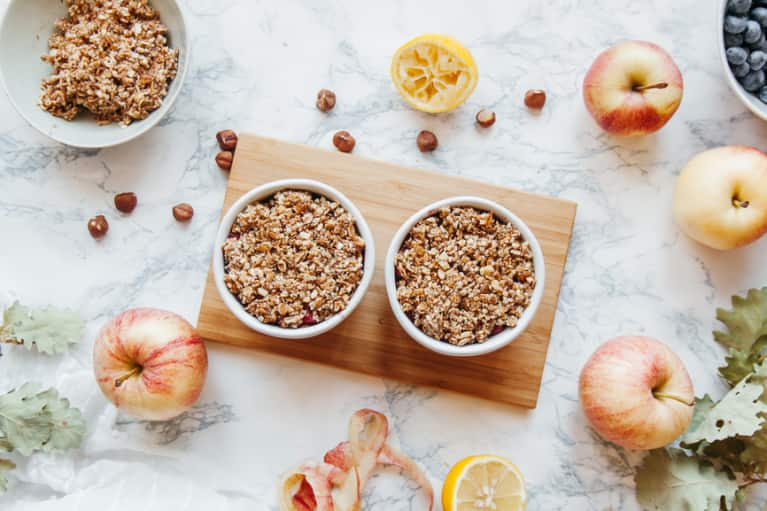 Is there a better aroma than a spiced apple dessert wafting through your kitchen?
This is for when you just want to cook a healthy dessert for two, without the hassle of peeling a basket of apples.
With minimal skill and some pantry ingredients you probably have on hand, a homemade fall crisp is ready to enjoy.
Apples and raspberries are blanketed with a crisp oat, pecan, and cinnamon layer. It's an easy topping over tender fruit that's not too sweet. The berries offer a gorgeous ruby hue to the crisp while lending a delicate, rosy flavor.
This recipe encourages you to give rapadura sugar a try. It's similar to coconut sugar in taste; it's an unrefined and unbleached whole cane sugar with caramel notes. Use it in recipes calling for light brown sugar—you're going to love its pure molasses tang.
I've used Zestar apples for the crisp; they're firm like Granny Smiths, with a sweet-spicy-tart flavor. It's fun to try new apples; just choose one that holds its shape.
Vegan Apple-Raspberry Crisp
2 tablespoons organic coconut oil
½ teaspoon cinnamon
A dash of ground cloves and nutmeg
4 tablespoons old-fashioned oats
2 tablespoons pecans, coarsely chopped
2 tablespoons organic whole cane sugar, such as rapadura*
¼ teaspoon natural almond extract
⅛ teaspoon sea salt
1½ tablespoons gluten-free all-purpose flour
2 tablespoons natural apple cider
1½ large or 2 medium apples peeled and chopped into 1-inch chunks (about 2 cups)
2 tablespoons whole cane sugar, such as rapadura
1 tablespoon gluten-free all-purpose flour
½ teaspoon cinnamon
1 pinch sea salt
8 fresh raspberries
Preparation
1. Have ready 2 single-serving baking dishes 1¼-cup capacity each. Preheat the oven to 375°F.
2. Make Oat Pecan Topping: Heat coconut oil (microwave works fine) until it's melted slightly and is no longer solid. Add the oil to a medium-size bowl with the rest of the oat topping ingredients; stir to combine.
3. Place the apple cider in a medium-size bowl. Add the apples as you cut them and toss to coat; the cider will keep them from browning. Add the sugar, gluten-free flour, cinnamon, and salt to the apples. Mix to combine.
4. Portion the apple mixture into the two baking dishes. Add 4 raspberries to each, tucking them in a bit. Top the apples with an even portion of the topping.
5. Place the dishes on a small baking tray and bake in the oven until bubbly around the edges and golden brown on top, approximately 22 to 25 minutes.