A Pro Dancer's Top 5 Tips For Becoming More Flexible, At Any Age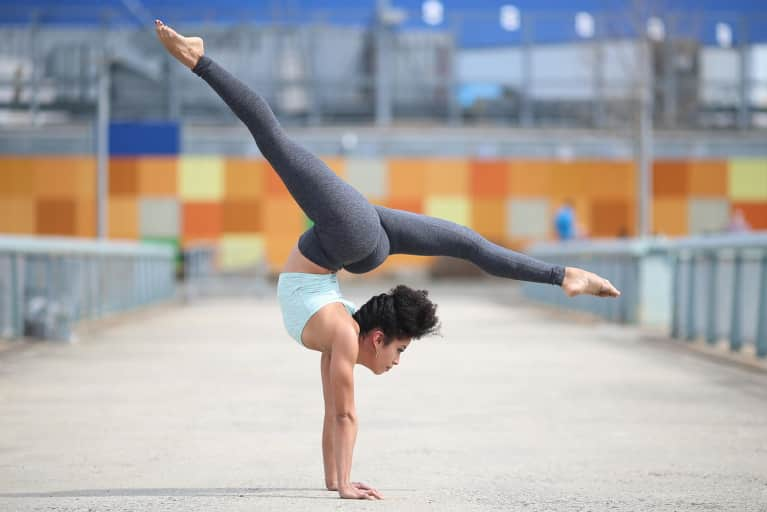 A yoga class here, a post-run stretch there. That's enough to get as bendy as all those yogis on Instagram ... right? Wrong.
When dancer and fitness instructor Alicia Archer swung by the mbg officer to lead a 20-minute stretch class, it was immediately clear that she had uncovered some kind of flexibility secret. Archer can bend in every direction!
Skeptical? Check out her Instagram account.
Now that you've done that, it goes without saying that we couldn't let her leave without getting her advice on gaining flexibility.
These are her tips:
Flexibility doesn't come easily. You have to know your body and what it can do and what it is capable of doing. If some days don't feel great, that's OK. You have to meet your body where it is. Especially in the colder months, it won't feel the same as it does during the summer. You might not be able to make the same flex gains in the winter, so you have to work to maintain and pump it out during the summer. During those couple of months, patience and maintenance are key.
Find a coach, or someone who specializes in flexibility. There are a lot of people out there who used to be rhythmic gymnasts or yoga teachers that specialize in extreme flexibility. Contact them and work one on one so you have someone who can work with you and adjust you if you feel unsafe in a class. If you even meet with that person one time, you can take all your knowledge to a class and improve on it as you go.
3. Stretch in the afternoon.
For me, afternoon is the best time to stretch. You've been walking around for a while and you've built up some heat. When you stretch in the morning, the time from when you wake up to when you stretch isn't long, so it might feel a little tougher to get in the range of motion you're used to getting when you're super warm. My time of day is definitely 12 p.m. and on. I meet my coach at 8:45 a.m., though, and that's a little tough. But I make it happen.
4. Remember that there are tons of different ways to stretch.
Mild fascial release with a tennis ball under your back is stretching. Physical therapy work is stretching, and so are simple arm circles. You don't have to do a deep hip-flexor lunge every day. I do them every day because I'm crazy and want to get a great split, but you can also stretching by just wiggling around in your chair. When I'm feeling down and out, sometimes I'll stretch for an hour instead of an hour and a half, and sometimes for just 30 minutes.
5. Technique is everything.
Not employing the correct technique is how injury occurs, and that's the case with anything. If your hips or shoulders aren't in the right place, that's a recipe for injury. Engaging while you're stretching is really important—you're protecting your joints while creating this range of motion. You don't just want to relax and hope for the best.