5 Moves For Your Strongest Core Ever
Five moves. Zero equipment. There really is no excuse not to get the strongest, most toned waistline of your life!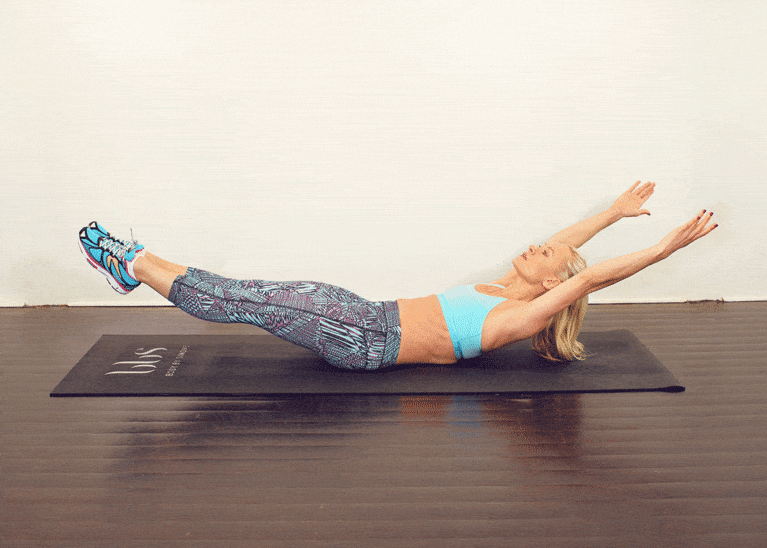 Muscles worked: Core, back, glutes, quads, full body.
Reps: 2 sets of 10
Start on your back, lift your upper and lower body off the mat as you push your abdominals down toward your spine, so your back is flat on the mat. Now roll up as you reach your hands toward your feet and hold as you balance for a second; spinal roll down slowly to starting position.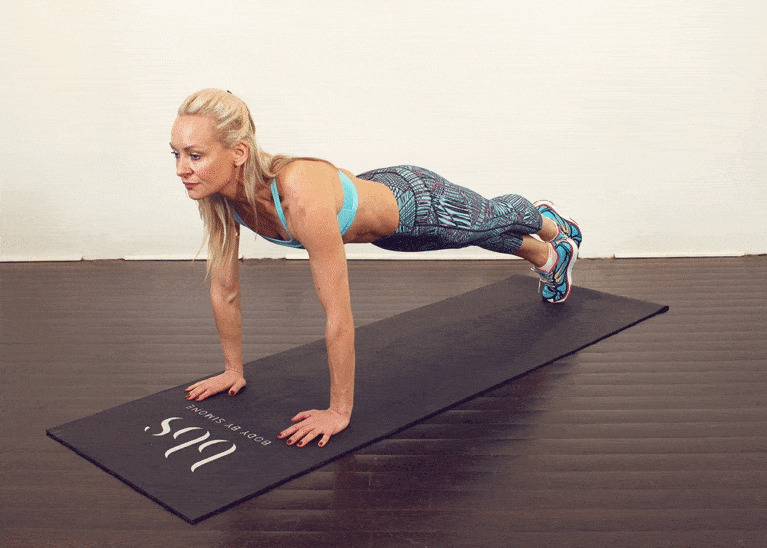 Muscles worked: core, shoulders, thighs, glutes, hamstrings, full body.
Reps: 3 sets of 10 on each side.
Start in the perfect plank position. Let one foot rest on the top of the other as you cross your legs. Now lift the leg as you swing it toward your shoulder and tap it on the floor. Let it sit; now lift the leg again and take it back to starting position. Repeat and then swap to the other side.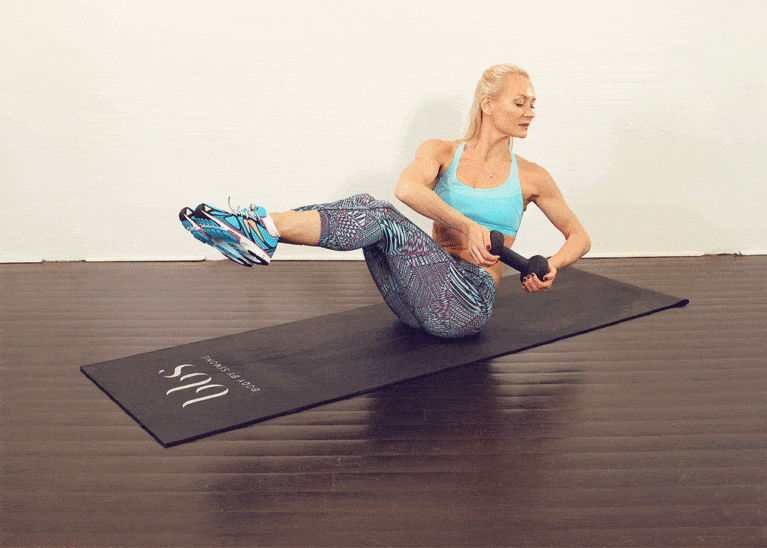 Muscles worked: core, quads, obliques, chest, and shoulders.
Reps: Side to side is 1 rep. Do 30 reps.
Sitting upright, place a 10-pound weight in your hands. Make a C-curve with your spine and lift your legs. Twist your torso side to side while holding the weight, twisting your lower body in the opposite direction. Repeat.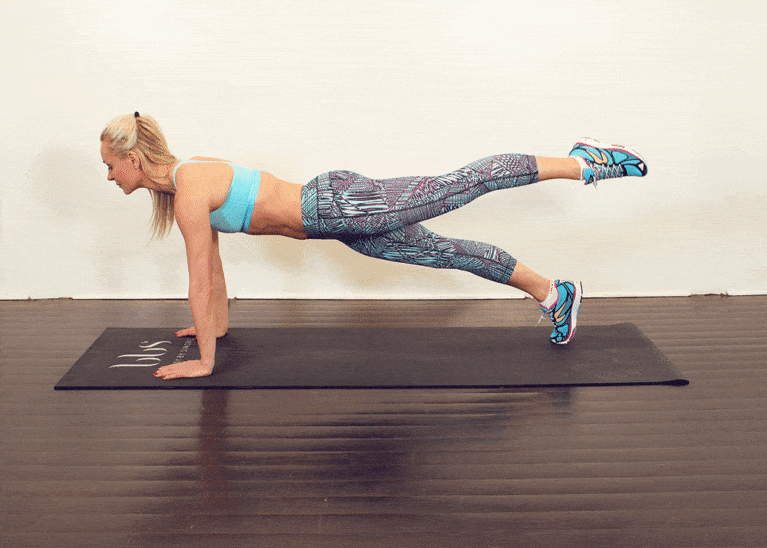 Muscles worked: core, obliques, shoulders, and chest.
Reps: 2 sets of 10 on each side.
Start in the perfect plank position, wrists underneath shoulders. Lift one leg off and hold. Bend that knee and pull into your waist as you crunch in your oblique. Kick the leg back to its starting position. Repeat on the same side and then swap.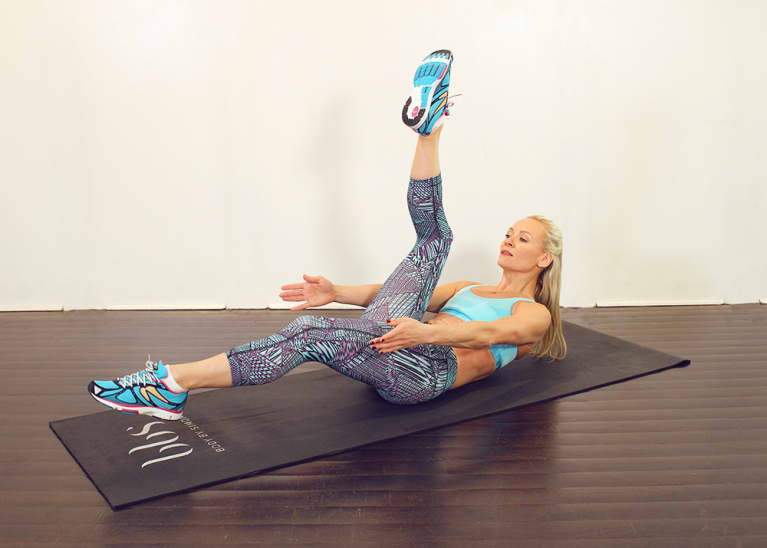 Lie on your back. Curl your head and shoulders off the mat and hover your legs a few inches off the ground. Reach your hands toward your feet and lift one leg to the sky, bending your knees slightly as you alternate your legs in a scissors motion, pulling your abdominals toward your spine. Complete 30 reps on each side.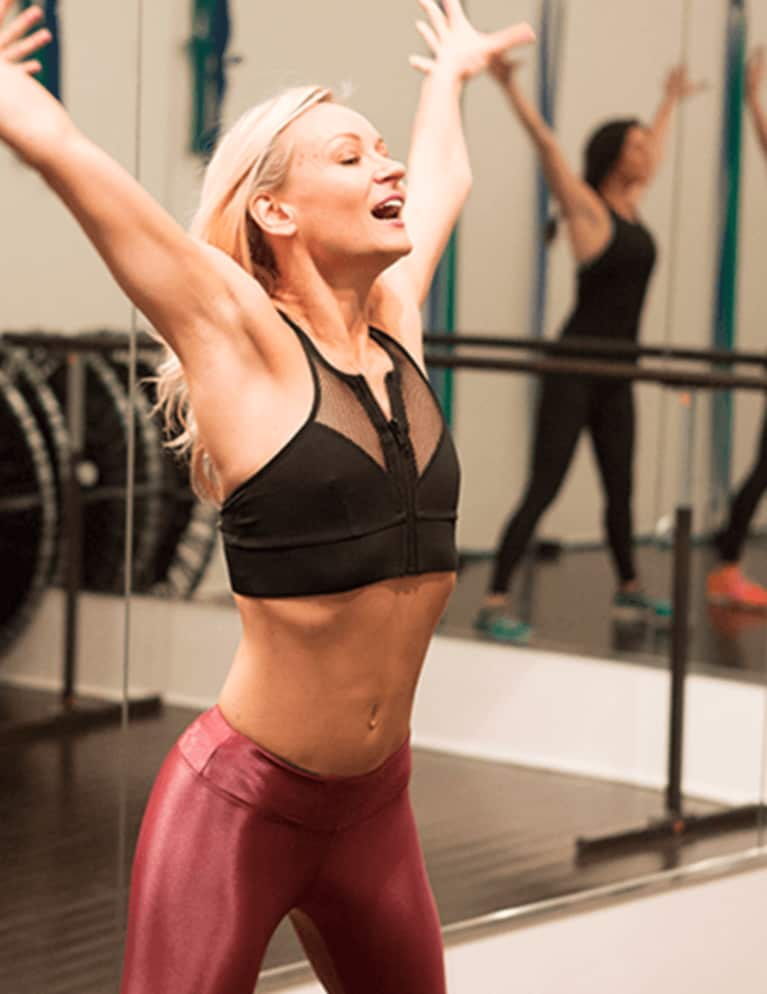 Simone De La Rue
Simone De La Rue began training in classical ballet at the age of three and has enjoyed a successful dance career spanning over two decades, including numerous performances on Broadway, London's West End and her native Australia. Simone's initial desire to create a revolutionary exercise technique was to safeguard against injuries. By providing a solid foundation based on dance, she avoided the habitual wear and tear. Clients not only avoid injury, but avoid boredom. Possessing a strong passion for such an art form Simone wanted to share this joy with her clients both in a private and group forum. Simone opened her first studio in 2011 and is the creator of the Body By Simone method. She employs over 30 trainers, all certified in this dance based interval training program. Her fitness empire is expansive including: two Los Angeles studios, one NYC studio, three DVDs, an online streaming service, a clothing line, a co-branded shoe with Newton Running, and a TV show on the E Network. Simone is also the author of "The 8-Week Total Body Makeover Plan" available both digitally and in hard copy. Body By Simone has received endless praise. The New York Times called BBS, "The Girlfriend Workout", and, in 2016, Forbes Magazine called Body By Simone, "Hollywood's Hottest Workout Empire". BBS has 70K followers on Instagram, has appeared in hundreds of Fashion and Fitness magazines, and has been endorsed by top A-List celebrities. At just five years old, Body By Simone is just beginning a journey of endless possibilities.
View the class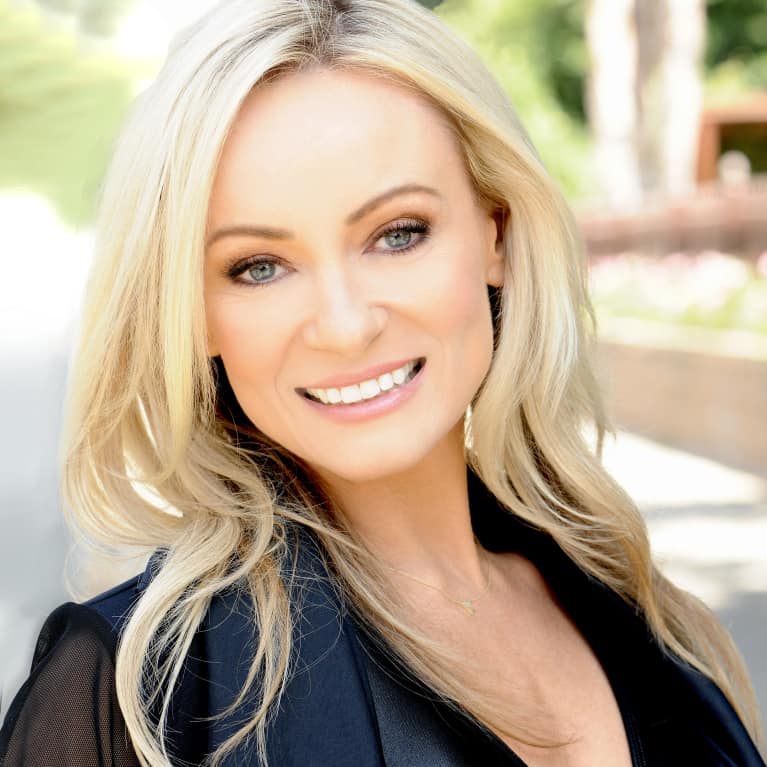 https://www.mindbodygreen.com/0-24106/5-moves-for-your-strongest-core-ever.html