Julie Foucher On Her Love For CrossFit, Science, And #Wellth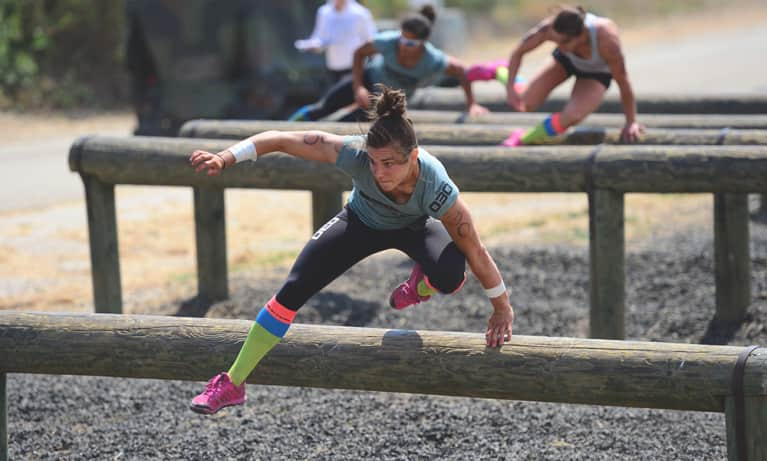 Our editors have independently chosen the products listed on this page. If you purchase something mentioned in this article, we may
earn a small commission
.
I've spent the past year thinking a lot about "wellth" — the idea that success is found in a lifestyle devoted to mental, physical, and emotional health. (I even wrote a book about it.) In this new series, we're celebrating visionaries who embody what it means to be wellthy.
Julie Foucher is one of the most successful CrossFit athletes in history, having never finished below the top five in the four CrossFit games she has competed in. She's also a medical student at The Cleveland Clinic, which puts all of our time management skills to shame!
mbg: What do you love about CrossFit?
JF: I love that it uses functional movements. These are movements our bodies are designed to do. It's different every day and there is always something to improve upon. I also love that CrossFit has such a strong community. I strongly believe that environment and people you surround yourself with can determine your future.
Between being an elite athlete and a medical student, how do you find time in the day?
The biggest lesson I've learned is that you actually don't have to do everything at once. I always know what my priority is and make sure to stay focused on that. Often, other things that seem important can actually wait a little bit. I also make sure I'm taking time for myself to work out, eat well, and spend time with the people I love, because ultimately that's what matters most.
Working out is a huge outlet for me to reduce stress. I also love to do yoga and practice mindfulness.
Why did you want to become a doctor?
I always loved math, science, and the human body. I studied biomedical engineering in college at the University of Michigan, but problem-solving didn't mean as much to me without the personal patient-physician interaction. I hope to help people prevent disease and live healthy, fulfilling lives by optimizing their lifestyles, and I think the power of communities in CrossFit will play a large role in doing so.
What does wellth mean to you?
At the end of every episode of my podcast, Pursuing Health, I ask each guest, "What does a healthy life look like to you?" Usually, they answer as if health and happiness are interchangeable. To me, "wellth" means understanding and being able to fulfill your purpose in life and being surrounded by friends and family who support you in this endeavor.
Any advice for someone looking to follow their passion and create a life that they love?
Always let your passion and purpose guide you. Set goals and revisit them often, and surround yourself with people who empower you to be better than you ever thought you could be!