Roasted Carrot, Ginger, and Miso Soup
Miranda Hammer is the registered dietitian and cook behind the beautiful blog The Crunchy Radish. With a great eye for food styling and delicious recipes, we always want to see what she's cooking up.
Today Miranda is sharing her Roasted Carrot, Ginger, and Miso Soup with us. Topped with crunchy dukkah (a combination of nuts, seeds, and spices), it's the perfect warming lunch or dinner.
Roasted Carrot, Ginger, and Miso Soup With Za'atar Dukkah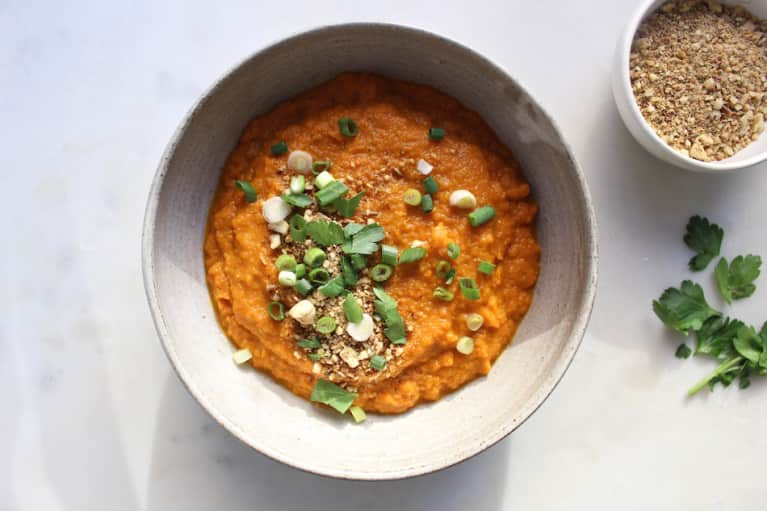 2 tablespoons coconut oil or olive oil
2 pounds carrots, peeled and chopped into thirds
1 medium-size yellow onion, finely chopped
2 cloves garlic, minced
1 tablespoon chopped or grated ginger
4 cups vegetable stock
2 tablespoons miso (white for a more mellow-tasting soup that won't darken the soup color, brown rice miso for a more robust flavor)
Freshly ground black pepper
3 scallions, thinly sliced
Handful of cilantro leaves (optional)
Preparation
1. Heat oven to 375°F. On a parchment-paper-lined sheet tray, toss carrots with a tablespoon of oil and freshly ground black pepper. Roast for 20 to 30 minutes until carrots are tender.
2. In a large saucepan, heat remaining tablespoon of oil over medium heat. Add onion and garlic and sauté until translucent. Add ginger, broth, and carrots and simmer for 10 minutes, allowing flavors to blend.
3. Puree the soup in batches using a blender or an immersion blender until desired texture is achieved. I like mine a little chunky as pictured.
4. In a small bowl, whisk together ½ cup of carrot soup and the miso paste until smooth. Add mixture back to soup and mix well. Taste, adjust seasonings, and serve garnished with dukkah (recipe below), scallions, and cilantro.
1 cup nut blend of hazelnuts, blanched almonds, and cashews
½ cup sesame seeds
½ cup coriander seeds
¼ cup cumin seeds
1 tablespoon za'atar
1 teaspoon dried lemon peel
2 teaspoons chili flakes
1 teaspoon sea salt
Freshly ground black pepper
Preparation
Toast nuts and seeds in separate batches and let cool. Combine all of the ingredients into a food processor and pulse. Ideally you want a coarse mixture that is dry and crumbly. Overpulsing will turn the mixture into a paste. Store in an airtight container in the refrigerator.