Winter Warmer: Butternut Squash + Black Bean Chili
Eating seasonally is a wonderful practice with regards to both specific foods and their temperatures. I find it much more comforting to eat a warm bowl of spiced pumpkin oatmeal for breakfast on a cold fall or winter morning than an icy smoothie bowl.
The same goes for savory meals. Soups, stews, and warm cooked meals with squash and potatoes are often more nurturing than raw salads with tomatoes and berries (summer produce) during this time of year. Which brings me to today's recipe: Butternut Squash and Black Bean Chili.
Not only is this meal extremely flavorful and warming due to the seasonal produce and spices, it's also packed with nutritional value. We have butternut squash with vitamin A and beta carotene; black beans with fiber and protein; and onion, garlic, and spices with anti-inflammatory properties.
Together, these ingredients combine to make one big, delicious bowl of health! I highly recommend topping each bowl with some creamy avocado for even more nutrients and deliciousness, but that's just me.
Butternut Squash and Black Bean Chili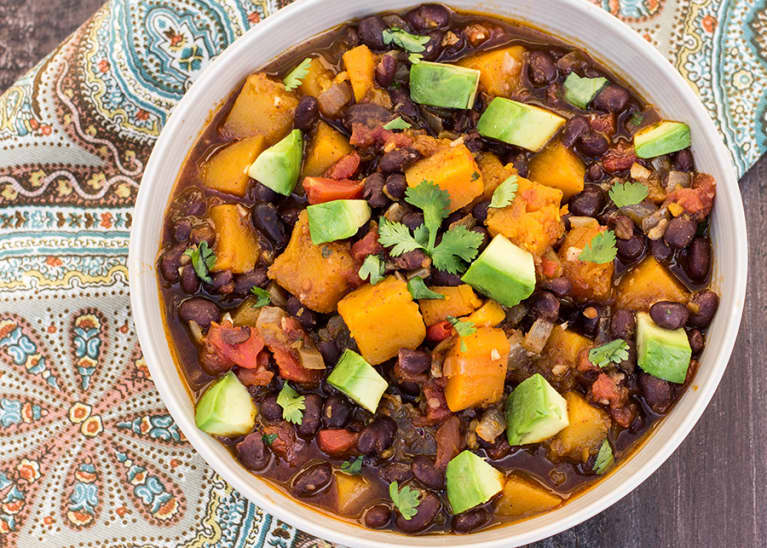 2 tablespoons olive oil
1 medium red onion, diced
1 butternut squash (about 2 pounds), peeled and chopped into ½-inch cubes
4 garlic cloves, minced
1 tablespoon chili powder
2 teaspoons cumin
½ teaspoon sea salt
4 cups cooked black beans or 2 (15-ounce) cans
1 (14-ounce) can diced tomatoes
2 cups vegetable broth
¼ cup fresh cilantro, chopped
avocado for serving
Preparation
1. Heat the oil in a large saucepot over medium heat. Add the onion and squash and cook 5 to 10 minutes, stirring frequently, until the onion is translucent. Stir in the garlic, chili powder, cumin, and sea salt, and cook 1 minute, until fragrant.
2. Add the beans, tomatoes (with liquid), and broth. Bring everything to a boil, then reduce the heat to simmer covered, for about 30 minutes, until the squash is tender and the chili is thick and hearty.
2. Remove from heat, garnish with cilantro, and serve with some creamy avocado and crispy tortilla chips. Enjoy!
Photo courtesy of the author