What I Eat In A Typical Day: A Clinical Nutritionist Reveals Her Diet
As a nutritionist in the gastroenterology department of The Mount Sinai Hospital in New York City, my job is to help patients with various digestive disorders — from IBS to celiac, Crohn's disease, reflux, and ulcerative colitis — learn how to eat to feel their best.
In today's food-obsessed world of kale, kombucha, and countless trendy diets, many patients often feel overwhelmed and confused about what and how they should be eating.
While I love these fancy "superfoods" as much as the next person, they can often be expensive and hard to find in some places, so I find that the best and most sustainable diets are often the simplest.
I eat a balanced diet of natural, organic (as much as possible), and minimally processed food, and advise my patients to do the same. With two kids and a busy work schedule, I like to keep my meals convenient and consistent. Here's what a typical day in my diet looks like: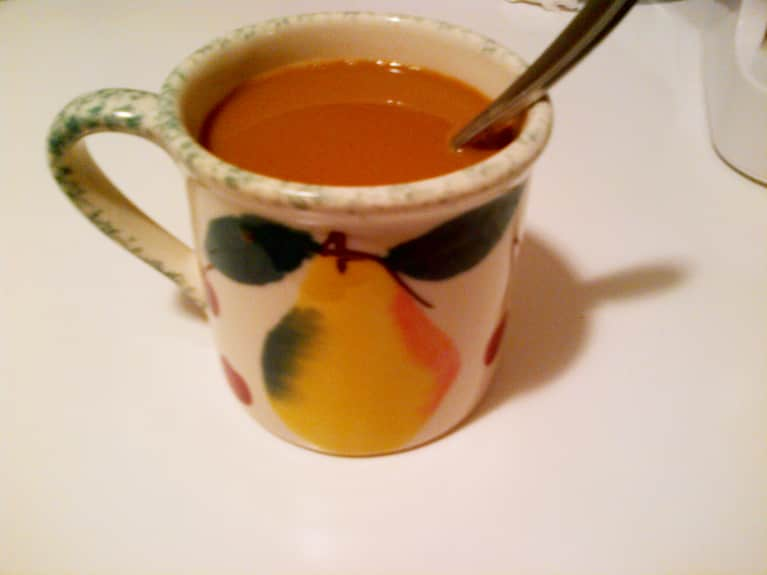 I brew my own coffee at home since I like to have it when I first wake up. It's a nice part of my morning routine and helps me start my day. I also prefer the taste when I make it myself, and it's much more budget-friendly. I choose fair-trade organic coffee, and use organic 1 percent milk and a small amount of regular sugar (I avoid all artificial sweeteners).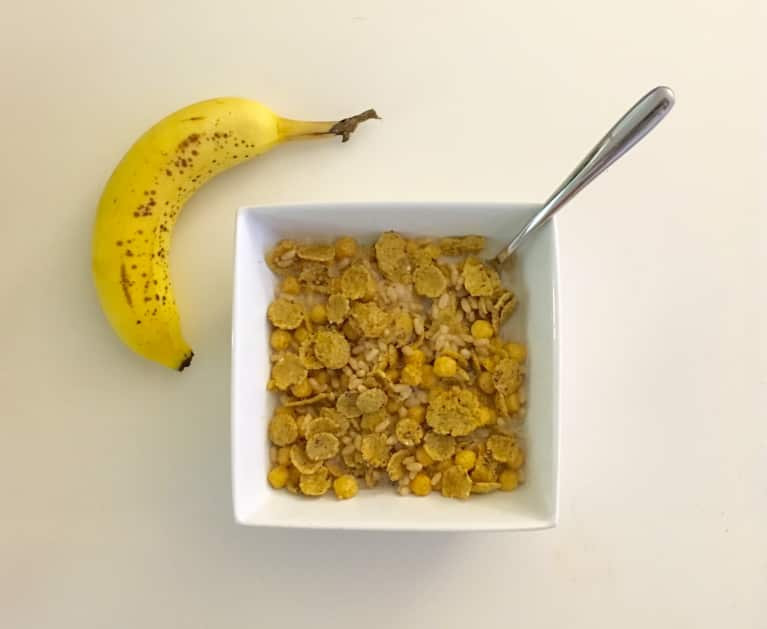 So many cereals on the market are overly processed with artificial additives and sugar, so I make sure to choose organic, natural brands and read the labels very carefully. Today I had a bowl of Nature's Path Sunrise Crunchy Maple cereal — it's a good source of whole grains and fiber, which helps keep me full through the morning, has a short list of natural ingredients, and is pretty low in sugar. Another favorite cereal brand is Kashi. I like to round out my breakfast with a piece of fruit and 1 percent organic milk for extra vitamins and protein.
10 a.m.: Midmorning Snack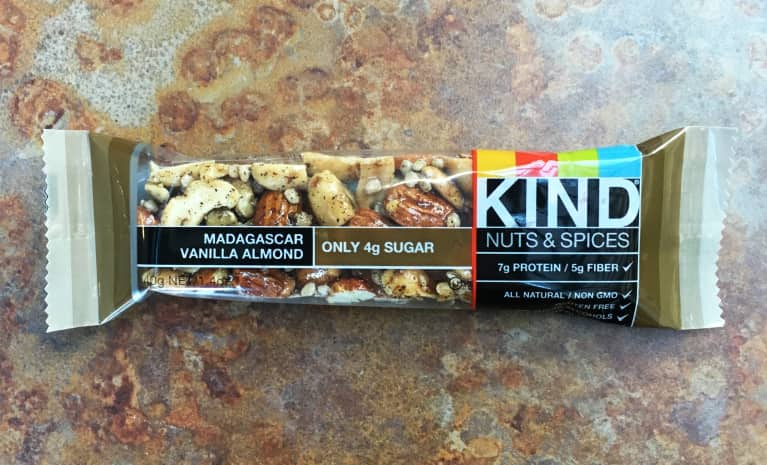 Going too long between meals can cause glucose levels to dip, so I make sure I'm eating consistently throughout the day to keep my energy up. At around 10 a.m., I like to have a small snack to ward off hunger and tide me over until lunch. I always have a convenient snack like a Kind bar on hand. I particularly love this Madagascar Vanilla Almond bar because it's one of the lowest-sugar bars I've found (only 4 grams per bar), is high in fiber and protein, and tastes delicious.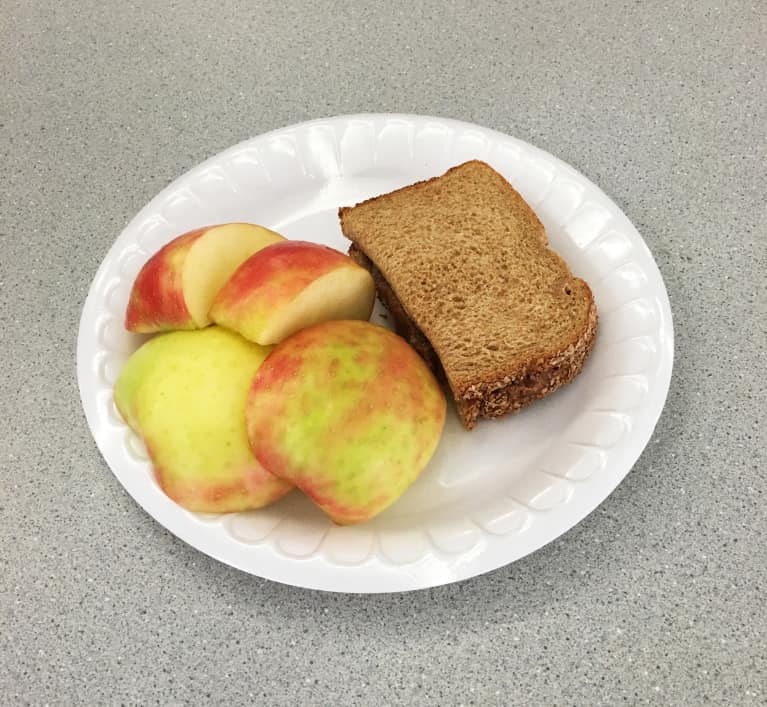 I like to keep my meals consistent during the week for calorie and weight control. My usual lunch consists of one slice of whole wheat bread with three tablespoons of almond butter and a drizzle of honey, and a sliced apple on the side. I pack the same meal for my kids to bring to school — it's a simple classic with great nutritional benefits. The protein and fat in the nut butter keep us full, and the carbs from the bread and apple provide energy.
I get most of my produce from a local farmers market because I love to support the local farmers and it's important for me to know where my food comes from. I also get my honey there because it comes from local beekeepers rather than a lot of store-bought brands, which can be produced artificially.
3:30 p.m.: Mid-Afternoon Snack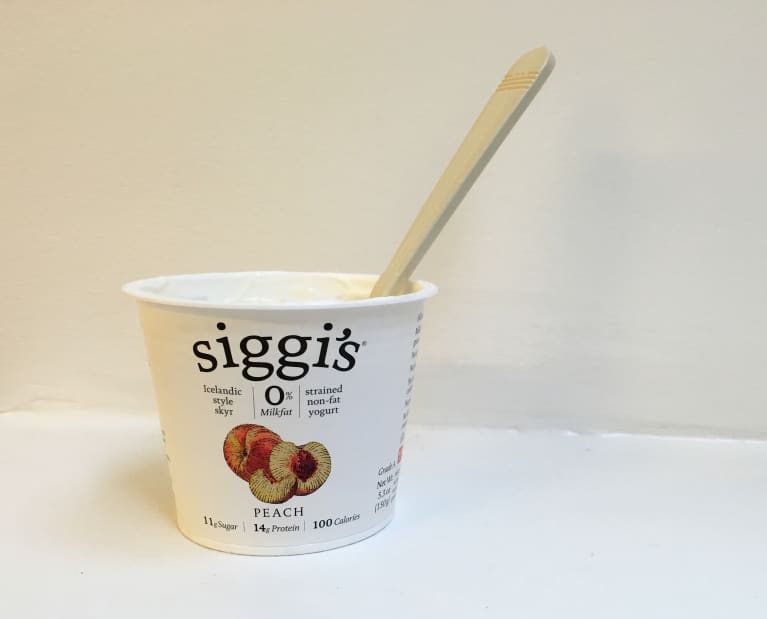 A few hours after lunch, I have another small snack. siggi's yogurt is my favorite because it's low in sugar but tastes creamy and indulgent. I make sure to have a yogurt every day for the protein and probiotics, which are extremely beneficial for digestion and overall health. I'll often have it with some Crunchmaster gluten-free crackers — made with chia and flax seeds, they're a good source of fiber and healthy omega-3 fatty acids.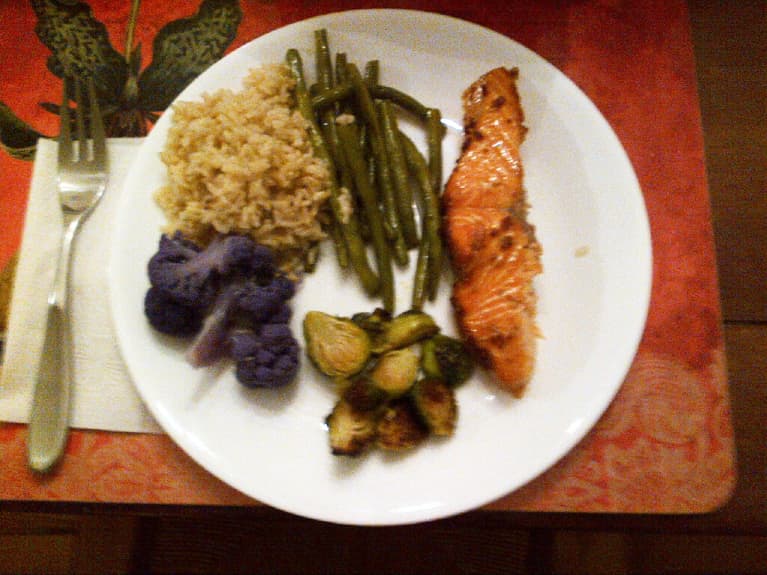 I love to cook — it's how I relax after work. I always make some type of protein (typically chicken or fish), a cooked seasonal vegetable, and a whole-grain starch like quinoa, brown rice, whole grain pasta, or baked potatoes. It's simple, nutritious, and the whole family enjoys! I especially love trying out different vegetables I find at the farmers market, like this purple cauliflower — it tastes similar to normal cauliflower but is higher in vitamin C and antioxidants.
While I've found this particular "diet" works for me and my family, we're all different, so it's important to find out what works best for you — rather than falling into the trendy diet traps. If you've been struggling with your weight or experiencing digestive issues (or even if you haven't!), I highly recommend making an appointment with a gastroenterologist and/or nutritionist who can help you address any problems and make positive, healthy changes.
Related reads:
What I Eat In A Typical Day: A Rockstar Yoga Teacher Tells All
10 Things Nutritionists Eat For Breakfast
What I Eat In A Typical Day: A Functional Medicine Doctor Tells All