3 Anti-Inflammatory Dinner Recipes To Make This Week
Our editors have independently chosen the products listed on this page. If you purchase something mentioned in this article, we may
earn a small commission
.
Anti-inflammatory eating doesn't have to be difficult, it just involves a little thought about ingredients and some simple preparation. To get you started, here are 3 recipes that flight inflammation.
Zucchini Noodles with Pistachio Pesto and Black Lentils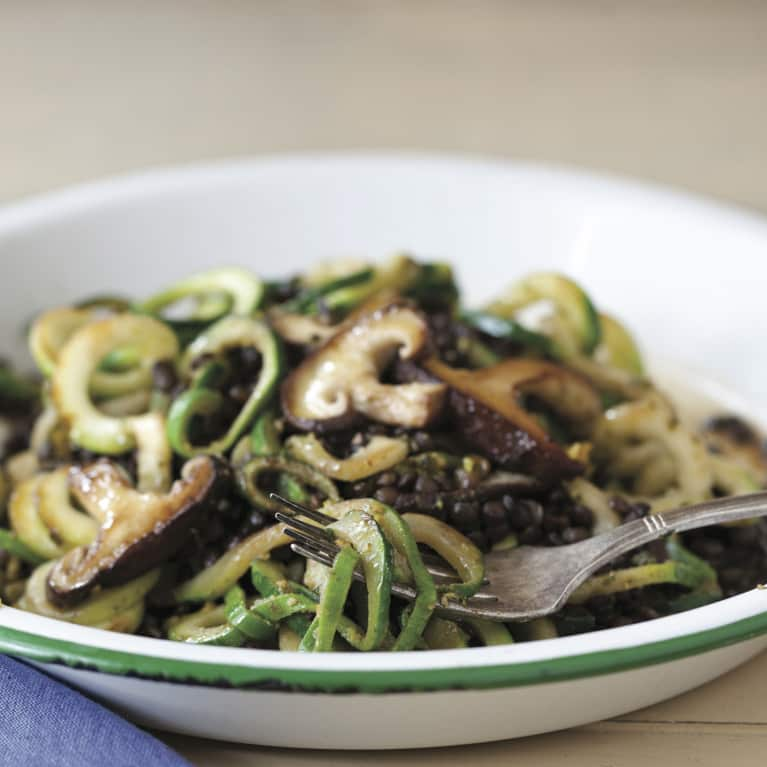 It took many years of cooking for me to truly appreciate the versatility of zucchini, and I wasn't that big of a fan until I discovered zucchini noodles. It makes a pasta-inspired dish that's gluten-free, and it's just a fun way to transform an overused vegetable.
This no-pasta noodle dish also features the oh-so-adorable black lentil, also known as the Beluga lentil for it's caviar-like appearance. If you cook the lentils al dente, they will retain their shape, and this will look like the most expensive faux pasta dish ever served. And you'll be dishing up one more surprise when you use pistachios in place of pine nuts in the pesto. Delicious!
Serves 6
Ingredients
11⁄2 cups vegetable broth, divided
1⁄2 cup dried black lentils, rinsed and drained
1 cup packed basil leaves
1⁄4 cup shelled pistachio nuts
1 small clove garlic
1 teaspoon sea salt, divided
1⁄4 cup plus 2 teaspoons extra-virgin olive oil, divided
1⁄4 cup water
3 medium zucchini, ends trimmed
8 shiitake mushrooms, thinly sliced
Preparation
1. Place 11⁄4 cups of the broth and lentils in a medium saucepan and bring to a boil over medium-high heat. Reduce the heat to low, cover, and simmer for 15 minutes for al dente.
2. Meanwhile, put the basil, pistachios, garlic, and 1⁄2 teaspoon of the salt in a food processor. With the machine running, drizzle in 1⁄4 cup of the oil, then slowly add the water until the pesto is slightly thinner than olive oil. Set aside.
3. Use a spiral vegetable slicer with a 3-millimeter blade to shred the zucchini into noodles. (Alternatively, you can hand slice the zucchini or use a peeler. Cut the zucchini in half or in thirds, then slice into very thin strips.)
4. Drizzle the remaining 2 teaspoons oil in a large skillet or sauté pan over medium heat and add the mushrooms and remaining 1⁄2 teaspoon salt. Sauté for 3 to 4 minutes, or until the mushrooms start to soften. Add the remaining 1⁄4 cup broth and zucchini noodles to the skillet. Use tongs to gently toss the noodles with the mushrooms. Sauté for 5 minutes, or until the zucchini just begins to soften. Remove from the heat and stir in the lentils and pesto until well combined. Serve warm.
Puttanesca-Style Beans and Greens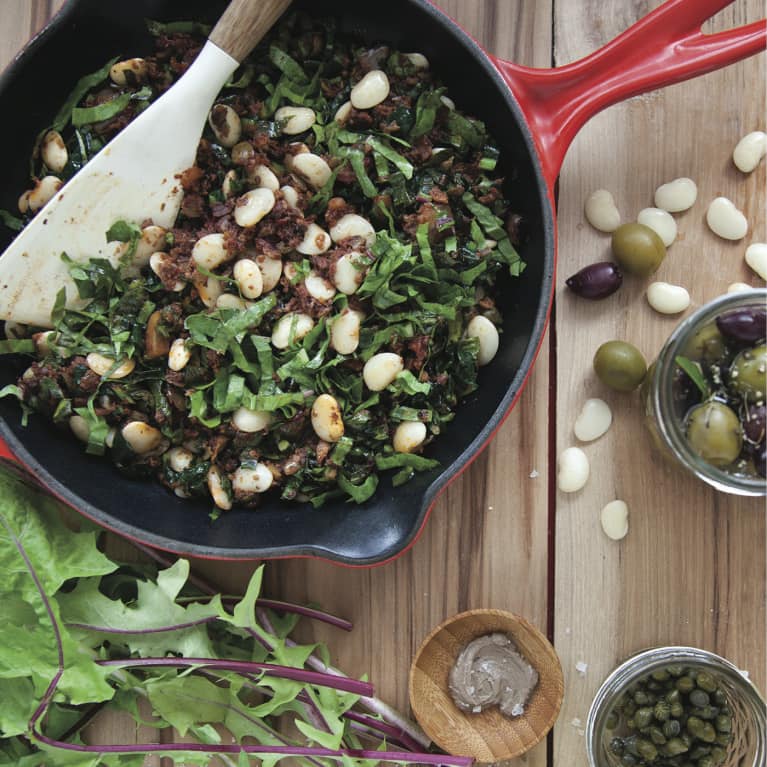 A secret ingredient that I added when I wanted to put my own spin on it is sun-dried tomatoes, which really elevates the flavor with an acidic sweetness.
The anchovies are optional, but I really encourage adding them for the lovely saltiness they offer and also for their delightful oiliness that make them a good anti-inflammatory food. You could also top this dish with a few sardines for good measure.
Serves 6
Ingredients
3 cups water
1 cup dried baby lima beans, soaked overnight
1 (6-inch) strip kombu (optional)
1 cup pitted kalamata olives
3⁄4 cup pitted green olives
1⁄2 cup sun-dried tomatoes in olive oil (optional)
1⁄2 large yellow onion
2 teaspoons capers
6 tablespoons extra-virgin olive oil, divided
2 cups shredded greens (kale, chard, dandelion greens, or beet greens all work well)
4 anchovies, or 1 to 2 teaspoons anchovy paste (optional)
1 to 2 cloves garlic
Preparation
1. In a large pot, combine the water, lima beans, and kombu and bring to a boil over high heat. Reduce the heat to medium-low, cover, and simmer for about 40 minutes, or until the beans are tender. Drain the beans and discard the kombu.
2. Meanwhile, in a food processor or blender, combine the olives, sun-dried tomatoes, onion, and capers and pulse until the mixture is coarsely chopped.
3. In a large skillet, heat 2 tablespoons of the oil over medium heat. Add the olive mixture and sauté for about 5 minutes, or until the onions start to become translucent. Add the greens, anchovies, and garlic and sauté for 3 to 4 minutes. Stir in the beans until well incorporated. Serve warm or at room temperature.
Mediterranean Salmon Skewers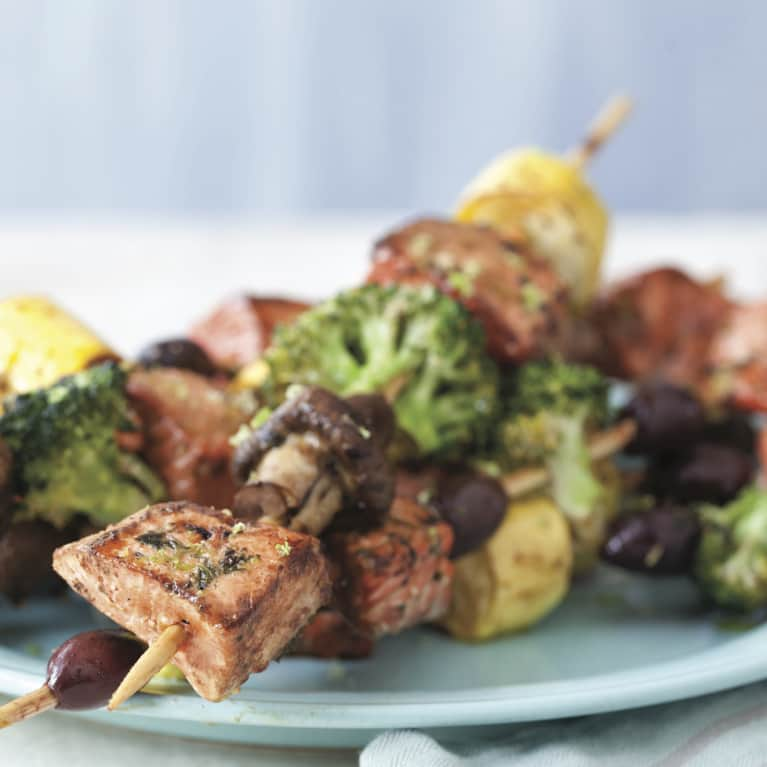 There's something about putting food on skewers that almost immediately makes it more interesting to eat. I love using salmon when making these skewers in the spring and summer months, and I'm more inclined to use lamb in fall and winter.
You can choose which type of protein you'd like to use (the marinade works well on most types of fish, meat, or poultry) and then switch up the veggies for a whole new experience.
I find that it helps to put your picky eaters to work on the skewer assembly line so they can custom-make a couple skewers with their favorite ingredients.
Serves 8
Ingredients
1⁄2 cup extra-virgin olive oil
1 tablespoon freshly squeezed lime juice
1 teaspoon freshly grated lime zest
1 clove garlic, minced
2 tablespoons chopped fresh oregano
1 tablespoon chopped fresh mint
1 teaspoon sea salt
3⁄4 pound salmon, skin and bones removed, cut into 11⁄2-inch cubes
12 cremini mushrooms, quartered
1 small head broccoli, broken into florets
1 summer squash or zucchini, cut into 1-inch chunks
1⁄2 cup pitted kalamata olives
8 wooden skewers, soaked in water for at least 30 minutes
Preparation
1. Preheat the oven to 375 degrees F
2. In a medium bowl, combine the oil, lime juice and zest, garlic, oregano, mint, and salt.
3. Combine the salmon, mushrooms, broccoli, and squash in a baking dish. Drizzle with the marinade and gently toss until the salmon and vegetables are well coated.
4. Layer the salmon, vegetables, and olives on the skewers, alternating the order on each skewer.
5. Place the skewers on a broiler pan and bake for 20 to 25 minutes, turning them halfway through cooking.
© 2014 by Michelle Babb, MS, RD, CD. All right reserved. Excerpted from Anti-Inflammatory Eating Made Easy by permission of Sasquatch Books. Photo credits: Hilary McMullen.