Moroccan-Spiced Tofu Tacos With Kohlrabi, Watercress + Tahini
Taco night just got fancy(ish). Wanting to try something a little different, we used Moroccan flavors, swapped out chicken for tofu to keep this vegetarian, and fell in love. It's filling enough that even meat lovers will devour this taco.
But whatever you do, don't skimp on the "Garlicky Tahini Sauce" — it brings everything together, and dry tacos are sad tacos. You can substitute pita bread if you'd like, but we've finally discovered the art of slightly charring our corn tortillas over an open flame (takes seconds) and it's made store-bought tortillas amazing. Radishes would be really great here too.
Moroccan Spiced Tofu Tacos with Kohlrabi, Watercress + Tahini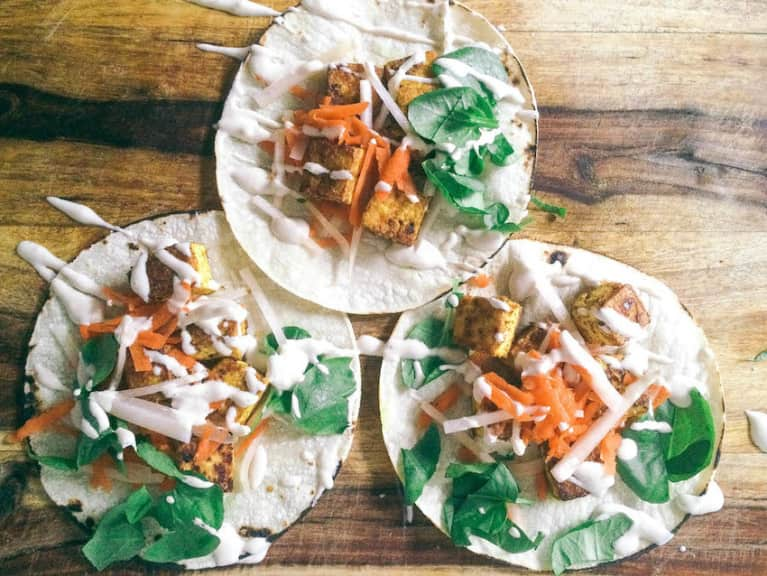 2 tablespoons grapeseed oil
1 tablespooon lemon juice
1 teaspoon ground coriander
1 teaspoon ground cumin
1/2 teaspoon ground cinnamon
1/2 teaspoon paprika
1/4 teaspoon turmeric
1/2 teaspoon sea salt
1/4 teaspoon black pepper (freshly ground)
1 pound extra-firm tofu (cut into 1-inch cubes and placed in a colander to drain)
8 corn tortillas (or more depending how much filling you use)
1 bunch watercress
1 small kohlrabi (grated or cut into matchsticks)
2 small carrots (grated or cut into matchsticks)
Preparation
1. In a medium-sized bowl, whisk 1 tablespoon of oil, lemon juice, the spices and salt together.
2. Add the tofu and gently toss to coat all over. Set aside.
3. Heat a large saute pan over medium-high heat. When hot add 1 tablespoon of oil and turn pan to coat evenly.
4. Add half the tofu to the pan (don't try to move them, otherwise they'll stick to the pan) and cook until golden brown and crispy on the bottom, about 2 minutes. Using tongs, gently turn over to other side and cook an additional 2 minutes. Remove to a plate and repeat steps for remaining tofu.
5. While the tofu is cooking you can char the tortillas. Simply turn a burner to high heat and hold a tortilla directly over the flame (using tongs) until slightly charred.
6. To serve: top each tortilla with tofu, shredded carrots, kohlrabi, watercress and drizzle tahini sauce on top. We found that you always need extra sauce — so be generous with the drizzle.
Garlicky Tahini Sauce
Ingredients
1/4 cup plain yogurt
3 tablespoons tahini
juice of 1/2 lemon
2 garlic cloves, minced
sea salt, to taste
black pepper, freshly ground
2 tablespoons water, more if needed
Preparation
1. Whisk the yogurt, tahini, lemon juice and garlic in a small bowl. Season with salt and pepper.
2. Add 2 tablespoons of water and whisk again. If you prefer a smoother texture add more water. Cover and refrigerate until ready to serve.
Photo courtesy of the author