You should aim to eat breakfast no later than 30 minutes after rising and pack your breakfast full of protein and good fats. This ensures stable blood sugar levels and helps keep you feeling full until morning tea.
Here are my favorite clean-eating breakfast ideas if you're after a little inspiration:
1. Superfood Cereal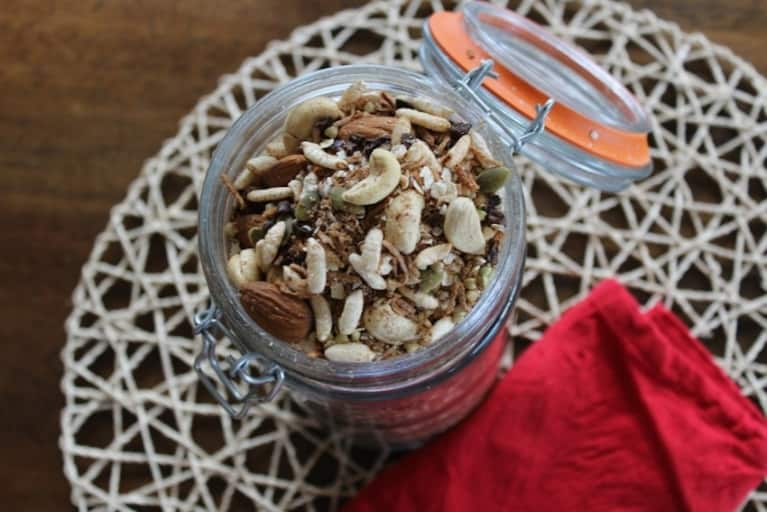 1 cup almonds
1 cup cashews
1 cup oats
1 cup shredded coconut
1 cup buckwheat groats
1 cup cacao nibs
1 cup LSA (linseeds, sunflower seeds, almonds)
1 cup puffed rice
½ cup pepitas
½ cup psyllium husk
4 teaspoons ground cinnamon
Preparation
Mix together until well combined. Serve with greek yoghurt or almond milk and fresh fruit.
2. Raspberry Ripe Smoothie
Serves 1
Ingredients
1/3 cup frozen raspberries
1 frozen banana
2 cups coconut water
1 serving protein powder (natural)
2 tablespoons cacao powder
1 teaspoon rosewater
Preparation
Blend all ingredients until smooth, thick and creamy.
3. Sticky Date Oat Pudding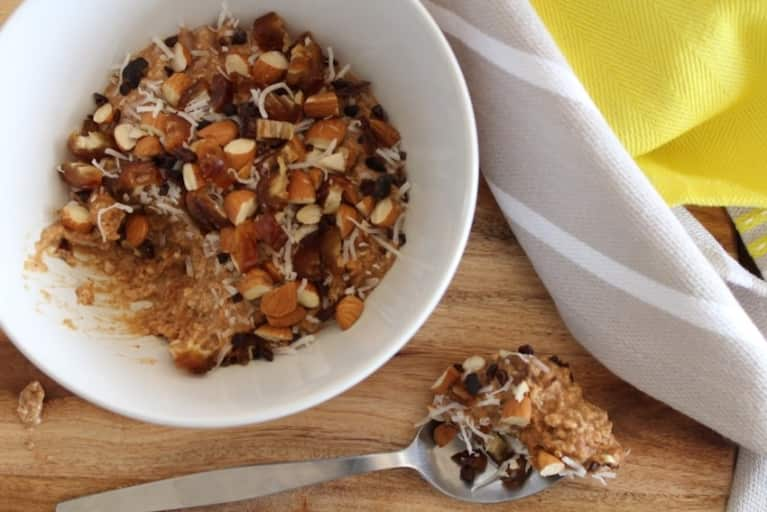 1/3 cup oats
1/3 cup coconut cream
1/3 cup water
1 teaspoon cinnamon
1 teaspoon maca powder
pinch vanilla powder
pinch nutmeg
1 fresh date finely chopped
1 tablespoon shredded coconut
1 tablespoon cacao nibs
1 tablespoon chopped almonds
Preparation
Place oats, coconut cream, water, cinnamon, maca powder, vanilla, nutmeg and date into a small saucepan and cook over medium heat until thick and creamy. Once cooked, pour into a bowl and top with shredded coconut, cacao nibs and almonds.
4. Baked Oatmeal Muffins
Serves 12
Ingredients
1 egg
1 ½ cups almond milk
2 ½ cups oats
2 mashed bananas
¼ cup honey
1 tablespoon cinnamon
1 ½ teaspoons baking powder
1 cup raspberries
1 tablespoon coconut oil melted
Preparation
Mix all ingredients in a bowl until well combined. Grease a 12 cup muffins tray with coconut oil. Divide mixture evenly into the 12 cup muffin tray. Bake in a moderate oven for 30 minutes.
5. Berry Chia Pudding
Serves 1
Ingredients
2 tablespoons chia seeds
1 tablespoon raspberries
1 teaspoon cacao powder
1 teaspoon honey
1 teaspoon maca powder
1/3 cup almond milk
Preparation
Combine all ingredients in a bowl, cup, mug or jar and stir until well combined and the chia seeds soak up the almond milk liquid and form a pudding-like consistency. This takes a couple of minutes.
6. Sweet Omelette
Serves 2
Ingredients
4 eggs
1 mashed banana
4 teaspoons chia seeds
4 teaspoons ground flax
1 teaspoon cinnamon
coconut oil for frying
Preparation
Mix eggs, banana, chia, flax and cinnamon until well combined. Fry batter in a little coconut oil over medium heat until cooked through.
7. Vegetable Omelette
Serves 1
Ingredients
2 eggs
¼ red onion diced
¼ capsicum diced
1 medium mushroom sliced
½ zucchini grated
handful spinach
pinch of ground paprika
himalayan salt and pepper to taste
½ sliced tomato
Preparation
With a fork beat eggs in a bowl, add red onion, capsicum, mushroom, zucchini, spinach, paprika and salt and pepper to taste. Mix together until combined. Pour mixture into a fry pan over medium heat and place sliced tomatoes on top. Cook until the egg mixture on top is slightly runny and the bottom is golden brown. Flip and cook for a couple of minutes to seal.
8. Apple Bircher Muesli
Serves 6
Ingredients
1 cup almond milk
1 cup orange juice
1 cup oats
2 tablespoons sultanas
2 tablespoons goji berries
2 tablespoons pepitas/pumpkin seeds
2 tablespoons sunflower seeds
2 tablespoons chia seeds
1 teaspoon ground cinnamon
1 green apple grated
Preparation
Combine all ingredients in a bowl and mix until well combined. Store in the fridge overnight or until the oats, seeds and fruit have soaked up most of the liquid. You may wish to stir this mixture occasionally. Serve muesli with yoghurt and fruit.
9. Cinnamon Quinoa Porridge
Serves 1
Ingredients
1/3 cup quinoa flakes
1 cup almond milk
1 teaspoon ground cinnamon
¼ teaspoon ground nutmeg
½ teaspoon vanilla powder
3 fresh dates pitted and chopped finely
fresh fruit (I used raspberries, strawberries, blueberries and bananas) + maple syrup to serve
Preparation
Combine quinoa, milk, cinnamon, nutmeg, vanilla and dates in a small saucepan over medium heat and cook until creamy. Serve with fresh fruit and maple syrup.
10. Chocolate Granola
Serves 10
Ingredients
2 ½ cups nuts or seeds (roughly chopped if large) – I used a mixture of almonds (chopped), sesame seeds, pumpkin seeds/pepitas, cashews (chopped) and pecans (chopped)
1/2 cup shredded coconut
2 tablespoons coconut oil
1 teaspoon ground cinnamon
2 teaspoons cacao powder
2 teaspoons maple syrup
Preparation
Heat coconut oil in a pan over medium heat. Add nuts and seeds and stir to coat in oil. Add shredded coconut, cinnamon, cacao and honey. Mix well and stir constantly over medium heat until the nuts are toasted and crunchy. Remove from the heat and allow to cool. Store granola mix in an airtight container.
11. Savory Frittatas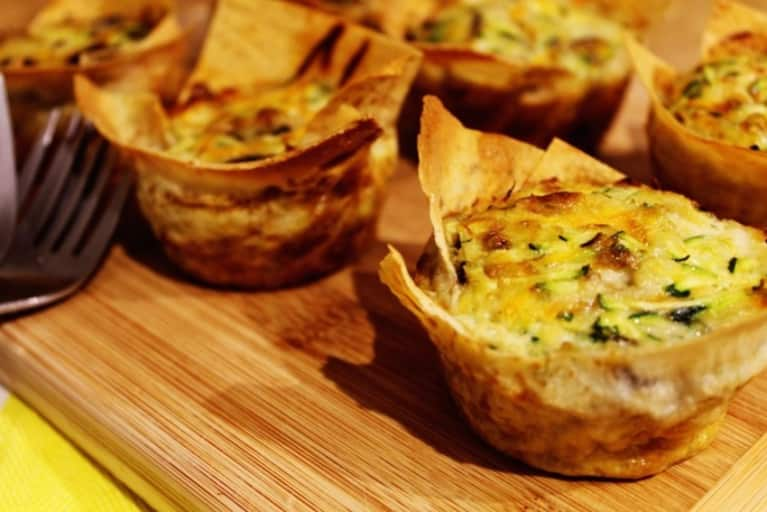 Serves 12 mini frittatas
Ingredients
3 pieces of mountain bread (or similar flat bread)
2 tablespoons coconut oil melted
8 eggs
2 zucchinis, grated
1 carrot, grated
1 cup cheese, grated
4 mushrooms, sliced
1 tablespoon parsley, finely chopped
Himalayan salt + pepper to taste
Preparation
Slice each piece of mountain bread into 4 equal squares. Place each small square into a 12 cup muffin tray. Combine remaining ingredients in a bowl and mix with a wooden spoon until well combined. Spoon mixture evenly into the muffin tray. Bake in a moderate oven for 40 minutes or until golden and cooked through.
12. Coconut Pancakes
Serves 2
Ingredients
½ cup coconut flour
¼ cup coconut oil melted
4 eggs
¼ cup almond milk
¼ cup honey
¼ teaspoon vanilla powder
½ teaspoon bicarbonate soda
extra coconut oil for frying
Preparation
Combine coconut flour, coconut oil, eggs, milk, honey, vanilla and bicarbonate soda in a bowl. Mix until well combined. Fry batter in a little extra coconut oil over medium heat on both sides until cooked through.
13. Acai Smoothie Bowl
Serves 2
Ingredients
1 frozen acai brick
1 mango
1 cup pineapple
2 handfuls frozen berries
2 servings of protein powder
2 tablespoons chia seeds
2 tablespoons flax seeds
4 tablespoons coconut yoghurt
1 kiwi fruit sliced
handful blueberries
1 tablespoon goji berries
2 tablespoons buckwheat
2 teaspoons bee pollen
Preparation
Blend acai, mango, pineapple, frozen berries, protein powder, chia seeds, flax seeds and coconut yogurt until well combined and smooth. Pour mixture into 2 bowls. Decorate with kiwi fruit, blueberries, goji berries, buckwheat and bee pollen.
Photo courtesy of the author