Perfect Weekday Lunch: Sweet Potato + Walnut Quinoa Bowl
This is a great recipe to pack in a mason jar and take to work. Cooking the sweet potatoes and quinoa does take some time, but the great thing is that you can make both in large batches ahead of time and through it together for this lunch and other meals when you need it.
It's an ideal detoxifying bowl that's bursting with nutrients and perfect for a spring detox.
Sweet Potato + Walnut Quinoa Bowl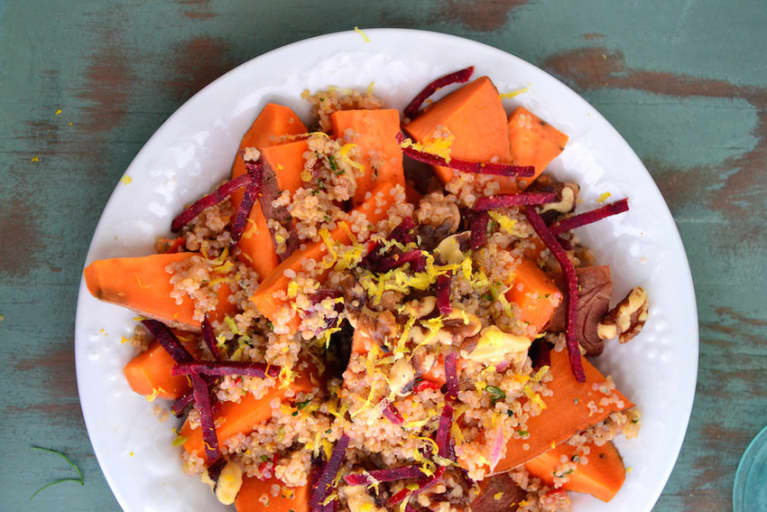 2 sweet potatoes, cut into 1 inch pieces
1 small red beet
2 tablespoons melted coconut oil
½ cup quinoa
juice of 1 large lemon
1 teaspoon balsamic vinegar
1 tablespoon extra-virgin olive oil
sea salt + pepper, to taste
lemon zest, for garnish
2 tablespoons chopped raw walnuts
Preparation
1. Preheat oven to 375ºF.
2. Place sweet potato and beet onto a rimmed baking sheet and coat with melted coconut oil; season with sea salt and pepper. Bake for 40 minutes or until sweet potatoes and beet are tender.
3. Meanwhile, cook quinoa according to package directions.
4. Remove beet and sweet potato from oven; set aside to cool. Thinly slice beets using a sharp knife.
5. In a large bowl, toss cooked quinoa with baked sweet potato, beets and remaining ingredients; gently toss to combine and serve warm.
Photo courtesy of the author