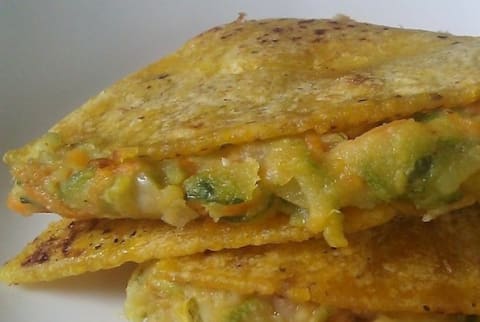 July 24, 2013
Tired of the same old cheese quesadilla? Here's a spin on the old that's loaded with flavor and packed with vegetables for healthy nutrition. You'll feel good about eating these and they're sure to become your family's favorite. 
Ingredients
Advertisement
This ad is displayed using third party content and we do not control its accessibility features.
2-3 small to medium zucchini, grated
1 medium carrot, grated
1 inch piece of ginger, grated
2 scallions, finely chopped
1 cup of shredded good quality cheese (I used New Zealand Cheddar)
16 oz of Cannellini beans, mashed
Fresh rosemary (can be substituted with dry if fresh not available)
Smoked cumin powder
Smoked paprika or cayenne pepper
Garlic powder
1 Tbsp lime juice
Sea salt
Olive oil
Tortillas (I used organic/non-GMO corn tortillas but you can use any flour tortillas of your choice)
Preparation
1. Sautee ginger and scallions in olive oil for about two minutes.
2. Add zucchini and carrots and continue sautéing until the mixture is cooked down and the juices from the vegetables release.
3. Add cumin powder, garlic powder, salt and pepper to taste. Add the rosemary, mix it well and stir for about a minute.
4. Add the mashed beans. Mix and cook for a few minutes.
5. Lastly, add the cheese and blend it in well. It should melt pretty quickly. The mixture will appear soft and nicely mashed up. Remove from heat and add the lime juice once a little cool.
6. Heat about ½ tsp of oil in a pan, cast iron pan or hot plate. Take one tortilla and warm it on both sides.
7. Place the prepared veggie mix on half side of the tortilla, spread it evenly and fold the other half on top. You can make it as thick or thin as you'd like.
8. Press slightly on top to bind the ingredients in. Cook on each side until tortillas is slightly browned and has a nice crisp crust.
9. Continue filling the rest of the tortillas the same way until the filling is done. It makes about 6 medium size quesadillas.
That is it!
It's ready to serve with your favorite spicy sauce or salsa. I used a few dashes of hot sauce for myself and some ketchup for my son. It was deliciously satisfying and there were no leftovers! (A good indicator that I'll be making these again...)
Advertisement
This ad is displayed using third party content and we do not control its accessibility features.
Preeti Gundecha
Preeti Gundecha is a busy mom, a wife and a health enthusiast who has learned the importance of proper health and nutrition while trying to heal from severe illness. She is a Nutrition and Lifestyle Coach who is passionate about sharing her learning and her life's experiences to help others. Her philosophy is: there is more to good health than what you eat. Health is the nourishment of the mind, body and soul, and finding your unique balance in between. When you put your heart to it, anything is possible, including great health! Just remember to take it one step at a time.
To learn more about Preeti's journey, connect with her via Facebook or through her website.