4 Hormone-Balancing Smoothie Recipes Perfect For Winter

By Alisa Vitti
mbg Contributor
Alisa Vitti is a women's hormone and functional nutrition expert and pioneer in female biohacking. She founded The FLO Living Hormone Center, the world's first menstrual healthcare platform, created the MyFLO period app, the first and only functional medicine period tracker, and is the author of WomanCode.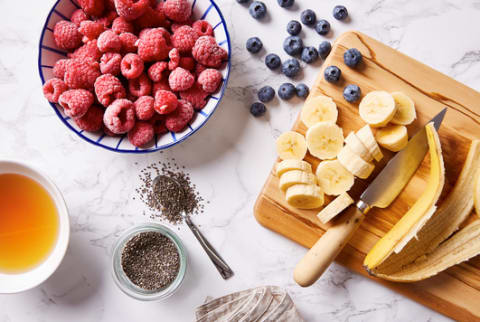 December 27, 2016
If you're a smoothie junkie like me, then you'll be just as excited as I was to discover that the blended beverages aren't just delicious, easy, anytime snacks and meals; they can also be efficient hormone-balancing tools.
A smoothie for winter, you ask? Yes—as long as you're using what's in season! I'm generally a fan of simple, natural, clean foods when it comes to meal planning, but I consider smoothies my one culinary outlet for creativity and experimentation. That's why I concocted four ultimate smoothie recipes that exemplify the notion of using good food as medicine.
These yummy smoothies are quick and easy to make, and will also support your efforts to regain hormonal balance and heal your PMS, fatigue, low libido, fertility issues, and more.
Measure out the ingredients according to your taste buds, and embrace the smoothie bowl trend by blending half of the ingredients to pour on top of the other unblended half for a great breakfast or snack.
The Pumpkin Spice PMS Prescription
If the week before your period tends to inspire an insatiable appetite for Oreos, satiate your sugar cravings with the wholesome sugars from in-season pumpkin and dates. Plus, the fruits and veggies in this recipe will help your body purge the excess estrogen that's at the root of your PMS symptoms.
Canned, organic pumpkin puree
Dried apricots or dates
Sunbutter
Cinnamon
Nutmeg
Himalayan salt
Almond milk
The No-Coffee Coffee Energy Elixir
If you find yourself sluggish after waking up, this is the perfect morning coffee alternative that will also give you sustained, slow-release energy till lunch. Not to mention, it's so much better for you than a Starbucks blended mocha.
Banana
Raw cacao
Blackberries
Raw oats soaked overnight
Cashew milk
The Passion Pour for Low Libido
If your sex drive is a distant memory, this smoothie is for you. Packed with real aphrodisiacs that actually work, you'll be feeling sexy in no time. Warning: this one might make you late for work.
Avocado
Strawberries
Honey
Almond milk
Pinch of cayenne pepper
The Be-Fruitful Fertility Fix
If your fertility is flagging and you're hoping to get pregnant, this is your jam. You'll get a big boost of folic acid from the spinach, a variety of vitamins and minerals, zinc from the seeds, plus natural bee product royal jelly, which feeds the queen bee and helps her deliver all her babies for the hive! Royal jelly increases the level of luteinizing hormone in your body, promoting consistent and healthy ovulation.
Spinach
Mango
Blueberries
Royal Jelly
Sesame seeds
Coconut yogurt
Cardamom
Coconut water
Note, if you have asthma, ask your doctor before taking royal jelly. It's been known to cause adverse reactions1 in a small percentage of people who have asthma.
Is Your Period Healthy?
How do you know if your hormones are healthy? The answer is in your fifth vital sign—your period.
The color of your flow, frequency of your period, and symptoms you have each month can tell you a lot about your health. There are five different period types, and knowing which one you have will help you get healthy now and prevent disease in the future.
Click here to take The V-SIGN TYPE™ Quiz now to learn more about your period.

Alisa Vitti
Alisa Vitti is a women's hormone and functional nutrition expert and pioneer in female biohacking. A graduate of Johns Hopkins University and the Institute for Integrative Nutrition, Vitti has been featured on The Dr. Oz Show, Lifetime, and has been a regular contributor for Cosmopolitan, Harper's Bazaar, and Women's Health. She is the founder of The FLO Living Hormone Center, the world's first menstrual healthcare platform that has helped hundreds of thousands of women around the world put their period issues like PCOS, Fibroids, Endometriosis, and PMS into remission naturally using her highly effective FLO Protocol and the FLO Balance Period Supplements, and the creator the MyFLO period app—the first and only functional medicine period tracker. She is also the author of the best-selling book WomenCode. She has presented at SXSW, TEDx, Talks@Google, Summit Series Outside, and SHE Summit and regularly trains women in the workplace on how to use her Cycle Syncing Method for greater creativity, productivity, and wellbeing at work.