Why Everyone Should Try Sprouting Chia Seeds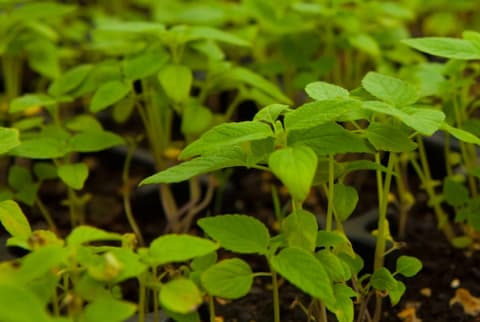 Photo by Shutterstock.com
January 26, 2014
I have to admit, I was a little bummed at Christmas when at my family's gift exchange, I was the recipient of a Chia Pet. Everyone else got stuff they could use or gifts that were fun, but what was I going to do with a chia pet?
I soon realized that out of everyone in my family, I was actually the best one to get the Chia Pet. I had been eating chia seeds for years, but had never tried sprouting them. I knew right then that I was going to eat my chia pet!
What a great and fun way to grow microgreens! I soaked the chia seeds like the directions indicated, and carefully spread them around my pet's face to grow his microgreen beard. It took several days on my countertop before I started to see the sprouts forming. (I think if I had a little more light, things would have been faster.) However, it wasn't long ... just 4-5 days and I had microgreens (of course not quite as full as the photo on the box showed)!
I invited a friend over for lunch, and we ate my Chia Pet's beard. We scooped off the microgreens and added them to our guacamole. Yum! You could also add these small microgreens to your salad, atop your sandwich, in your smoothie, or anywhere you need an extra boost of nutrients. They're so tiny and tender, you hardly even know there are there, but they pack a powerful nutritional punch.
USDA researchers recently published a study on microgreens and reported that they possess significantly higher nutrient densities than mature leaves. In fact, microgreens can have 4-6 times the nutrients than the mature leaves of the same plant!
Chia seeds actually got their name from the Mayan word for "strength," and for good reason! Chia seeds are extremely healthy, which is why they're known as a superfood! Here are just some of the benefits of chia seeds:
They have maximum nutrients with minimal calories.
They contain high levels of ALA omega-3 fatty acids (higher than flaxseeds and even salmon).
They're a good source of fiber and antioxidants (which neutralize free radicals).
They're high in calcium
They're high in manganese (good for bones and helps our body use other essential nutrients).
Have plenty of phosphorus to maintain healthy bones and teeth.
They are a great protein source.
Once sprouted, you also get the added benefit of chlorophyll (the source of the "green" of the leaf). Chlorophyll is a powerful blood cleanser and blood builder. It replenishes and increases our red blood cell count and increases the ability of red blood cells to carry oxygen and deliver us increased levels of oxygen.
If you to purchased already sprouted microgreens, they're expensive and can go for $30 a pound. However, when grown at home with the help of your chia pet, they cost significantly less!
So don't throw away that unwanted Chia Pet; or go purchase one on the cheap, since we are post-holiday, and you'll be adding healthy microgreens to your diet in no time while having fun doing it! Invite some friends over for dinner and have your Chia Pet as a centerpiece. Show your guests how to use the microgreens, and your centerpiece will be something they won't soon forget!
Want to turn your passion for wellbeing into a fulfilling career? Become a Certified Health Coach! Learn more here.

Christy Lonergan
Christy Lonergan is a health coach working with men and women struggling with digestive issues, weight gain, and chronic health issues. Her approach to wellness is that there is no one diet that is right for everyone and she helps you find the foods that reduce inflammation for your unique situation.
Christy is an ex-sugar addict and former Meniere's autoimmune disease sufferer, who through diet and lifestyle changes, no longer suffers from the debilitating disease and feels better than ever before.
She graduated from the Institute for Integrative Nutrition in New York City, and is certified by the American Association of Drugless Practitioners. To find out more about how you can find your own journey of health and happiness, please visit www.NourishingHealthAndWellness.com.