5 Plant-Based Food Trends Poised To Take Grocery Aisles By Storm
mbg Nutrition & Health Writer
By Eliza Sullivan
mbg Nutrition & Health Writer
Eliza Sullivan is a food writer and SEO editor at mindbodygreen. She writes about food, recipes, and nutrition—among other things. She studied journalism at Boston University.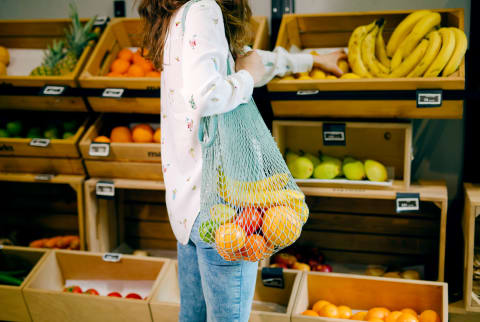 Image by Ani Dimi / Stocksy
May 27, 2021
We carefully vet all products and services featured on mindbodygreen using our
commerce guidelines.
Our selections are never influenced by the commissions earned from our links.
The plant-based trend is well and truly established across the food industry—in fact, I'd go as far as to say that it's no longer a trend and really just a true segment of the culinary world. And it's expanding beyond special sections of the supermarket and vegan cafes, into mainstream products and Michelin-starred restaurants (looking at you, Eleven Madison Park).
These days, the plant-based world has food trends all its own. Every year Whole Foods Market predicts some of the most buzzworthy foods, and this week they added a special list just for plant-based trends for the very first time. Here's what they're saying are the next big things in plant-centric eating.
5 plant-based trends to look out for this year:
1.
Plant-based cheese alternatives are (finally) getting an upgrade.
Sure, there's been vegan "cheese" on the market for a while, but it didn't really go beyond the simple slice until recently—and even then, I wouldn't go as far as to say that it was to the artisan level that Whole Foods Market is noting for this year. "While using nut-based milks and ingredients like black garlic truffle, dill Havarti, and chive is unique, plant-based cheesemakers are also replicating the methods used to make dairy cheeses for more authentic textures and flavors," they say on the website. If you ask me, this exploration of real cheese processes to make plant-based options is long overdue.
Can't wait to see it in stores? We've got the 411 on making vegan cheese yourself, at home—and it's not even that difficult. A good place to start is with this plant-based ricotta, which only takes four ingredients.
2.
Turn on the grill: We're going beyond Beyond burgers.
Once again I say: It's about time. People who choose plant-based have been eating veggie burgers for long enough—now the industry is catching up, with tasty plant-based alternatives to sausages and more BBQ-flavored options than we ever dreamed. The coolest part? The products are also innovating in wild ways, like using algae-based casings on "sausages."
3.
The kids are all right (and going plant-based, too).
Perhaps it's because a generation of vegans are becoming parents, or maybe it's the fact that we're all trying to do our part to minimize our environmental impact, and we know the kitchen is a good place to start—but vegan foods for kiddos are having their own big moment. Nondairy milks designed for a younger crowd (aka those that aren't just adding it to their coffee), squeezable dairy-free yogurts, and even plant-based superhero ice pops are all hitting shelves just in time for summer vacations.
4.
Another type of sustainable seafood is on the market.
Finding sustainable seafood used to mean looking for tinned fish or special labels on packaging, but now it can also mean opting for a plant-based version. With brands like Good Catch dropping plant-based tuna, and vegan chefs turning mushrooms into scallops (yep!), pescatarians and meat-eaters will certainly find things to love about this new realm of plant-based options.
We've been following the sustainable seafood trend for a while, but if you're wondering what the deal is with tinned fish...we've got it explained here.
5.
Dips are still trending—and there's more than just hummus.
There are few things better than a good creamy dip or spread, and while hummus is one of the ultimate dairy-free options, the world of plant-based dips is expanding rapidly. Where there used to be sour cream or cream-cheese-based options, now dips made with cashews and almonds are just as satisfying.
The bigger trends we're watching, too.
In addition to publishing their list of plant-based grocery trends, Whole Foods Market put out a list of 10 overall food trends for 2021 earlier this year, and there's a few we really jibe with:
Well-being is served: They note that "the lines are blurring between the supplement and grocery aisle," as we start to see more and more food items that are focusing on the benefits. Of course, foods like fruits, veggies, nuts, and more have always been packed with nutrients—but it seems the industry is finally buying into the food-as-medicine concept in a big way.
Epic breakfast every day: While the debate over whether or not breakfast really is the most important meal of the day rages on, there's one thing for sure: People are increasingly into breakfast. Maybe it has to do with more people working from home, but there are more and more fun breakfast items hitting shelves. (Check out some of our favorite breakfast recipes to start the day right.)
Upcycled foods: Just like we upcycle planters, food brands are upcycling the parts of foods that may have hit the compost bin (or worse, the landfill) before—this includes things like "pulp chips" made from pressed veggies that were used to make juices, and baking flours made from soybean pulp. (We love these six recipes that upcycle ingredients to limit food waste.)
The mighty mighty chickpea: One of my personal favorite pantry staples is hitting the limelight: Chickpeas are transforming into everything from snacking puffs to wraps to breakfast cereal (yep). And it makes sense: It means these foods get a little extra protein, and they're gluten-free, too.
Fruit and veggie jerky: Jerky isn't just for meat-eaters anymore. These new plant jerkies are like the grown-up versions of the fruit leathers I remember having in my lunch box as a kid, but they come in a ton of fun flavors like chili & salt, chipotle lime, and ginger teriyaki.
After checking in with these trend reports, I definitely have some new items to add to my cart next time I'm at the store. I appreciate how many of these plant-based trends have benefits for not only my health but also the planet. Want to work on making your kitchen more sustainable? These foods have a lower carbon footprint, and you can make smart swaps for your kitchen supplies, too.
Eliza Sullivan
mbg Nutrition & Health Writer
Eliza Sullivan is an SEO Editor at mindbodygreen, where she writes about food, recipes, and nutrition—among other things. She received a B.S. in journalism and B.A. in english literature with honors from Boston University, and she has previously written for Boston Magazine, TheTaste.ie, and SUITCASE magazine.