Want To Try Keto For Weight Loss Or Healing? Here's What A Day On The Diet ACTUALLY Looks Like

Registered Dietitian & Nutritionist
By Brigid Titgemeier, M.S., L.D., RDN
Registered Dietitian & Nutritionist
Brigid Titgemeier is a dietitian nutritionist based in in Cleveland, Ohio. She received her master's in Public Health Nutrition and completed a Dietetic Internship at Case Western Reserve University.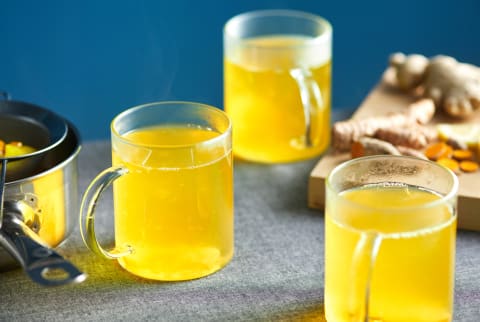 April 23, 2018
As a functional medicine dietitian nutritionist, I view food as one of the most powerful drugs that we have access to. When it comes to creating functionality and balance in the body, nutrition is often more effective than drugs. My day-to-day routine involves working with patients to understand this concept. This happens in a bunch of different settings—working with people one-on-one, teaching group classes, teaching a graduate-level functional nutrition class, or experimenting with recipes in my kitchen.
I regularly witness people completely transform their health through food. I have witnessed incredible results from working with people on adopting a ketogenic diet—everything from insulin resistance and type 2 diabetes to excessive levels of fatigue to excessive weight.
Advertisement
This ad is displayed using third party content and we do not control its accessibility features.
A question that I often get from patients is: "Do YOU eat this way?" My response is always…yes, I do something very similar because I, too, have been a patient in functional medicine, and I believe wholeheartedly in what I am recommending to you. Over the years I noticed that my body feels best eating higher fat and low-glycemic-index foods. This is why I chose to adopt a strict ketogenic diet for six weeks.
In the first two weeks, this entire experience was a big adjustment. In addition to eating more fat, I reintroduced organic, full-fat dairy foods into my diet because I don't get any symptoms after eating dairy. I do want to mention that although I did my best to eat a very healthy version of keto, no one is ever 100 percent perfect! There were a few times that I ate grass-fed butter all by itself (because I was literally craving it) and saved a few vegetable carbs during the day for a glass of low-carb wine at night. I might be a dietitian, but I, too, am only human! I hope you enjoy getting a glimpse of my day-to-day ketogenic food intake!
5:30 a.m.: My Three Morning M's: Meditation, Mighty Leaf Green Tea & MCT Oil
The first thing that I do before checking my email or social media is meditate for 10 to 30 minutes (depending on my schedule). This is an essential part of my day because it helps me breathe freely and connect with myself. After meditation I check emails, looking out my apartment window at the city of Cleveland, drinking my green tea and MCT oil. I don't usually eat when I wake up because I practice intermittent fasting most days (hence why I'm not showing a pretty picture of breakfast!). This helps increase ketone production and gives me mental clarity for the day. Throughout the rest of the day I average about 2,000 to 2,400 calories because I am pretty active—either lifting or doing HIIT five to six days per week—and I'm not trying to lose weight.
10:30 a.m.: Keto Macadamia Bread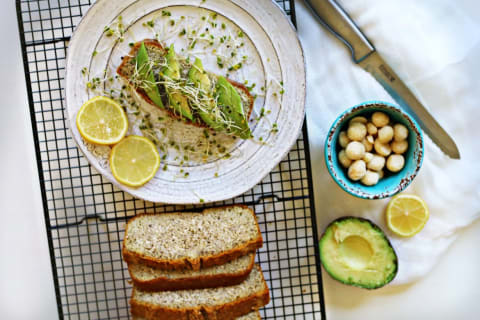 Advertisement
This ad is displayed using third party content and we do not control its accessibility features.
This bread has been a ketogenic game-changer because it's delicious, feels like actual bread, and has only 2 grams of net carbohydrates! My goal for each day is to not exceed 25 grams of net carbohydrates, so 2 grams doesn't make too much of a dent! I usually pack my Keto Macadamia Bread with whatever toppings I'm feeling for the day. My favorite options include avocado and broccoli sprouts, almond butter and cinnamon, or full-fat organic ricotta cheese with sauerkraut or kimchi.
1 p.m.: Cabbage Wraps and Cooked Vegetables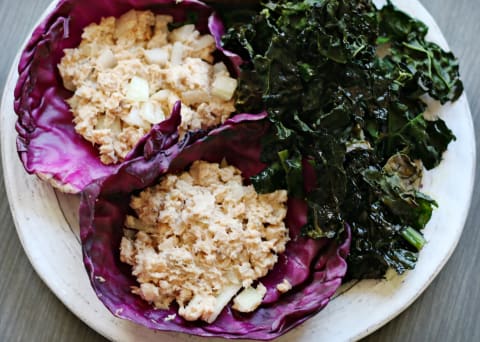 Advertisement
This ad is displayed using third party content and we do not control its accessibility features.
I'm all about fast and simple meals, and I typically meal prep on the weekend. This lunch was super easy to prep at the beginning of the week—I made a big bowl of canned tuna with diced onions and avocado oil mayonnaise plus roasted a head of kale in coconut oil, a blend of spices, and Himalayan salt. Today I rolled the mercury-free tuna in these beautiful red cabbage leaves. I'm all about adding a pop of color to each meal because research shows that a variety of colors in your diet is better than a large amount of one color.
4:30 p.m.: Almond Yogurt With Keto Grainless Granola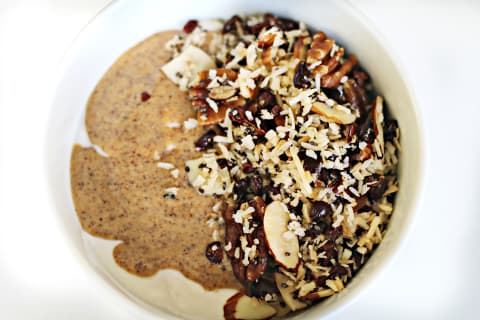 Advertisement
This ad is displayed using third party content and we do not control its accessibility features.
My favorite high-fat snack is unsweetened almond yogurt with grainless granola. The granola is homemade and super easy. I consider it my pre-workout fuel. I typically work out between 6 and 7 p.m., and I've found that eating a high-fat snack before working out helps improve my workout. There were days at the beginning of eating ketogenic that I was not able to lift as much weight and my muscles seemed to fatigue more quickly than usual. But this is something that ended up stabilizing.
7 p.m.: Shrimp, Greens & Confetti Rice Bowl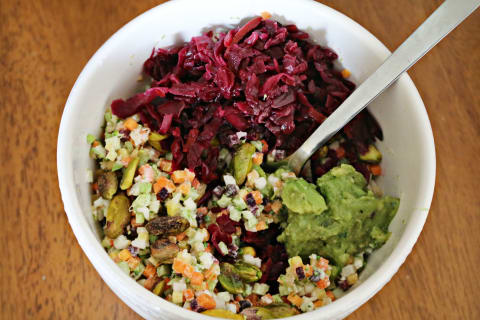 Advertisement
This ad is displayed using third party content and we do not control its accessibility features.
After getting home from the gym, I either heat a meal that I made at the beginning of the week with meal prep, or I throw together a messy vegetable bowl in approximately three to five minutes. I added about 3 ounces of shrimp at the bottom, which I cooked at the beginning of the week. Then I topped with 2 cups raw leafy greens, 1 cup confetti rice (carrots, cauliflower, and broccoli rice), ¼ cup pistachios, ½ cup guacamole, lemon, Himalayan salt, and pepper. I always try to add a heaping scoop of gut-healthy foods, and in this case, I used beet sauerkraut (which is lower in carbs than you would think). I aim for getting a minimum of 5 cups of nonstarchy vegetables in my diet per day. Of those 5 cups, I try to eat 2 cups from the cruciferous vegetable family because of the phytonutrients and sulfur compounds that they contain that aid with detoxification.
8 p.m.: Cacao Coconut Treat & Herbal Tea
Instead of grabbing a sweet treat before bed, I usually mix 1 tablespoon almond butter, 1 tablespoon melted coconut oil, 1 teaspoon cacao powder, and a dash of Himalayan salt. This ABSOLUTELY does the trick for sugar cravings. Pop in the freezer or eat in its soupy room-temperature form! At this time I also start to settle down with a cup of Turmeric Ginger Tea. I love the flavor combination and the powerful anti-inflammatory benefits of ginger and turmeric.
Want to read more about the keto diet? Every question you ever had is answered here.
Want to turn your passion for wellbeing into a fulfilling career? Become a Certified Health Coach! Learn more here.

Brigid Titgemeier, M.S., L.D., RDN
Registered Dietitian & Nutritionist
Brigid Titgemeier is a dietitian nutritionist, entrepreneur, and adjunct professor currently living in Cleveland, Ohio. She received a bachelor's in dietetics from Miami University and received her master's in public health nutrition from Case Western Reserve University, as well as completing a dietetic internship. She has been featured on Oprah.com, The Huffington Post, U.S. News & World Report, and Women's Health. Titgemeier is the owner of BeingBrigid Functional Nutrition Consulting, where she works with individuals in groups and one-on-one, establishing a personalized approach to using food as medicine. When she's not working, she's usually in her kitchen experimenting with and photographing new recipes for BeingBrigid.com.