What's In My Freezer With Melissa Urban, Founder Of Whole30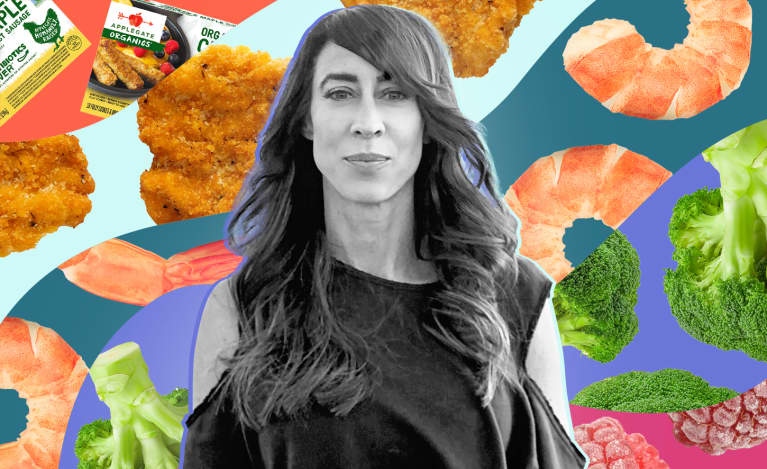 Our editors have independently chosen the products listed on this page. If you purchase something mentioned in this article, we may
earn a small commission
.
It used to be that the fridge got all the glory when it came to stocking it high with healthy eats. But in our new normal, where grocery trips are few and far between and there's never a guarantee of what's on the shelves, the workhorse of our kitchens is getting its due. In our new series What's In My Freezer, we're taking a look at the freezers of some of the biggest names in well-being to see what they're stocking up on—and how they're making dinner out of it.
I'm eating almost exactly the same as I was pre-pandemic, albeit with a few small changes. First, I'm keeping meals simple—no more fancy recipes because I can't guarantee the grocery store will have everything I need. I'm making "ingredient meals" with a protein, veggie, healthy fat, and some kind of seasoning, and it's all very mix-and-match. I've also dialed back on sweets and treats because I'm already stressed and anxious, and that stuff isn't going to help my energy, sleep, or mood. (In fact, I'm in the middle of my first Whole30 in five years as we speak!) These days, I'm leaning on frozen meats and veggies more, for convenience and availability.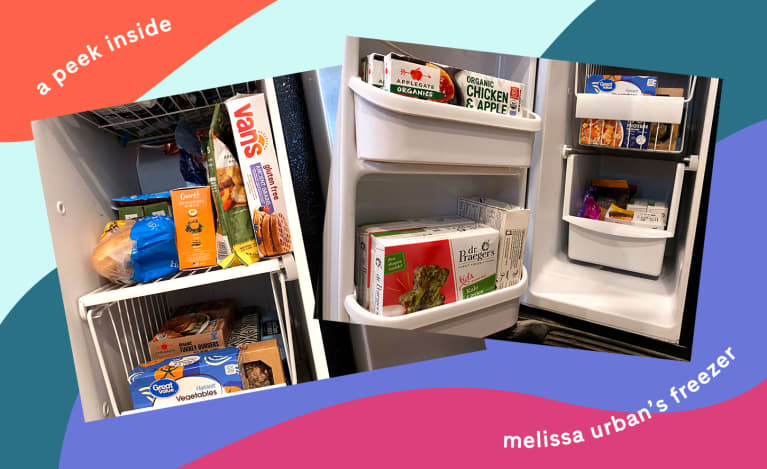 Frozen veggies: I buy whatever I can find and toss a bag of riced cauliflower or broccoli into dishes a few times a week. (Same with frozen peas and carrots!)
Berries: We keep a bag of fresh berries in the freezer at all times, for the long period when berries are out of season and hit-or-miss at the store.
Fresh fish: You'll always find frozen wild-caught salmon burgers and shrimp in my freezer; I eat shrimp at least once a week because it's so fast and easy. I also stock up on Applegate Breakfast Sausage, Tribali meat patties, and Teton Waters Ranch Burger Blends for quick dinners. (My son loves his burgers with Sunbutter and jelly; try it before you scoff.) I also keep a few Whole30 Approved frozen meals from Walmart or Grandcestors on hand for dinner emergencies or in-between-Zoom-calls quick lunches.
Protein: I use ButcherBox's monthly delivery to keep my garage freezer stocked with whole chicken and wings, Whole30 Approved bacon, and 100% grass-fed ground beef. I like being able to customize my box every month, and we always have bacon for Sunday brunch.
Bone broth: I always have at least one pouch of Bonafide Provisions bone broth in my freezer. While I also keep shelf-stable broth in my pantry, if a recipe calls for a large amount or I'm unexpectedly out, I love knowing I have backup ready to defrost.
How I turn it into a meal:
Dressed-up cereal: My son loves frozen blueberries (lightly defrosted) tossed into a bowl of Kitchfix granola topped with nutpods. It's like his version of cereal, and I usually pour a bowl for myself too.
Fried rice: My favorite recipe right now is frozen cauliflower rice, sautéed in the pan. Once it's almost cooked, I'll toss in leftover roasted chicken from my ButcherBox haul, half a box of baby spinach or arugula, and 4 to 6 eggs. I'll cook it all through, almost like a Whole30 version of "fried rice," mixing in toasted sesame oil and coconut aminos and topping with some chopped scallion.
Stir-fry: Mixed veggies are a quick way to make a stir-fry; I just avoid those with corn or lima beans if I'm on a Whole30. I'm also having a hard time finding fresh butternut squash in the store, but I can dump a frozen bag into my slow-cooker for my favorite Whole30 Smoky Chili and it's actually cheaper and easier.
Kiddo favorites: This category should be subtitled, "that I sometimes steal for my meals." Dr. Praeger's Kale and Spinach Littles, Applegate Gluten-Free Chicken Nuggets, and organic tater tots make for quick and easy meals on the weekend. He also likes Udi's Gluten-Free hot dog buns, and I love Van's GF waffles. I also keep a box of fruit-based low-sugar ice pops for weekends. (I like the Outshine brand.)
Breakfast for dinner: My favorite "crap it's 7 p.m. what am I eating for dinner?" dinner is two over-medium eggs, Applegate Breakfast Sausage, a side of Kale Littles, and a fresh green salad.