What The Whole30 Co-Founder Eats In A Day

Whole30 Co-Founder and CEO
By Melissa Urban
Whole30 Co-Founder and CEO
Melissa Urban is a certified sports nutritionist who specializes in helping people change their relationship with food and create life-long, healthy habits. She is the co-creator of the Whole30 program, the New York Times bestselling author of It Starts With Food and The Whole30.
Melissa Hartwig is one of the most bad-ass boss ladies we know. She's the founder of the Whole30 diet, an entrepreneur, and the author of a number of best-selling books. She just released two new Whole30 books for your collection: Whole30 Day by Day, a planner to help you succeed on your Whole30 journey, and Whole30 Fast & Easy, which is filled with super-quick (30 minutes or less!) compliant recipes. Here's exactly what she eats in a day.
I'm a half-time single mom working from home, and I'm lucky in that my schedule is flexible during the week. I've made my morning routine and exercise a priority, and my team knows that I don't start work until 10 a.m. I really like sticking to routines around important parts of the day (morning, dinner, evening) as a way of feeling grounded and making sure my household runs smoothly. I'm not a snacker; I eat around four meals a day (including or sometimes in addition to a post-workout meal) and am not really a "dessert" person, even though I definitely don't eat Whole30 all the time.
6 – 6:30 a.m.: Wake up
I wake at the same time every day. I'm either spending an hour with my son or throwing my hair in a pony and heading straight for the gym, the mountains, or a yoga class. I don't eat before I train, and unless the hike is longer than 10 miles, I'm usually out the door for that, fasted, too. I've played around with a pre-workout meal, and I find I just feel better with the kind of training I'm doing if my stomach is empty.
8 – 9:30 a.m.: Gym
I'm at the gym six days a week, but some days are just mobility, stretching, and easy movement. I'm over the part where I have to beat myself up to feel good; now I just move to my own program design based on what I feel like doing and what my body needs on that day. I do a blend of yoga, powerlifting, body-weight movements, and kettlebells. I don't do much cardio, outside of hiking.
9:30 – 10 a.m.: Breakfast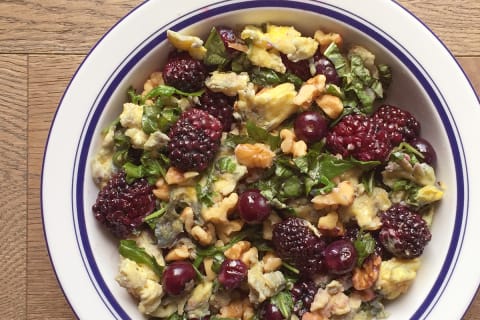 Many days, I just go straight home and make breakfast, but if I have errands to run, I'll bring a Chapul cricket protein shake and a baby food packet to the gym. Yeah, I said crickets. And baby food. I don't eat whey, soy, or plant protein, and the Chapul stuff is low-sugar and protein dense (and yes, it tastes great—you'd never know you were eating bugs). Baby food packets with veggies and fruit are super-easy carbs on-the-go…plus, I have an excuse for buying them (my 4½-year-old son).
Breakfast is always Whole30-ish; I feel my best when I start the day with protein, healthy fat, veggies, and fruit. Eggs and berries are one of my favorite combinations. It's surprisingly delicious, especially when you let the berries heat up a bit so they get explode-y in the pan. Today, I ate eggs soft-scrambled with blueberries, blackberries, baby spinach, fresh basil, and chopped walnuts.
10 a.m.: Decaf coffee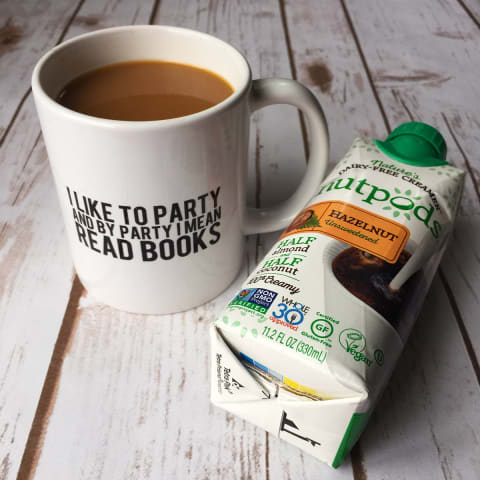 I don't drink caffeine; I gave it up almost 10 years ago. I don't tolerate it well, and I figure if I can write six books and have a baby without it, there's no need to go back to it. I do love the taste of coffee, though, so I brew local decaf water-processed beans in a French press, and make it creamy with Whole30 Approved nutpods.
1:30 p.m. – 2 p.m.: Lunch
My most productive time of day is between 10 a.m. and lunch, so I work straight through, sipping on a LaCroix, Hint water, or mineral water. Then, I break for lunch. My lunch is always Whole30-ish too; I need all the help I can get focusing in the late afternoon. I'll also use this time to do some dinner meal prep, eating lunch while I chop or roast.
I'm a huge fan of protein salads (we have a recipe on page 161 in The Whole30), using either canned chicken, salmon, or tuna as a base. You can make it ahead of time, double the batch, and have lunch ready in five minutes flat. Stuff it into a hollowed-out pepper, place it in lettuce leaves, or spread it on top of fresh romaine or arugula, as I've done here.
You can throw just about anything into a protein salad, and my theory is the more, the better. This is canned Wild Planet organic chicken with Primal Kitchen mayo, apple cider vinegar, celery, green apple, red pepper, dried cranberries (sweetened with apple juice, for Whole30 compliance), scallions, and slivered almonds on top of a mix of baby greens. You could drizzle this with your favorite balsamic, but I like just a sprinkle of sea salt.
6 p.m.: Dinner
I put the most effort into dinner, mostly because I have time during the day to grocery shop and prep. But I still like to keep it simple by having a few templates. This is one I call "ground meat with stuff over stuff." I mix up the meat (ground beef, chicken, or turkey), and the veggies I sauté with the meat, and then I vary the base—zucchini noodles, cauliflower rice or mash, baby spinach leaves, or sweet potato hash.
This is a Whole30 play on Bolognese; ground beef with diced summer squash, onion, and mushrooms with fresh basil ribbons in a tomato sauce, over "zoodles" (zucchini noodles). I always make a double-batch, so tomorrow's lunch or dinner will feature the same meat-and-veggie combo over a different base to keep things fresh.
8 p.m.: Tea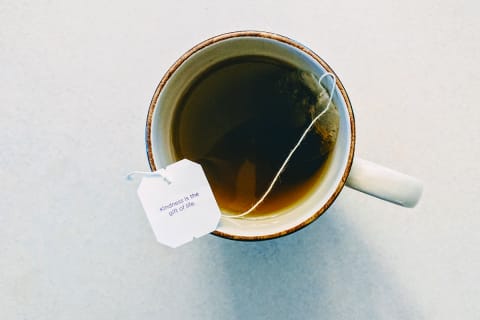 After my son goes to bed, I clean the kitchen, prep food and his snacks for the morning, and brew a cup of herbal tea. I like this nighttime ritual as a replacement for dessert, although sometimes I'll accompany my tea with a Justin's peanut butter cup or some squares from a Chuao Potato Chip Chocolate Bar (I just discovered these, and they are so good. It's not even dark chocolate. Ask me if I care).
Want more of Melissa? She shared her incredibly personal, emotional journey with mbg founder Jason Wachob on the mbg podcast! Listen in here.

Melissa Urban
Whole30 Co-Founder and CEO
Melissa Urban is a certified sports nutritionist who specializes in helping people change their relationship with food and create life-long, healthy habits. She is the co-creator of the Whole30 program, the New York Times bestselling author of It Starts With Food and The Whole30, and has been featured in the Wall Street Journal, Details, Redbook, and Woman's World. Urban has presented over 150 health and nutrition seminars worldwide, and connects with more than 1 million people a month through the Whole30 website.
Photo credit: Taylor Gage