What I Eat In A Day: Annie Lawless, Suja Juice Co-Founder
January 26, 2016
I LOVE food. I always have and I'm not someone who can easily skip meals or "just grab something." I really like to enjoy my food and love the process of creating healthy and delicious moments for myself throughout the day.
I'm always on the move and travel quite a bit, so I don't stress a ton about following any particular diet or restricted food list, aside from my gluten intolerance.
I focus on simple, whole, unprocessed foods and keep white sugar to a minimum to feel my best. I've been home the last few days, which has been so nice because I've been able to get back in the kitchen and make some of my favorite things.
5:30 a.m.: Pre-Yoga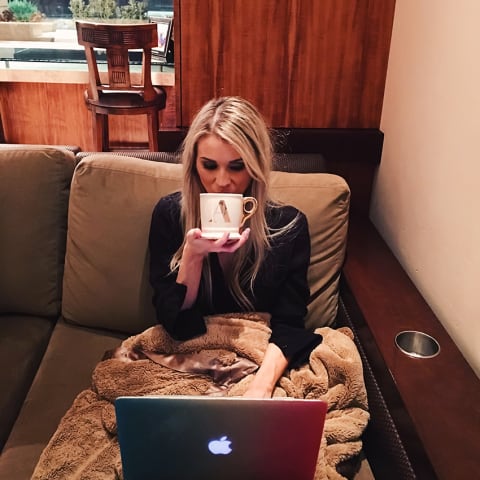 I always get my workout done before anything else in the day or else it will completely get away from me, and my workout of choice most days is a simple yoga flow. I love starting my day this way and feel like a better person for it.
I give myself a good half-hour of chill time to get myself going, check my favorite sites, and enjoy a coconut milk latte before heading to class.
I add ¼ cup or so of full-fat coconut milk and vanilla stevia to 4 to 5 shots of espresso. It's the perfect fuel to give my body something without having to digest a big meal so early when I'm about to work out and I'm just not that hungry yet.
8:40 a.m.: Breakfast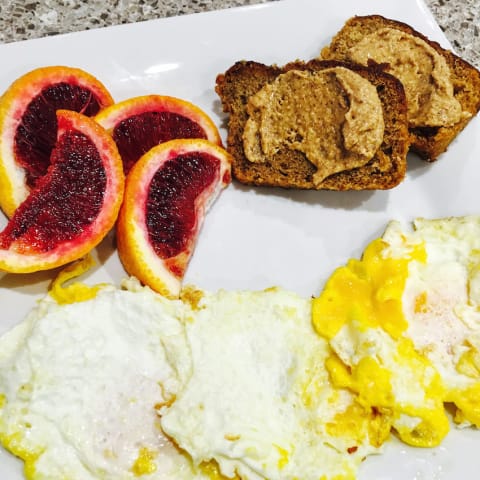 Since I have celiac disease, I don't do a lot of grains because they're a bit difficult for me to digest.
I developed this banana bread recipe, which is completely grain-, gluten-, dairy-, and soy-free, and it's hands-down my favorite breakfast when I'm home. I love it because you don't need extra sweetener thanks to the banana, and it has a cinnamon-y, cozy flavor that provides the perfect nourishing wake-up call in the colder months.
I add a generous spread of homemade raw almond butter and warm it in the oven for a few minutes while I prepare the rest of my plate.
I almost always have eggs in some capacity at breakfast, so I simply fried 3 organic eggs in coconut oil, finished with a sprinkle of crunchy pink Himalayan salt. I also had some slices of the juiciest, most delicious blood orange because it was too pretty not to.
12:20 p.m.: Lunch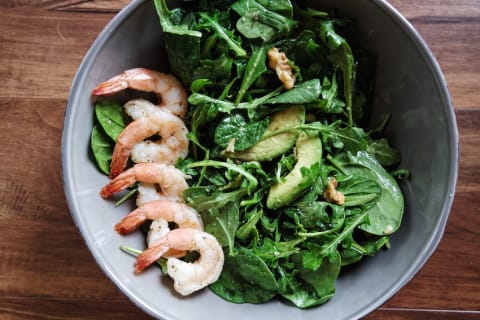 There is rarely a day that goes by without a salad on the menu for lunch. I usually do some sort of light protein with healthy fats to fill me up and power me through a busy afternoon.
This was a mix of arugula and spinach tossed with a simple dressing of garlic, olive oil and pink salt, ¾ of an avocado, a handful of chopped walnuts, and some roasted shrimp.
I switch it up a lot, but this structure is my general lunch salad situation. It's so satisfying without being heavy or giving me that post-lunch fatigue.
4:40 p.m.: Snack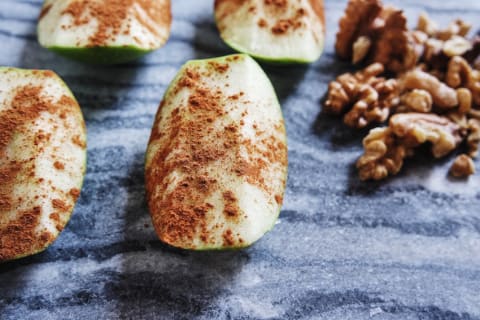 Depending on when I'm eating dinner, I may or may not have a snack. I try to keep my meals pretty hearty and substantial so I'm not feeling the need to graze all day. But there are days when I know I'm not eating until 8 or 9 and need something to keep my energy up and prevent me from going into dinner ravenous.
My snacks are VERY simple — I'm not a bar or "snack" food person. Today I went for a green apple dusted with cinnamon and some raw walnuts, which was perfect because I ended up going for a 50-minute afternoon walk and needed the extra fuel.
8:30 p.m.: Dinner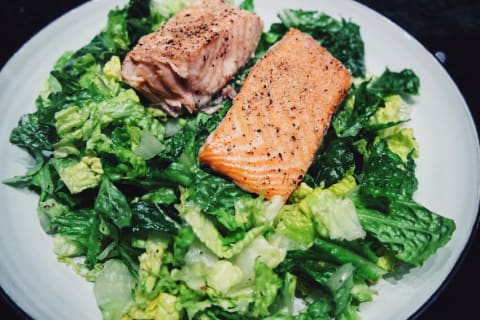 My favorite meal of the day is dinner, especially when I am home.
I loooooove cooking after a long day because it helps me wind down and lets me be creative. Tonight I was feeling a big salad so I tossed a romaine heart with truffle oil, smoked pepper, garlic, and pink salt. I roasted some salmon with the exact same seasoning as the salad and added it on top. I also had a glass of white wine (not pictured).
9:40 p.m.: Dessert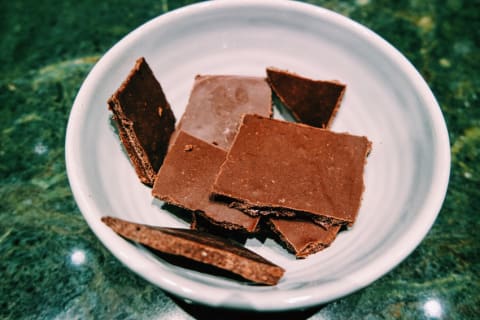 I was editing photos for a blog post and had another hour or so to go, so I decided to treat myself to a small dessert. The day before I made a huge amount of raw cacao bark that is sugar-, dairy-, and gluten-free that turned out so bomb.
I broke off a few pieces and felt great about eating it because I was able to satisfy my chocolate craving without spiking my blood sugar right before bed. It's so rich; a few pieces is all you need to be happy.
Photo courtesy of the author

Annie Lawless
Annie Lawless, BLAWNDE.com Creator and Certified Holistic Health Coach. Suja Juice Co-Founder. New York Times Best Selling Author. 2016 Forbes 30 Under 30.
Annie Lawless is an entrepreneur through and through. Growing up, she suffered from celiacs disease and began juicing in order to give her body the fuel & nutrients it needed. Spurring her passion for nutrition and wellness, Annie went on to be the co-founder of Suja Juice and a certified holistic health coach. Her charisma and entrepreneurial spirit is evident in the passionate community she has built in the digital realm with her blog BLAWNDE.