The French Secret To Saving Money (And The Environment)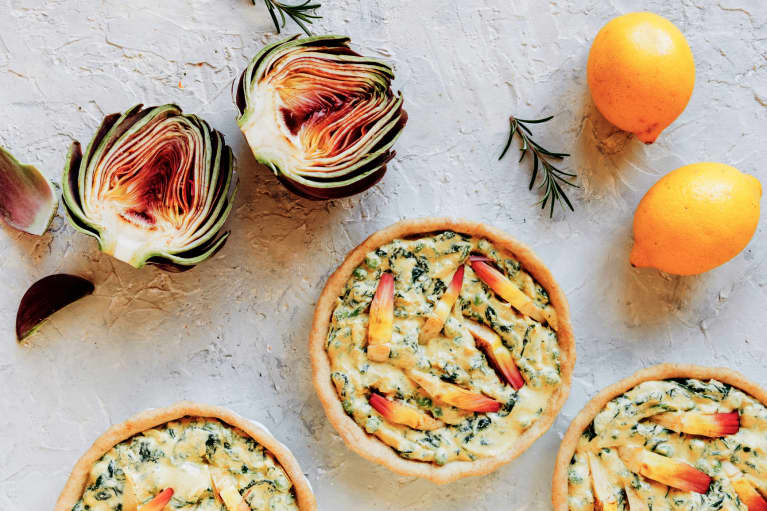 After my college graduation I moved to France to eat. OK, to teach English—but mostly to eat. During my eight-month stint in the food capital of the world, I learned my fair share about food, from the proper ratio of buckwheat flour to water for perfectly crispy galettes to the laws (yes, laws) regulating baguette ingredients. But perhaps the most formative and unexpected lesson of all was about food waste.
Although this was a topic I was vaguely aware of before moving to France (mostly after reading about Dan Barber's WastED pop-up with Sweetgreen), I'll admit I never seriously thought about it. In France, though, almost every time I went to the local market, farmers would advise on their favorite ways to cook with underappreciated veggie scraps.
Carrot tops? Pesto is the way to go. Beet or radish greens? Try puréeing with potatoes for a hearty, warming soup. And broccoli leaves? A quick sauté is all they need.
Then, in a move that solidified its role as a pioneer in the movement to reduce food waste, France announced that it was banning supermarkets from throwing away or destroying unsold food and encouraging them instead to donate it to local food banks or charities.
Needless to say, food waste awareness was everywhere I looked, forcing me to reevaluate how I grocery shopped, stored ingredients, and cooked. While food is about pleasure and nourishing yourself (something the French are obviously amazing at!), in a true You. We. All. spirit, it's also part of a greater system—it's us interacting with our environment. Every meal is a chance to help or hurt the Earth, and being conscious of food waste is one of the easiest ways to make a real difference.
Here's a few things I learned in France that are actionable anywhere:
1. Plan ahead—but not too far.
Stocking up on everything you need for the week on Sunday afternoon is as foreign to the French as brunch. Or sweatpants. Instead, they buy what they need for only the next day or two. And there's no one-stop shop for it all, either.
Although it's admittedly easier said than done to make several trips to the store every week, there's something to be said for planning only a day or two in advance and leaving ample room for unexpected dinners, late nights at work, and takeout cravings.
2. An organized refrigerator is the key to success.
The first thing I do after coming home from the supermarket or farmers market is rearrange my fridge. New purchases go in the back, and older items come up front. This way, I won't forget about that bag of fresh cilantro or head of lettuce from last week. And if I can, I place as many perishables as possible at eye level to avoid falling victim to the "out of sight, out of mind" trap.
3. Don't ignore your freezer.
It didn't take long for me to realize that the French make ample use of their freezers—and not just for frozen fruit or ice cream. Because when seasonal produce is at the peak of its flavor (think tomatoes or basil in late August and squash in October), you buy it. A lot of it. Then you freeze leftovers. Just be careful with high-water-content foods such as cucumbers, celery, and watermelon, which should only be frozen if you do not intend on eating them raw. Herbs are tricky, too. Most will turn brown if kept in a plastic bag in the freezer, so it's best to place them in an ice cube tray and cover with oil.
In an ideal world, there would be zero waste coming from my kitchen, and root-to-stem cooking would be the norm. But in reality, that doesn't always happen. But if there's one French ideal that trumps all the rest, it's an aversion to extremes. Because while Americans are guilty of succumbing to fleeting fads and health food trends (looking at you, turmeric, kale, and anti-inflammatory everything), the French boast far more epicurean and balanced sensibilities. To say food waste is "trendy" in France right now is misleading, simply because it never went out of style in the first place. It's not something they obsess over to the detriment of the pleasure derived from food. It's simply part of their lifestyle and, with these easy-to-master tips, can be part of yours, too.
Want to makeover your kitchen the French way? Here are seven easy, delicious ways to eat your food scraps.