What's In My Freezer With Kelly LeVeque, Celebrity Nutritionist

mbg Editor-At-Large
By Olessa Pindak
mbg Editor-At-Large
Olessa Pindak is the editor-at-large at mindbodygreen. Formerly the executive editor at Prevention, she's worked at Condé Nast, Rodale, Martha Stewart Living Omnimedia, and more.
Image by mbg Creative x Contributors / Kelly LeVeque, iStock, Whole Foods
April 26, 2020
Our editors have independently chosen the products listed on this page. If you purchase something mentioned in this article, we may
earn a small commission
.
It used to be that the fridge got all the glory when it came to stocking it high with healthy eats. But in our new normal, where grocery trips are few and far between and there's never a guarantee of what's on the shelves, the workhouse of our kitchens is getting its due. In our new series "What's In My Freezer," we're taking a look at the freezers of some of the biggest names in well-being to see what they're stocking up on—and how they're making dinner of it.
Advertisement
This ad is displayed using third party content and we do not control its accessibility features.
With clients like Jennifer Garner, Molly Sims, Jessica Alba, Chelsea Handler, and more, plus writing two books including her recent Body Love Every Day and being an mbg class instructor, Kelly LeVeque's schedule has always been packed. Now that she's home all day with her 1-year-old, Bash and husband, Chris (who has a slight preference for more indulgent than healthy food), she's shifting the way she looks at feeding herself and her family. Where she used to cook in three-day increments, she's now planning at least a week in advance. "This has forced me to look strategically at the whole week," she says. "I'm using my freezer more than ever." And since they're limiting takeout and delivery, she's cooking more of what Chris and Bash like: "I'm changing my grocery list order to make sure the Thrive pork box is available, and I even made Tater Tots from scratch the other day—they were easier than I thought they'd be!" she says.
And adding more family-friendly meals to her repertoire isn't the only quarantine lesson she's learned. Planning ahead has some unexpected perks: Kelly's found she's able to save way more time and money than she realized. "Now we do two grocery stores once a week versus multiple trips throughout the week. I've found it calming; it's freed up a lot more time in a day. We added all our grocery bills, and it's a big difference—especially when you include lunches, meeting people for drinks, and all those coffees."
Here's how she stocks up to get through a whole week—and exactly what she makes with what's in her freezer.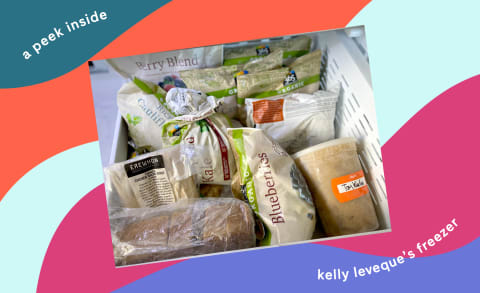 Image by mbg Creative x Kelly LeVeque
What's in her freezer
Wild Alaskan salmon, ground beef, chicken, pork, ribs, and little smokies: My proteins come from Butcher Box, Thrive Market, and Belcampo, which delivers meats, eggs, and delicious soups. I also buy the 100% pasture-raised all-beef smoky links and hot dogs. These check the fun box for Chris and Bash, but they're high quality.
Bulk rice and quinoa: Sometimes I'll make Lundberg rice in my slow cooker and freeze that, but I also keep a bag of frozen rice from Whole Foods. It's so easy—you just take two cups or whatever you need, heat it up on the stove or in the microwave, and it's done. That way, you don't wind up with a bunch of leftovers.
Soups and bone broths: I get bone broth and soups from Osso and Bonafide Provisions; they have an amazing chicken and vegetable soup.
Siete tortillas: I just buy these in bulk whenever there's a sale, pop them in the freezer, and we pull them out as needed.
Primal kitchen meals: They now have frozen meals! We grab the steak fajitas.
Organic produce: I always buy whatever organic produce I can get my hands on—blueberries, chopped kale, spinach, cauliflower rice, berry blend, or cherries. It's really all about what type of deep, dark, polyphenol-rich frozen fruit I can find for my smoothie. I also use frozen greens in my smoothie right now because I'm trying to ration the fresh veggies for my meals.
Grain-free bread: I have one now that's from Gracie Girl Bakery that's a paleo, seeded bread, but we always have a gluten-free sliced loaf in the freezer.
Cauliflower food crusts: These are really delicious and come in vegan and non-vegan versions. They toast up quickly in a toaster oven.
Erewhon chicken tamales: Chris used to buy tamales in bulk and eat about 10 a week. This is a version with a clean ingredient list, and he loves them.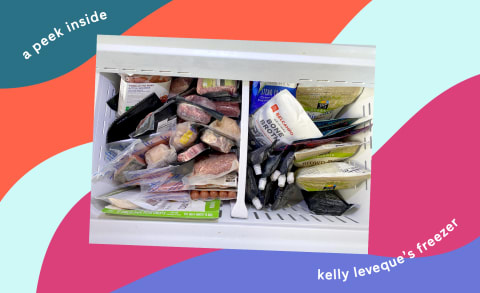 Image by mbg Creative x Kelly LeVeque
How she turns it into a meal:
Soup from bone broth: You can use ground or cubed chicken or turkey from the freezer, cook it in a pan with onions, celery, garlic, carrots; let those become tender; put bone broth on top; and then throw any quickly tenderizing veggies like spinach or broccoli in there for the last 5 or 10 minutes. It's delicious and a quick chicken soup for a weekday dinner. When you use a bone broth to make the soup, it has so much flavor, you don't need to add salt.
Cauliflower Rice Bowls: You can make these any style you want using protein and veggies from the freezer over defrosted riced cauliflower—think teriyaki chicken, curry, Moroccan, Greek, or Indian.
Tacos and burritos: We always have tacos. We were both born and raised in California so that's super easy. I know that most of time that's going to be with meat from the freezer—usually ground beef because those are Chris's favorites.
One-sheets: This is a super simple dinner—grab proteins and veggies from the freezer, make sure they're all the same size, and throw them on a sheet pan with oil, salt, and pepper to roast.
Lettuce cups: Think buffalo chicken, a BLT, your favorite club sandwich—anything can go in a lettuce cup. You could make chicken strips from your freezer, ground beef, or black beans. Add a little cauliflower rice, and it's a lettuce cup meal.
Stews, curries, chilis, and soup: When you make these, always freeze them in bulk. It's a perfect lunch for when you're working from home.
Advertisement
This ad is displayed using third party content and we do not control its accessibility features.

Olessa Pindak
mbg Editor-At-Large
Olessa Pindak is the editor-at-large at mindbodygreen. She's worked at Condé Nast, Rodale, Martha Stewart Living Omnimedia, and more. She's held executive and senior staff positions at many health & wellness publications including Prevention, Whole Living (Body & Soul), Natural Health, and Fit Pregnancy. Pindak has appeared frequently in the media talking about health & wellness, including appearances on the Today show, Good Morning America, and The Doctors. She has hosted a radio show on Sirius XM and many episodes of the mindbodygreen podcast. She lives in Brooklyn with her husband and two children. Follow her on twitter at @opindak.