Close Banner
Advertisement
This ad is displayed using third party content and we do not control its accessibility features.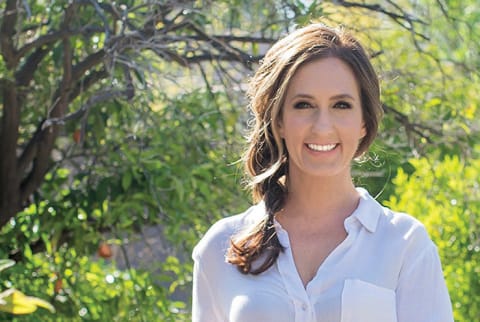 As a health coach, I'm asked, "Lisa, what do you eat?" at least once a day.
If you're a plant-based eater, there are TONS of delicious ways to keep clean and fueled during the day.
You'll see how I build my meals and snacks with a healthy carb (veggie or fruit), protein (quinoa), and fat (avocado).
Even though each and every one of us is different and requires different nutrients for our unique bodies, I hope my daily routine can help get you on the right path to finding what works for you. Plus, I share some of my favorite plant-based recipes. Sweet!
Here's a snapshot of what I typically eat in a day (ingredients vary, depending on what I have in my house at the time).
Morning
6:30 a.m.: Get up or at least try (I'm so tired ... I stayed up a little too late Netflixing last night!)
7:00 a.m.: Green juice for breathing, meditation, spiritual practice (and alkalizing my cells), and water.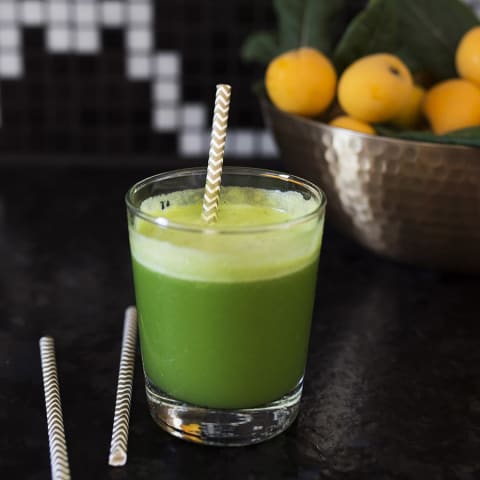 Makes approximately 12 ounces
1 cucumber
2 carrots
1 apple
1 tablespoon basil
½ lime, peeled
Juice ingredients in a juicer.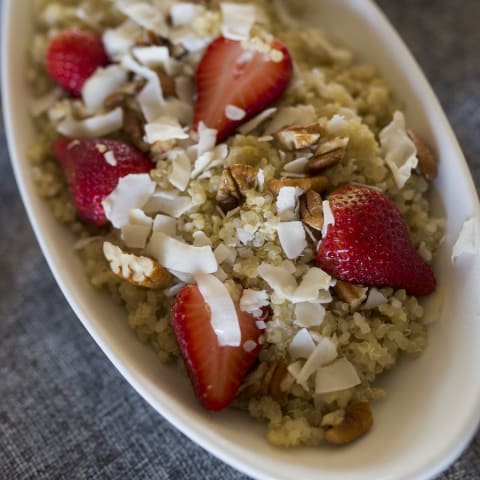 1 cup cooked quinoa (make ahead of time according to package directions)
½ cup strawberries
¼ cup coconut flakes
¼ cup chopped pecans
1 teaspoon ground cinnamon
Mix all ingredients in a bowl. Serve.
8:45 a.m.: Bootcamp (running, squatting, lifting, rowing ...)
10:00 a.m.: I am starving afterward so I make a protein shake with kale, coconut water, avocado, banana, flax seeds, and hemp protein powder.
Water, water, water (yes, I try to drink at least half my body weight in ounces a day).
Afternoon
I take a break from work to get some brain fuel. When I'm hungry, I just can't focus!
I have lots of spinach in the fridge so I make a salad with spinach, chickpeas, onions, and balsamic vinegar with sea salt and pepper to taste.
This is more basic than my usual ones, but I am running low on ingredients.
I slice up an apple and dip slices in raw almond butter (and lick the spoon too!).
Did I mention I drink A LOT of water?!
Evening
The weather is getting cold so lentils always warm me up, plus they are a great source of protein, perfect for fueling.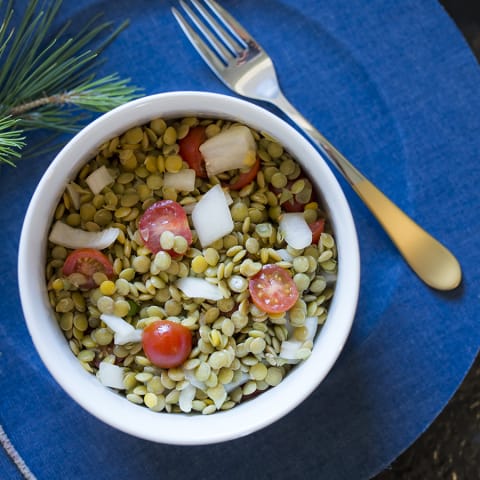 1 cup green lentils, rinsed and drained
½ onion, chopped (¼ cup)
¼ cup cherry tomatoes, halved
1 tablespoon extra-virgin olive oil
1 tablespoon red wine vinegar
1 tablespoon Dijon mustard
1 tablespoon lemon juice
Sea salt and freshly ground pepper to taste
1. Prepare lentils according to package directions. Set aside.
2. Make dressing: In a bowl, whisk together mustard, juice, vinegar, and oil. Pour dressing over lentils and add onion and tomatoes. Mix well. Season with salt and pepper.
As you can see, my day consists of whole foods with some natural sugar, and lots of plant-based protein.
It's a good idea to keep track of your days, too, in order to pinpoint when cravings happen or when you feel low on energy. That way, you can build in an extra snack or add more protein, a good fat, and carbs to keep you fueled and ready for your day.
It took me quite a few years to learn how to make well-balanced snacks and meals that are clean and easy, so take it slow and use this as a guide. I hope this quick look into my day is helpful!
Now I would love to hear from you. What favorite plant-based meal keeps you fueled during your day?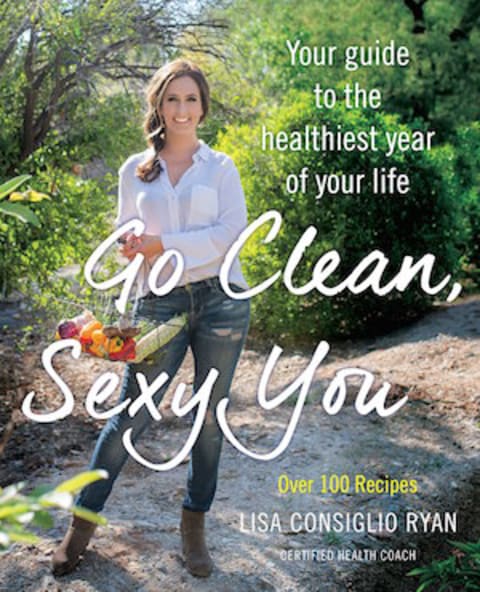 The recipes above are straight from my new cookbook, Go Clean, Sexy You. It's full of vegan and gluten-free recipes that are easy to make and delicious.
Photos courtesy of the author

Lisa Consiglio Ryan
A certified health and nutrition coach, author Lisa Consiglio Ryan provides straightforward guidance on how to overcome the obstacles that keep you from losing those last ten pounds, make you feel exhausted every afternoon, and compel you to indulge in unhealthy habits. Spending years struggling with a growing arsenal of health-destroying conditions that ranged from fibromyalgia, hypothyroidism, candida and rosacea to cystitis and tons of allergies, Lisa decided to turn to nutrition and lifestyle to reclaim her health. Then pursuing her education with the Institute for Integrative Nutrition, she turned her personal quest into her vocation with the launch of Whole Health Designs.
Go Clean, Sexy You is her debut cookbook that not only serves up a collection of delicious recipes, but offers a holistic approach on how to live a healthier life—putting whole foods into your body, detoxing every season to regularly cleanse your system, associating with those who fuel you not bring you down, and managing stress with activities that bring you back to balance.
Connect with Lisa on Facebook, Twitter, and Instagram Visit her at www.wholehealthdesigns.com .