The Push For Food Security Will Be More Urgent Than Ever In 2021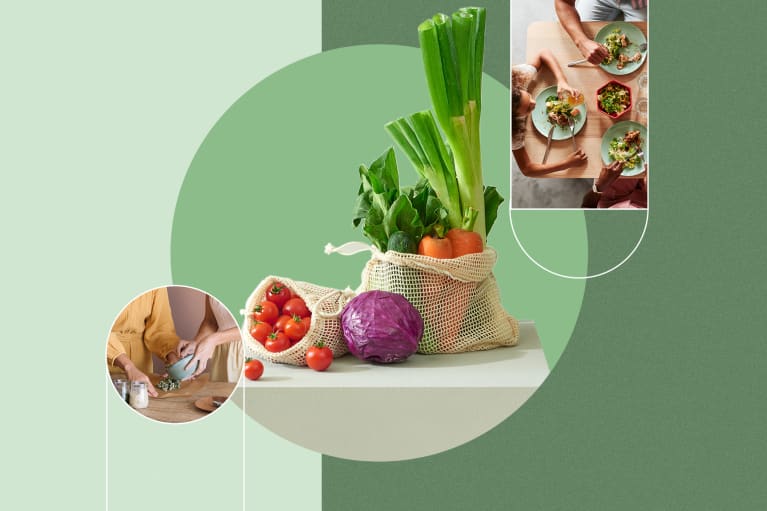 Our editors have independently chosen the products listed on this page. If you purchase something mentioned in this article, we may
earn a small commission
.
In light of the pandemic, nutrition and metabolic health are more important than ever. That said, millions of people in the U.S., particularly BIPOC communities, lack access to healthful food options. In 2021, we expect individuals, companies, and the government to continue closing the gap with food and nutrition disparities—and these changes can't come urgently enough.
The existing issue of food insecurity was exacerbated further during the pandemic, as a result of rising unemployment rates and increased food costs. According to research from Northwestern University, food insecurity doubled overall and tripled in households with families.
Those of you who associate the word trend with fleeting crazes, coming into popularity for a season and fading with the next, may balk at us calling food security a wellness trend. The actual definition of a trend, though, is "a general direction in which something is developing or changing."
While 2020 was filled with a lot of devastation, anxiety, and loss, it was also a year of reckoning and a catalyst toward lasting change. That's what we mean, and what we hope for, when we place food security on our 2021 wellness trends list.
The connection between nutrition, metabolic health, and COVID-19.
Nutrition is inextricably linked to health and well-being. Eating a nutritious diet goes beyond skin health, gut health, and weight management. It's also critical for cellular health and reducing the risk of noncommunicable diseases, says registered dietitian and mbg functional nutrition coach Maya Feller, M.S., R.D., CDN.
"We know that in order to be nourished, our cells need to have access to a healthy balance of proteins, fats, and carbohydrates coming from whole and minimally processed forms with limited additives," she explains. "Our bodies need access to phytonutrients; our bodies need access to polyphenols; our bodies need access to affordable, safe, and nutritious foods. When we are in a position where we cannot eat well and we cannot eat foods that are supporting our cells, then our bodies actually suffer physiologically."
It may seem like diet is an individual choice, but systemic factors, including racism, play a substantial role in access to healthful food. A 2019 study published in the Family and Community Health journal says the relationship between race/ethnicity and food insecurity is intertwined with poverty, unemployment, incarceration, and disability. Removing social and economic factors, though, they estimate that BIPOC are still at a higher risk of experiencing food insecurity.
On top of that, Black people have a higher risk of developing health comorbidities, including diabetes, heart disease, and high blood pressure. They are also more likely to experience inequities in health care.
"It's also important when we're thinking about food security and food insecurity to think about those actual food components," she adds. "If we have somebody who is food insecure, then they're reliant upon emergency food services, food banks, and soup kitchens. Historically, many of those places supplying food are not supplying foods that are anti-inflammatory. They tend to be more along the lines of shelf-stable or packaged goods that are not in line with supporting metabolic health."
How to start closing the gap with food and nutrition disparities.
This is by no means a simple issue that anyone can solve overnight—or in the entirety of 2021. Addressing food insecurity requires a combination of local, grassroots, and broader political efforts. Amid the pandemic, there was a lot of focus on things we could no longer do, but food justice activist Karen Washington tells mbg, she wanted to focus on the things she could do.
As lines for food banks and soup kitchens began to grow, Washington partnered with 18 community gardens in the Bronx to grow more food, and donate much of it to their local food banks. The takeaway? Start local. "Don't be overwhelmed with what is happening on a national level; you can make change locally," Washington urges.
That may be as simple as going into your local grocery store and asking the produce manager: Where does the food come from? Who grew it? And why are we getting food from long distances when we have local farmers? From there, seek out local organizations that are doing great work, and get to know what's happening in your community.
There's certainly no shortage of companies, organizations, and nonprofits making important strides to close the food disparity gap, including Oko Farms; The Ron Finley Project; La Familia Verde; Why Hunger; Women Advancing Nutrition, Dietetics, and Agriculture; Black Urban Growers; Soul Fire Farm; and so many more.
Another company is Everytable, a healthy food chain working to provide affordable meal options in communities with limited access to fresh, nutritious meals. "At Everytable, we've spent the past four years pioneering a new business model, where all meals are chef-prepared in a central kitchen and then distributed and sold through a variety of channels: grab-and-go retail stores, a weekly home delivery subscription, and food-service offerings for larger organizations," says Sam Polk, co-founder and CEO of Everytable. "This brings down our costs and allows us to provide restaurant-quality meals at fast-food prices."
In 2021, Polk says the company plans to work on expanding nationally, as well as launching a "Social Equity Franchise program to foster economic empowerment among entrepreneurs of color, by providing critical access to capital and in-depth training to own and operate their own Everytable franchises." He hopes other companies will similarly strive to create opportunities for people in their communities, adding, "In order to address an issue as massive as food insecurity and food deserts in the richest country in the world, we must think of transformative, innovative solutions that will literally change the fabric of our society."
If you want to get involved at a government level, Washington recommends meeting with local and state officials to challenge their policies and address the inequalities within the food system. "Out of 57,000 farmers in New York state, only 139 are Black," Washington says.
"We have to talk about the systemic racism that has been rampant throughout the whole system," she says. "If we're going to move forward in fixing this pandemic and fixing food insecurity, everybody has to be at the table." In other words, the historical method of change trickling from top to bottom has to be reversed. "It has to come from the bottom up. People have to start listening to people in neighborhoods that for so long have been neglected."
Remember: You have the right to ask questions, says Washington. Your elected officials are there because you put them there. Here are a few questions she encourages you to ask:
Why are there so many fast-food chains around me? Why don't I have access to healthier food options?
What are some of the incentives you have in place to encourage healthy food options?
Do you organize any workshops or forums to educate the community about nutrition, gardening, or agriculture?
What is your stance on economic development, job training/creation, and financial education?
What are you doing to promote entrepreneurship?
What are you doing for the youth in the community?
What are you doing to end the school-to-prison pipeline?
"These are the things I talk to my politicians about time and time again because I want to see change. And I do see change," she says. On November 30, Senators Kirsten Gillibrand, Cory Booker, and Elizabeth Warren announced the Justice for Black Farmers Act of 2020 to address the discrimination of Black farmers and ranchers by the U.S. Department of Agriculture (USDA) and protect against it in the future. "It's about doggone time," Washington says.
But the work isn't over yet, and we have hope that 2021 will usher in more of that progress.