We Tasted The Next Superfood (It's Not What You Think)

mbg Sustainability + Health Director
By Emma Loewe
mbg Sustainability + Health Director
Emma Loewe is the Senior Sustainability Editor at mindbodygreen and the author of "Return to Nature: The New Science of How Natural Landscapes Restore Us."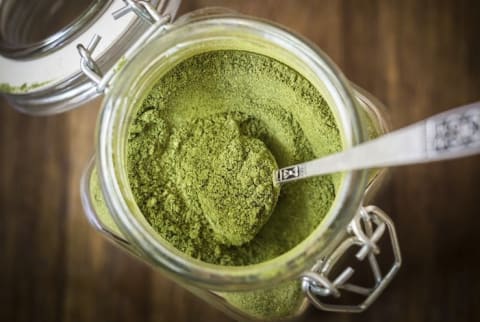 October 20, 2015
Move over, turmeric. There's a new superfood: moringa.
The leaves of the moringa oleifera plant are packed with nutrients, and recent studies attest to the healing properties of the antioxidant-rich ingredient.
Ever the tea fanatics, our team decided to give moringa tea a try at a recent morning meeting. A cup of the green brew is said to help increase energy, balance blood sugar levels, and improve memory and mental clarity — a tall order for 9:30 a.m. on a Tuesday.
We sampled the original flavor (Moringa tea also comes in fruity varieties like lemon, orange cranberry and pomegranate) and found it to be a calming, earthy drink that packs a hit of spice.
Its strong herbal flavor made us feel like we were doing something good for our bodies, and none of us had trouble finishing our glass — a few of us even left the meeting inspired to become regular drinkers of the tea.
Some say that the plant packs twice the protein of yogurt, three times the potassium of bananas and four times the calcium of milk, ounce for ounce. Ayurvedic medicine has called on the healing power of the "miracle tree" for hundreds of years, for more than 300 ailments.
So why haven't you heard of it before?
Moringa has traditionally been sold as a supplement on American shelves, but companies like Moringa Source are turning it into teas and powders.
One of the few places that exclusively sells moringa products, Moringa Source has seen a recent rise in sales as the "new era of organic and GMO-free foods has grown," Source manager Rodey Tsapralis told mbg.
Moringa is a tasty option for those who prefer savory beverages, and it's a fun way to mix up your tea routine. Despite only drinking it once, I did feel energized after my glass and I'm not surprised that some of the product's Amazon devotees report that the tea has brain-boosting effects. Hop on this wellness trend early, and you can tell your friends that you were one of the first to get your hands on the superfood of the future.