Close Banner
Advertisement
This ad is displayed using third party content and we do not control its accessibility features.
6 Secrets For Warming Winter Smoothies That Help Digestion
Contributing writer
By Alexandra Jamieson
Contributing writer
Alexandra Jamieson is a creative leadership coach for driven women. The co-creator and co-star of Super Size Me and author of Women, Food, And Desire, she is passionate about pleasure, creativity, and positive psychology.
Green smoothies are an easy and delicious way to get healthy produce into your body, but drinking them in winter warrants special warning:
Chi is a Chinese word meaning aliveness, life force, or energy, and is also known as Ki, Qi, or Prana.
In Traditional Chinese Medicine, doctors recommend against drinking cold water with meals as it "chills the digestive fires." Drinking a green smoothie filled with frozen fruit may have the same effect and can cause stomach pain, bloating, and other digestive issues.
Your ability to stay warm and energized may freeze up if your smoothies are too cooling energetically or if the ingredients themselves are frozen.
This little-known truth about cold smoothies is leaving a lot of health seekers feeling like failures, when in reality, they could feel a lot better in and about their bodies with a few simple tweaks.
In my Cravings Cleanse + Mindset Makeover program, I provide clean eating inspiration and healing to help people heal their bodies and their mindset about food with functional nutrition and positive psychology.
If you have a hard time staying warm in the colder winter months, or are working to heal your digestion and want to take your smoothies to the next level, take these steps to protect your energy, chi, and digestion:
1. Think about the energetics of food.
Foods that take longer to grow, like winter squash and collards, are more warming than foods that grow quickly, like lettuce and summer squash.
2. Warm your berries.
A food is more cooling when it's frozen than when it's thawed.
Thaw your frozen berries overnight in the refrigerator or even leave them out for an hour on the counter to take the chill off while you do your morning run or yoga.
If you forgot to thaw your frozen berries overnight, scoop them into a plastic baggie and run under warm water before adding them to your blender.
3. Choose warmly colored ingredients.
Blue, green, and purple foods are more medicinally cooling than orange, red, and yellow foods. Think of lime as cooling, lemon as more warming.
4. Skip the tropics.
Tropical fruits such as banana and mango are more cooling than foods grown in temperate zones like apples and pears.
5. Add fat and protein to each smoothie.
Coconut oil, coconut or almond butter, avocado, nuts, seeds, hemp, or pea protein help your body stay warmer. They keep you full longer, too!
6. Include warming ingredients in every smoothie.
In Ayurvedic and Traditional Chinese Medicine foods are believed to have an overall cooling, neutral, or warming effect.
While opinions differ slightly, the following foods are the most warming ingredients that commonly show up in smoothie recipes:
apple
blackberry
basil
cardamom
caraway
cashew
cherry
cinnamon
citrus peel
clove
coconut
collard greens
date
fat
ginger
hemp seed
kale
blackstrap molasses
nutmeg
pea protein
pear
pine nut
raspberry
sweet potato
winter squash
pumpkin
turmeric
walnuts
My Favorite Winter Green Smoothie
1 cup collards, packed
½ cup frozen cherries, defrosted overnight
½ teaspoon cinnamon
2 cups almond or coconut milk
¼ cup almond butter
1 teaspoon fresh ginger, peeled
20-plus grams chocolate pea protein
Puree all ingredients together in a blender until smooth.
Pumpkin Spice Green Smoothie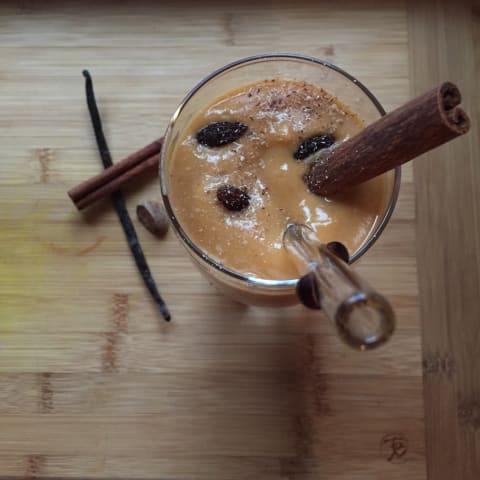 Photo by Alexandra Jamieson
½ cup pureed pumpkin or leftover mashed sweet potato
1 cup kale, packed
1 teaspoon blackstrap molasses
1 pear, seeds removed
1 teaspoon cinnamon
1 teaspoon freshly peeled ginger
2 cups unsweetened coconut or almond milk
1 tablespoon coconut oil or ½ avocado
20-plus grams vanilla pea protein
pinch of nutmeg
Puree all ingredients together in a blender until smooth.