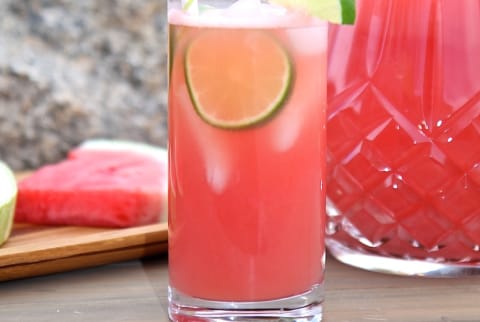 June 25, 2014
Nothing sounds like summer more than the whisper of watermelon. This little drink is perfect served pool side and will have the kiddos begging for more. When just serving adults, you can spice it up with a little vodka to make a refreshing cocktail too.
I served this with slices of the watermelon leftover from the recipe below and it was a huge hit. Note: it's best if all ingredients are organic.
Watermelon Ginger Limeade, A Perfect Summer Drink
2 cups seedless watermelon cut into 3 inch pieces

5 limes (4 juiced, one sliced)

1 inch of peeled fresh ginger

4 Tbsp. 100% pure maple syrup or 20 drops stevia

48 ounces water

1 glass pitcher
1. Add the watermelon, juice from the four limes, maple syrup and ginger into a Vitamix (or blender).
2. Blend the mixture for a few minutes until emulsified.
3. Strain the mixture into a glass pitcher, add water and stir well.
4. Slice one lime and add to the pitcher.
5. Chill, serve and enjoy!

Nickie Knight
Nickie Knight is a leading wellness expert, holistic nurse, business mentor and creator of http://www.hipmomsgogreen.com. She has gained marked interested from women around the globe by simplifying the process of holistic health. She writes articles, recipes, and creates easy to follow programs so that Moms can experience their own symbiotic relationship between healthy children and healthy choices. She is currently mentoring wellness practitioners that want to live out their passion while creating a lucrative business for themselves.