5 Delicious Snacks That Will Help Boost Your Daily Veggie Intake

mbg Nutrition & Health Writer
By Abby Moore
mbg Nutrition & Health Writer
Abby Moore is an editorial operations manager at mindbodygreen. She earned a B.A. in Journalism from The University of Texas at Austin and has previously written for Tribeza magazine.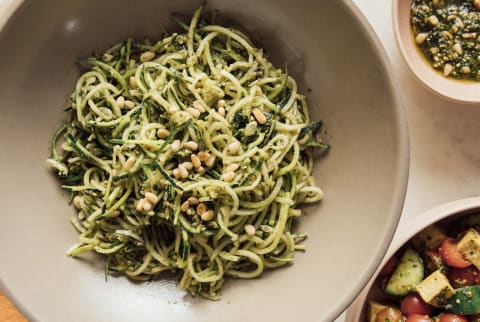 Image by Hannah Schwob / mindbodygreen
April 23, 2020
All of this time at home might be increasing your urge to snack, and that doesn't have to be a negative thing. In fact, snacking can be a great opportunity to sneak in an extra serving of veggies; the average adult should eat (at minimum) between 2.5 to 3 cups per day.
If you're not getting enough veggies with breakfast, lunch, and dinner, adding an organic greens powder to your snack time is an easy way to meet your recommended daily intake (especially since trips to the grocery store for produce are likely few and far between these days). Greens powders can offer a blend of antioxidant-rich veggies, like spinach, kale, broccoli, and carrots. Plus, some powders like mindbodygreen's organic veggies+ feature hard-to-find but very nutrient-rich sea veggies, including kelp and chlorella.
While you can always stir a greens powder into water or alt milk to transform it into a green juice, here are a few ways to get even more creative with your veggie-packed snacks.
1.
Greens powder + green smoothie
This smoothie recipe was created by natural foods chef and integrative nutritionist Danielle Shine. Along with organic veggies+ powder, it combines fresh zucchini, creamy avocado, and herbaceous mint for a vibrant and nutrient-packed drink. The Medjool date provides a natural sweetness and balances well with the acidic, sour lime juice.
Ingredients
1 medium zucchini, raw with skin on
1 avocado
Juice of 1 lime
1 Medjool date, pitted (sulfur-free, oil-free, dried)
16 fl. oz. milk of your choice (coconut, tiger nut, or rice milk all work well)
8 fl. oz. ice
2 Tbsp. mbg organic veggies+
4 to 8 fresh mint leaves (start with 4, and add more to taste)
Method
Combine all ingredients, and blend in a high-speed blender.
Taste and adjust if necessary.
Serve in a bowl topped with your desired toppings, such as sunflower seeds, ground flax, or chia seeds.
2.
Dark chocolate truffles
Yes, you read that right. These truffles, also developed by Shine, are loaded with plenty of green vegetables. The antioxidant-rich dark chocolate bites are sweetened with vanilla and maple syrup and feature greens powder for a health boost.
Ingredients
¼ cup (2 oz.) coconut butter
1 cup (8 oz.) hot water
150 g 100% dark chocolate, shaved
½ cup (4 oz.) maple, date, or yacon syrup
1 to 2 Tbsp. mbg organic veggies+
Contents of one dried vanilla bean
Method
Shave chocolate.
Ensure water is warm so that mixture melts quickly, which allows for proper emulsification in the blender.
Combine and blend on low-medium speed at first, increasing to high speed until contents become smooth and creamy.
Pour into a large bowl to set into ganache. Leave uncovered at room temperature until completely cooled, then cover and place in the fridge to set completely, at least 2 hours.
Once set, scoop small amounts with a teaspoon. Dust dry hands with cacao powder and roll quickly into small balls.
Garnish with chopped seeds, chia, hemp seeds, or flaxseeds, or roll in more organic veggies+.
Pesto is most commonly served with pasta for dinner, but you can also use it as a healthy dip for vegetables, including carrot sticks and celery. This vegan version has a mild nutty flavor from the cashews and is loaded with digestive enzymes, prebiotic fibers, and antioxidants from the organic veggies+ powder.
Ingredients
¼ cup roasted cashews
2 oz. nutritional yeast
1 garlic clove
4 cups basil leaves
2 Tbsp. mbg organic veggies+
½ cup extra-virgin olive oil
Salt to taste
Pine nuts (optional)
Method
In a food processor, add cashews, garlic, and nutritional yeast until finely ground, about 1 minute.
Add the basil and mbg organic veggies+. Place the top back on with the motor running; add oil in a slow stream until pesto is blended but still with texture.
Season with salt as desired.
4.
Air-popped popcorn with veggies+
Popcorn is a classic snack, and when air-popped at home provides a lot of health benefits, compared to the buttery standard. One cup of popcorn is high in fiber, calcium, potassium, and other vitamins1. After popping it, simply sprinkle a greens powder on top to sneak vegetables into your whole grain snack.
Ingredients
Method
Put kernels in a brown paper bag.
Place in the microwave for 1 to 1½ minutes, or until the corn popping slows down.
Top with greens powder.
5.
Berry and veggie smoothie
This smoothie, created by registered dietitian Jessica Cording, M.S., R.D., CDN, uses frozen produce for a creamy texture. "When I need a boost, I add mindbodygreen's greens powder," she says. "It's such an easy and delicious way to work superfoods like sea vegetables into my week."
Ingredients
2 cups water
2 scoops unflavored pea protein powder
1 Tbsp. mbg organic veggies+
1 Tbsp. raw cacao powder
¼ tsp. vanilla extract
½ a frozen banana
½ cup frozen wild blueberries
1 cup frozen cauliflower
1 cup frozen spinach
1 tablespoon chia seeds
Method
Layer ingredients in a blender and blend until smooth.
If you need more sweetness, blend in 1 or 2 Medjool dates or a touch of your favorite sweetener.

Abby Moore
mbg Nutrition & Health Writer
Abby Moore is an editorial operations manager at mindbodygreen. She earned a B.A. in Journalism from The University of Texas at Austin and has previously written for Tribeza magazine. She has covered topics ranging from regenerative agriculture to celebrity entrepreneurship. Moore worked on the copywriting and marketing team at Siete Family Foods before moving to New York.