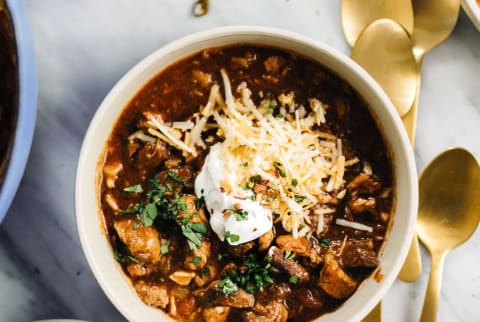 Image by Cameron Whitman / Stocksy
February 7, 2014
Do you want to eat healthy, homemade food but don't have much time to spend in the kitchen? Look no further! My Slow Cooker Sweet Potato Chili is just what you need.
I love my slow cooker and use it a lot during the colder months. Simply put a few ingredients into the cooker, turn it on, set a timer, and you're done—it's kinda like having a personal chef. You can make this recipe during the hectic work week, or for a weekend dinner, an it's perfect when you don't have much time to cook.
Plus, this colorful recipe is loaded with vitamins, minerals, and protein. It will warm you up, keep your belly full, all while boosting you immune system with the nutrients from the veggies.
Slow Cooker Sweet Potato Chili
Cook time: 6-8 hours in the slow cooker
2 sweet bell peppers
1 chili pepper
1 medium sized sweet onion
1 medium sized red onion
3 large garlic cloves
2 medium sized sweet potatoes
10 oz mushrooms (I typically use baby bella)
28 oz can of fire roasted diced tomatoes (or 2 large fresh tomatoes)
15 oz can of pinto beans
15 oz can of black beans
15 oz can of cannellini beans
1/3 cup blackstrap molasses
2 Tablespoons chili powder
1 Tablespoon paprika
Optional: 1/4 teaspoon cayenne pepper (depending on how hot you like your chili)
Wash your peppers and mushrooms, peel your onions and garlic, and peel and wash your sweet potatoes. Dice them all into small, bite sized pieces and add them to your slow cooker.
Open the cans of beans and dump the beans into a strainer. Wash the beans with cold water until the water runs clears, about 30 seconds. This helps remove excess salt from the beans. Add the beans to the slow cooker.
Add the tomatoes, molasses, and seasonings. Stir to combine all the ingredients.
Turn the slow cooker on low and cook for 6 to 8 hours, or until the veggies are soft and cooked through.
Spoon over a baked sweet potato with some diced avocado
Enjoy as a dip with your favorite non-GMO tortilla chips
Serve in a bowl with some shredded organic cheddar cheese
Purchase organic produce when your budget allows.
When purchasing the canned beans and tomatoes, look for organic brands with BPA-free packaging.
If you can find canned goods with reduced salt or no salt added, those are best for keeping the sodium content low.
Andrea Hood
Andrea Hood is a Certified Holistic Health Coach and co-founder of Wildly Vibrant Living. Andrea is a passionate foodie and localvore who loves playing in the kitchen and whipping up delicious, healthy meals.
Andrea's purpose in life is to empower woman to feel comfortable in their own skin and take charge of their financial independence. Visit www.andreahood.com to learn more about how she can help you live an empowered life. Plus, you can join her free 30 Day Wildly Nourished Challenge and download your free copy of her latest recipe ebook - Healthy Balls for Happy Girls: 5 Tasty Treats to Satisfy Your Sweet Tooth.