Vegan No-Bake Protein Bars For When Hangry Isn't An Option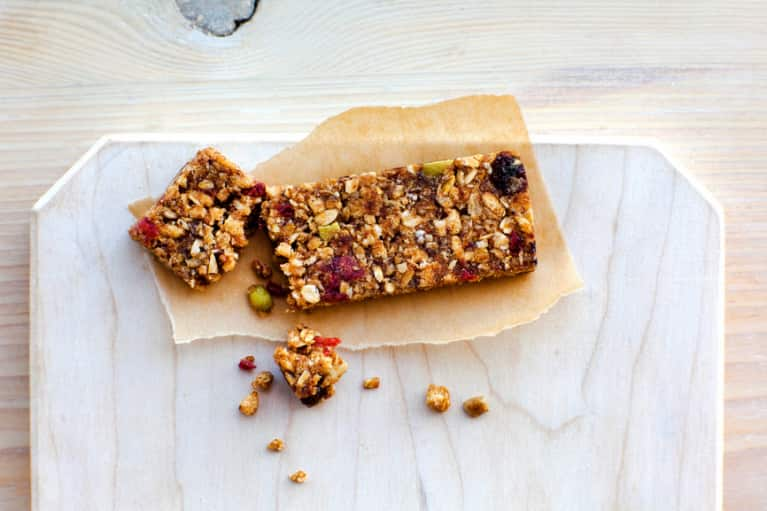 If you're a clean eater, you know how hard it is to find a good healthy protein bar these days. Most contain some type of added junk your body just doesn't need: sugar, gluten, soy, dairy, GMOs (in many cases, unfortunately, it's all of the above).
So why not make your own instead? This DIY Protein Bar is:
Organic
Vegan
Dairy-free
Gluten-free
Soy-free
100 percent real food
Best of all, there's no baking whatsoever. You just mix the ingredients up, chill it overnight, and you're done.
Takes about 20 minutes of time and yields a delicious, healthy DIY protein bar!
I made 8 bars with this recipe. Each one is just under 300 calories and has 15 grams of protein. If you want a lower-calorie snack, you can always cut 16 pieces instead.
¼ cup organic quick-cook rolled oats
4 scoops raw cacao protein powder (make sure you choose a high-quality vegan protein)*
1 cup organic nut butter (I used peanut, but any nut butter will work)
¼ cup organic pumpkin seeds
¼ cup organic dates, chopped into small pieces
1½ cups organic coconut cream (or 1½ cups coconut milk powder and ¾ cup warm water)
½ teaspoon sea salt
1 ounce dark chocolate (Tip: Use a bar with 70 to 80 percent cacao for more health benefits)
*Note: I used nutrition information for my product, Pure Food Probiotic Protein.
Preparation
Dump the coconut cream into a large mixing bowl. If you're using coconut powder and warm water, whip the powder until smooth.
Add the oats to the bowl. Let sit for 20 minutes.
Stir in nut butter, dates, salt, pumpkin seeds, and protein powder (1 scoop at a time). Mix thoroughly, about 5 minutes.
Spread the mixture evenly into a glass pan or baking dish lined with parchment paper.
Use a sharp knife to slice the dark cacao into thin shavings. Spread evenly on top of the bars.
Refrigerate overnight. Cut into 8 bars (or however many you want) and serve.