Why This Mediterranean-Inspired Power Bowl Is The Perfect Balanced Vegan Lunch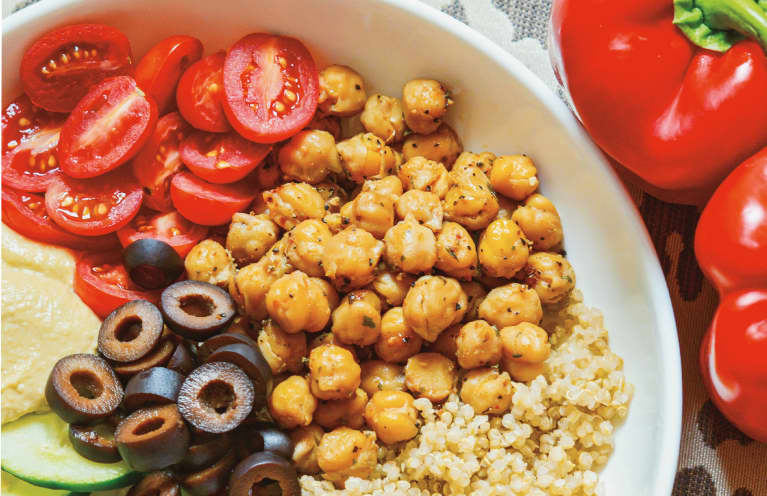 Our editors have independently chosen the products listed on this page. If you purchase something mentioned in this article, we may
earn a small commission
.
While a "Mediterranean-inspired" lunch could mean a lot of things (after all, there's a number of cuisines that surround the Mediterranean sea), it almost definitely means it will rely heavily on veggies, whole grains, and healthy fats—after all, those are some of the key pillars of the Mediterranean diet.
This power bowl features tomatoes, cucumber, bell peppers, and olives on a base of quinoa and chickpeas—and author Jillian Glenn even includes her homemade hummus recipe to top it, though she says you can use store-bought, too.
In Easy Low-Cal Vegan Eats, Glenn writes, "Lunch is what renews you after your busy morning and trailblazes you through the afternoon. This protein-packed bowl is a nutritious way to give your body the energy it needs without causing a 'carb crash' later."
Because quinoa is a whole grain, it's broken down slower by the body. "The fiber in whole grains also works to slow down the absorption of your food and as a result decreases your blood sugar and insulin spike after a meal," functional medicine doctor and registered dietitian Elizabeth Boham, M.D., M.S., R.D., told mbg. "These grains have a lower glycemic load when eaten in their whole form." The healthy fats in the dish also help to manage the impact of the meal on your blood sugar levels.
Olive oil spray
½ cup canned chickpeas, drained, rinsed, and patted dry
Italian seasoning
Salt and freshly ground black pepper
½ cup cooked quinoa
½ cup sliced grape tomatoes
½ cup sliced and seeded red bell pepper
½ cup sliced cucumber
¼ cup pitted black olives
¼ cup homemade hummus (below)
1½ cups canned chickpeas, rinsed and drained
2 tbsp. olive oil
3 tbsp. lemon juice
1 clove garlic
½ tsp. cumin
1 to 2 tbsp. water
Preheat the oven to 400°F.
Line a small baking sheet with parchment paper or aluminum foil and spray it with olive oil spray. Then, add the chickpeas and spray the tops with olive oil spray. Season the chickpeas to taste with Italian seasoning, salt, and pepper. Roast in the oven for 20 to 25 minutes, or until they are golden.
If you're using homemade hummus, make it while the chickpeas roast. Add the 1½ cups (369 g) canned chickpeas to a food processor along with the olive oil, lemon juice, garlic, and cumin. Process until the mixture is thick and creamy. If the mixture is too thick, add 1 to 2 tablespoons (15 to 30 ml) of water and process it again. You will have leftover hummus, which can be stored in the refrigerator for 2 to 3 days.
When the chickpeas are done roasting, divide them equally among two shallow bowls, along with the cooked quinoa, tomatoes, bell pepper, cucumber, and olives. Top the bowls with the hummus and serve.
If you're packing this for lunch, store the chickpeas and quinoa in a separate microwave-safe container so that you can heat them up and then top with the fresh veggies and hummus!
Reprinted with permission from Easy Low-Cal Vegan Eats by Jillian Glenn, Page Street Publishing Co. © 2021. Photo credit: Somer Handley and Jillian Glenn.