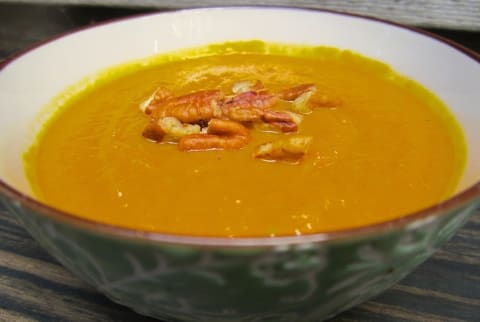 October 21, 2013
Parsnips are one of those vegetables I used to pass by in the grocery store in favor of more familiar choices. If you're like me and haven't tried cooking with parsnips, it's time to give them a whirl!
Don't let the modest appearance fool you, parsnips are rich in folate, potassium, manganese and fiber. They have a sweet, earthy taste and are delicious cooked or raw.
Advertisement
This ad is displayed using third party content and we do not control its accessibility features.
Parsnips paired up with carrots and ginger give this blended soup a sweet zing. The warming Indian spices and cinnamon kick the nutrition and taste up a notch making this soup perfect for reducing inflammation and regulating blood sugar.
Blended soups are an easy way to add more vegetables in to your daily diet. Plus they are easy to digest and perfect if you want to give your body a break or a detox.
Curried Carrot and Parsnip Soup
Serves 4 - 6
Ingredients:
1 Tbsp coconut oil
1 cup chopped onion (red or white)
6 carrots, chopped into 1-inch pieces
2-4 parsnips, peeled and chopped into 1-inch pieces
4 cups water or vegetable broth
1 garlic clove, minced
2 tsp minced fresh ginger
2 tsp curry powder
1 tsp cinnamon
½ tsp garam masala, optional (see note)
½ tsp sea salt, or to taste
½ cup coconut milk (full fat or light, from a can)
1 Tbsp chopped pecans or pumpkin seeds
Directions:
Heat a medium pot over medium-high heat. Add the coconut oil and onions. Sauté the onions for 5-7 minutes until soft.
Add the carrots, parsnips, garlic, ginger, curry powder, cinnamon, garam masala and sea salt and sauté for a few more minutes until the spices are fragrant.
Add 4 cups of water and bring it to a boil. Reduce the heat and simmer for 15 minutes or until the carrots and parsnips are tender. Stir in the coconut milk.
Carefully transfer the soup to a blender and blend until smooth or use an immersion blender. Return to the pot and adjust seasonings to taste.
This makes a thick soup. If you prefer a thinner version, add more water or coconut milk. Sprinkle with chopped pecans or pumpkin seeds if desired.
Note: Garam masala is an Indian spice blend that adds some heat. If you don't have it or prefer less spice, leave it out entirely or substitute curry powder for it.
Advertisement
This ad is displayed using third party content and we do not control its accessibility features.
Caroline Stahlschmidt
Caroline Stahlschmidt is a Health Coach and yoga teacher. She is the founder of Elevate Your Wellness. She specializes in functional nutrition and digestive health. She is passionate about helping women reboot their bodies and reclaim their health. Caroline offers private health coaching and group programs. Join her for more recipes like this during Delicious Detox, starting on October 20th.