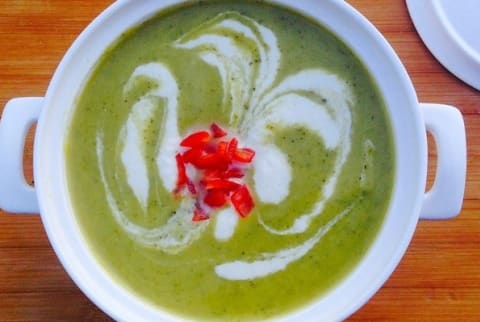 March 11, 2014
I love puréed soups. They're creamy in texture and so satisfying. And they're the only way my (grown) daughter will eat vegetables! Zucchini are plentiful all year long (in many places). They're inexpensive, low in calories because of their high water content (17 per 100 grams) rich in vitamin A, antioxidants and fiber and a good source of potassium.
I garnished this with a swirl of cashew cream and some finely diced tomato for color but you can garnish it with some toasted nuts or shredded cheese or even some avocado. Get creative. And if there's leftover soup, it freezes beautifully.
Advertisement
This ad is displayed using third party content and we do not control its accessibility features.
This soup makes a beautiful presentation, and you can think about making this green goddess for St. Patrick's day.
Ingredients (makes about 2 quarts)
3 lbs. zucchini
1/4 cup cashew cream (see below) + extra for swirl
3 Tbsp. olive oil (or enough to cover bottom of the pot
1 medium onion, diced
1 medium garlic clove, finely chopped
Pinch of red pepper flakes, for a little heat
1 or 2 tsp. vegetable base
Water to cover the top of the zucchini
Grape tomato, finely diced for garnish
Salt and pepper to taste
Directions
Cut the zucchini lengthwise, then in approximately 1/2-inch slices
Place a medium saucepan (4 quarts or larger) over medium heat, add oil to lightly cover the bottom of the pan and heat.
Add onions and cook for about 3 to 4 minutes or until softened.
Add pepper flakes and garlic and cook just until garlic begins to color.
Add zucchini and cover with cold water.
Turn up the heat and bring to a boil. Reduce heat and simmer for about 20 minutes or just until the zucchini can easily be mashed with a fork.
Purée in a food processor or with an immersion blender.
Return to the saucepan, stir in the cream. Season with salt and pepper and add a teaspoon of base for extra flavor.
Plate and garnish with an a bit more cream. Swirl and garnish with chopped tomato.
For the Cashew Cream
Place 1/4 cup of raw cashews in a small bowl and cover with cold water. Let them soak for at least 20 minutes and then purée in a food processor or blender. Add a bit more water if too thick. They should be the consistency of heavy cream.
Advertisement
This ad is displayed using third party content and we do not control its accessibility features.
Silvia Bianco
Live a vibrant, connected, physically and spiritually nourished life.
As a native Italian, connection is in my DNA. As a holistic professional chef, good nutrition and great taste go together.
We've sacrificed cooking for convenience and lost the sacredness of sharing a lovingly prepared meal. I'm on a mission to change that.
For 20 years, I've taught thousands of people (regardless of their dietary choices or restrictions) how to cook whatever they want to learn using simple, fresh, everyday ingredients along with practical, easy techniques.
Now I've gathered the tools and inspiration for you to make cooking simple and meeting at the table a meaningful and memorable experience. Get them by
SUBSCRIBING to chefsilvia.com and LIKE my FB page to get my latest divine, Mediterranean inspired recipes and cooking tips. Subscribe to Miracles & the Chef for some Sacred Sustenance - based on the teaching of ACIM.