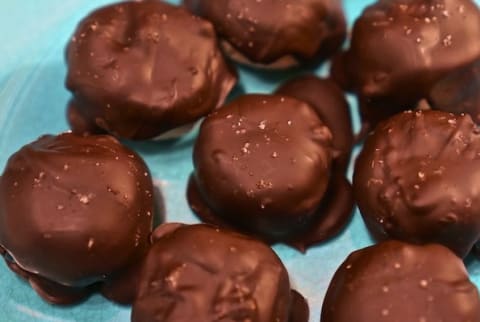 March 20, 2014
Looking for a totally out-of-this-world delicious and guilt-free treat? I've got you covered. These coconut bliss balls are made with 100% pure whole foods ingredients and are dairy-free, sugar-free, and gluten-free.
But instead of focusing on what they don't have, let's talk about what they do — lots of flavor, satisfying sweetness, healthy fats, antioxidants, and anti-inflammatory benefits. So, so good!
1 cup finely shredded coconut
3 Tbsp. coconut oil
3 Tbsp. maple syrup
½ tsp. vanilla extract
1 ½ cup dark chocolate chips
sea salt
Combine coconut, coconut oil, maple syrup, and vanilla extract in a blender or food processor. Blend until well combined into a thick 'crumb,'
Use your hands to mold the coconut crumb into bite-size balls. They should stick together nicely. Place the balls on a piece of wax paper.
Melt chocolate chips and use a spoon to gently drizzle the melted chocolate over each coconut ball. You want enough to fully cover the top and sides of each ball, but not so much that it makes a large pool around the base.
Sprinkle each ball with a bit of sea salt while the chocolate is still moist.
Refrigerate the balls for two hours (to harden) and enjoy!
Here's one of my other favorite sugar-free treats — dark chocolate banana muffins. Yum!
Zoë Keller
Zoë Keller is passionate about food. Her blog, www.onebeet.com, is dedicated to celebrating the goodness of food through wholesome recipes that maximize flavor and nourishment. She sees healthy eating as a gateway into the body and an opportunity to take a proactive approach to overall wellness. Zoë has apprenticed with a medicinal herbalist, studied nutrition and trained with professional chefs. She just returned from ten months traveling through Europe, North Africa, and the Middle East learning about other food cultures, cooking up a storm, and writing about her experiences. You can follow her adventures on Facebook, Twitter, Pinterest, and Instagram.