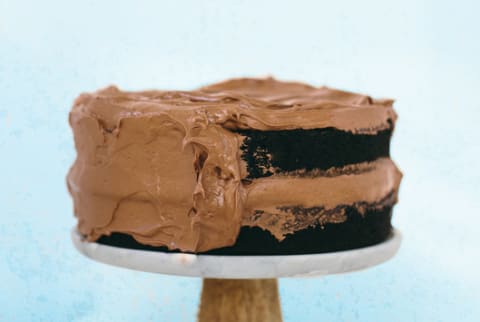 December 2, 2016
It's always been important to me to have a dessert option available for everyone when they stop by my house. These days, more and more of my friends have food allergies or choose not to eat dairy, so I decided to come up with some treats for them. This cake is inspired by The Ultimate Chocolate Cake (another favorite recipe) as well as one particularly popular vegan chocolate cake recipe that everyone seems to use from the Moosewood Collective cookbook. It's full of chocolate flavor and is wonderfully moist; your nonvegan guests won't even know it's dairy-free.
Vegan Chocolate Cake
1 cup unsweetened soy milk, coconut milk, or almond milk
1 cup coffee, room temperature (water will work, too)
½ cup canola oil
2 teaspoons pure vanilla extract
2 tablespoons apple cider vinegar
2 cups (284g) all-purpose flour
2 cups (396g) sugar
¾ cup (75g) Dutch process cocoa powder
1 teaspoon baking soda
½ teaspoon baking powder
1 teaspoon salt
1. Adjust an oven rack to the middle position. Preheat the oven to 350°F. Butter and flour two 8-by-2-inch round cake pans and line the bottom with parchment paper.
2. In a medium bowl or liquid measuring cup, whisk the soy milk, coffee, canola oil, vanilla, and apple cider vinegar.
3. In the bowl of a stand mixer fitted with a paddle, mix the flour, sugar, cocoa powder, baking soda, baking powder, and salt on low until combined. (If the cocoa powder is lumpy, you can sift it into the other ingredients.) With the mixer running on low, slowly add the soy milk mixture, mixing until combined. Using a spatula, give the batter a couple of turns to make sure it is fully mixed. Pour the batter evenly into the prepared pans. Bake 25 to 35 minutes, until a wooden skewer or toothpick inserted into the cake comes out with the tiniest bit of crumb.
4. Transfer the pans to a wire rack and let cool 30 minutes. Turn the cakes out onto the rack, remove the parchment paper and let cool completely. Once cool, the cakes can be wrapped in plastic and refrigerated overnight or frosted immediately.
Dairy-Free Chocolate Frosting
Vegan chocolate in bar form can be rather expensive and often hard to track down. I found some semisweet chocolate chip brands didn't contain dairy and worked well in this recipe.
This frosting will make just enough to cover the cake, so there isn't a lot left for piping or decoration. It is very rich and the perfect amount. If you would like to decorate the cake, you can double the recipe.
8 ounces (226g) vegan semisweet chocolate, chopped
¾ cup (138g) vegetable shortening
2 teaspoons pure vanilla extract
3 tablespoons corn syrup
¼ teaspoon salt
2 cups (227g) confectioners' sugar
1. Put about 1 inch of water in a medium saucepan and bring it to a gentle boil.
2. Melt the chocolate in a heatproof bowl set over the pan of water, being careful not to let the water touch the bottom of the bowl. Stir constantly until just melted, and set aside to cool slightly.
3. In the bowl of a stand mixer fitted with a paddle, beat the shortening on medium for 1 minute, getting out any lumps. Add the vanilla, corn syrup, and salt and beat on medium until combined. Turn the mixer to low and gradually add the confectioners' sugar. Then beat on medium, until smooth and creamy, stopping to scrape down the bowl as necessary, 2 to 3 minutes. Add the chocolate and mix on low until blended. Use immediately.
Reprinted from The Vanilla Bean Baking Book by arrangement with Avery Books, a member of Penguin Group (USA) LLC, a Penguin Random House Company. Copyright © 2016, Sarah Kieffer.

Sarah Kieffer
Sarah Kieffer is the voice behind the Saveur award–winning Vanilla Bean Blog. She is a self-taught baker who worked in professional bakeries and coffee shops and made the decision to become a home baker after her two children were born. When she's not baking, she enjoys reading and re-reading favorite books, spending time with her family, and drinking too much coffee.