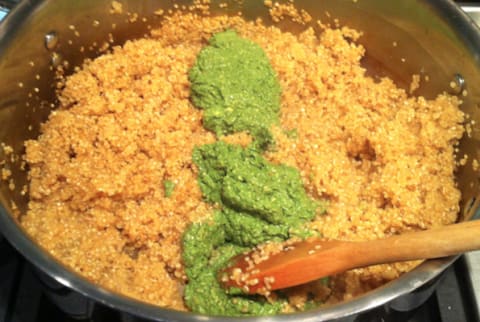 February 12, 2014
Sometimes, I forget that vegan food can be cheesy, hearty and delicious.
But then I remember this recipe and all is right in the world.
This pine nut pesto quinoa dish will have you wondering what the heck you've been doing with your life until now. Topped with nutritional yeast, it satisfies your cheesy, savory craving while filling you up with protein and homemade pesto goodness.
It's a great go-to for a dinner party full of vegans, vegetarians, and meat-eaters alike. No one says no to pine nut pesto. But be careful, because making this dish may result in an increased dinner party invitations and overall popularity!
Yield is 1 cup of pesto, half of which can be used for quinoa dish for 4, or double the quinoa quantity for a larger party and use all the pesto
2/3 cup of pine nuts
2 ½ cups fresh basil (this was a little over one large bushel for me, which once I broke apart was able to fit into 2 ½ cups
3 cloves minced garlic
1 cup white quinoa
2 1/3 cups vegetable broth
3 Tbsp. water
2 Tbsp. olive oil
2 Tbsp. nutritional yeast
1 tsp. salt
For quinoa (for 4 servings)
1 cup white quinoa
2 1/3 cups vegetable broth
Boil 2 1/3 cups vegetable broth, then add 1-cup quinoa, cook for about 15 min. Watch and stir as needed, quinoa should be fluffy at the end, so more liquid can be added if need be.
Tear fresh basil off stems, gather 2 ½ cups to place in your food processor or high speed blender. Add minced garlic and 3 Tbsp. of water, then blend/process/adjective of choice for 10 second intervals.
Once it is a bit smooth, add in 1/3 cup of pine nuts. Blend together.
Add 2 Tbsp. of olive oil (or more if you'd like, though this can get much of its flavor from the pine nuts and basil)
Add ½ cup of this pesto mix to the quinoa
After mixing in pesto, add 2 Tbsp. of nutritional yeast and 1 tsp. of salt, or more of both to taste. Then mix in the 1/3 cup of remaining pine nuts.
Serve, and bask in how awesome eating vegan can be.
Kristen Brotemarkle
Kristen is a San Francisco based yoga teacher, writer, and healthy recipe creator, working to change the world. She believes this change starts within and that we all have both the right and obligation to live happy, healthy lives of purpose. She hopes to make this lifestyle accessible to all, using yoga and healthy eating as vehicles for self-realization and self-love. Through her writing and teaching, she aims to inspire others to move beyond fear, and towards authentic lives of love and possibility. In short, living life as our best selves.
For your daily dose of food and inspiration, you can visit Kristen on her mat at KristensMats.com, or on Facebook, Twitter, and Instagram @KristensMat