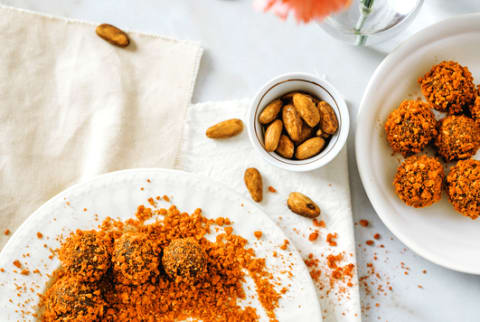 February 14, 2017
Self-love starts with the right food in my book. As someone who has joined the movement to take better care of myself this year and with Valentine's Day on the horizon, I've been seeking inspiration for a treat that would satisfy all my dietary needs as a chocoholic, plant-based foodie, and the queen of spices!
High in protein from cashew butter and almond flour, sweetened with B6 and iron-rich blackstrap molasses, covered in heart-healthy and antioxidant-rich dark chocolat and infused with a superbly balanced spice blend traditionally used to make golden milk or a turmeric latte, these Golden Milk Chocolate Truffles will definitely do the trick.
Turmeric is always a key ingredient in making Golden Milk and revered for its anti-inflammatory, antioxidant, and liver cleansing properties and definitely a spice we should all be consuming more of. However, turmeric does need to be used in a specific way for it to be properly ingested and its wonder properties to have any effect: with black pepper and a good fat such as coconut oil.
And of course it wouldn't be Valentine's without some aphrodisiacs in the mix like cardamom, ginger, and saffron, all of which are featured in the spice blend I use.
The chocolates are best stored in the fridge in an airtight container and best eaten within a few days, which shouldn't be a problem at all.
Golden Milk Chocolate Truffles
(Using organic ingredients whenever possible is always recommended.)
¼ cup cashew butter
¼ cup almond flour
2 teaspoons blackstrap molasses (or you can substitute maple syrup or honey)
1 teaspoon maple syrup (optional but makes the truffles sweeter)
2 teaspoons coconut oil, melted
¾ teaspoon Golden Milk Spice Blend (I use Spice Sanctuary)*
½ teaspoon cardamom ground
40 grams good-quality organic dark chocolate, melted
* Alternatively, you can substitute with ½ teaspoon good-quality turmeric powder, ¼ teaspoon ginger powder, and a pinch of black pepper.
1. To make the truffle filling, mix cashew butter, almond flour, and molasses in a bowl using a fork or electric whisk.
2. In another bowl, combine the coconut oil and spices and mix well before adding into the cashew butter mixture and folding it in thoroughly.
3. Take a small spoonful into your hand and roll the mixture into a round ball, approximately half an inch in diameter, and place on baking parchment on a tray. Repeat until all the mixture has been rolled. Chill in the fridge for 30 minutes.
4. Melt the chocolate in a bowl. Using a spoon, dip the truffles into the melted chocolate before returning to the tray again. Repeat until all the truffles have been covered in chocolate. Refrigerate for another 30 minutes and serve.
Happy Valentine's Day and Heart Health Month!

Trusha Patel
Trusha Patel, known as Canada's Spice Queen™, is a former investment banking lawyer turned organic spice purveyor.
As founder of the Spice Sanctuary, an award winning premium organic spice company, Trusha has quickly become one of Canada's foremost spice experts and a respected resource in the culinary and healthy living markets, offering advice and recipes on how to integrate good flavour into your foods using the best quality spices, herbs and blends.
Trusha is a regularly featured expert on Canadian TV from morning shows to chat shows such as The Social. She shares her ongoing passion and deep-rooted knowledge through her blog 'Living a Life of Spices' and as a guest writer for blogs and magazines.
www.spicesanctuary.com