This Pumpkin Spice Whipped Coffee Rivals A Coffee Shop's Version (And It's Good For Skin)*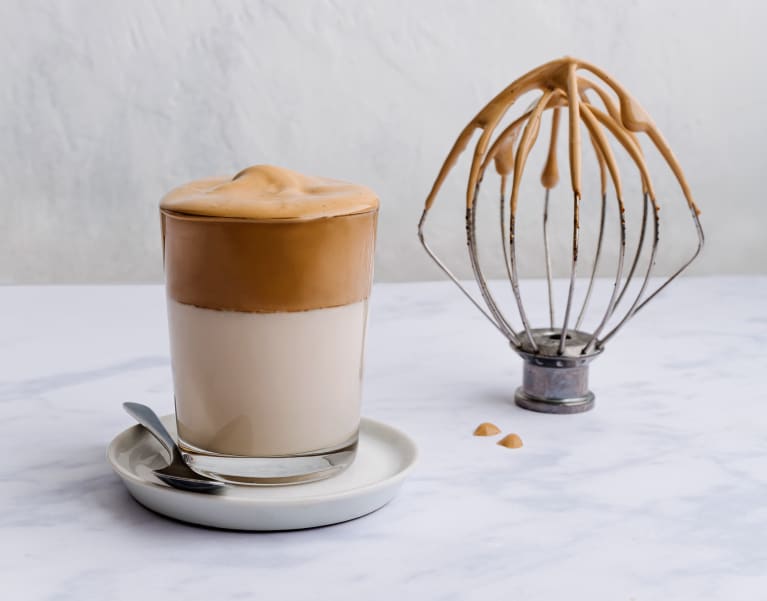 This article was produced to support the mindbodygreen supplements+ line. Our supplements adhere to the highest standards of ingredients and quality. We hope you enjoy these products, for more information
click here
.
Last updated on July 2, 2021
Here's the ultimate internet-friendly coffee drink: a pumpkin spice-spiked frothy whipped coffee. Yes, you read that right. It's basically a concoction that combines all the must-try coffee trends all in one. What I love about it is that it still has that cool, refreshing feel of a iced drink, but the flavor brings on all the cozy vibes. And, sure, any coffee can supply you with a jolt of energy, but not many can also give you the skin-supporting benefits this coffee blend can.*
First, the recipe includes collagen powder, which has been shown to naturally promote collagen and elastin production, as well as maintain healthy skin moisture levels and elasticity.* mbg's beauty & gut collagen+ formula also contains hyaluronic acid to enhance even more hydration, as well as antioxidants like vitamin C and vitamin E to protect from free radicals—vitamin C is also a precursor to collagen in the body, so you're getting the extra help you need to enhance production in your skin.* It doesn't stop there. The blend also delivers turmeric, SGS, biotin, and L-glutamine. Pumpkin also naturally contains vitamins A, C, and E to punch up the nutrients even further. (Just make sure you're using straight pumpkin puree and not pumpkin pie filling—the latter tends to dial up the sugar.) All in all, it's one skin-healthy sip.*
Pumpkin Spiced Collagen Whipped Coffee
2 Tbsp. instant coffee
2 Tbsp. boiling water
2 Tbsp. coconut sugar
1 scoop mbg's beauty & gut collagen+
1 Tbsp. pumpkin puree
1 tsp. pumpkin pie spice
1 cup unsweetened almond milk or other milk of choice
ice
Bring about a cup of water to a boil. In the meantime, add instant coffee to a standing mixer with the whisk on (a hand blender works, too, if you don't have a mixer). Once the water is boiling, add 2 tablespoons of boiling water directly on top of the coffee grounds.
Next, add the coconut sugar, pumpkin puree, and collagen.
Whisk on high for 3 to 5 minutes until the mixture resembles whipped cream.
Prepare a glass of almond milk over ice, and spoon the whipped coffee on top. Sprinkle pumpkin pie spice on top.
Mix to combine, and enjoy!