Close Banner
Advertisement
This ad is displayed using third party content and we do not control its accessibility features.
Tips For Creating A Healthy Grocery List To Make Shopping Simple

mbg Nutrition & Health Writer
By Abby Moore
mbg Nutrition & Health Writer
Abby Moore is an editorial operations manager at mindbodygreen. She earned a B.A. in Journalism from The University of Texas at Austin and has previously written for Tribeza magazine.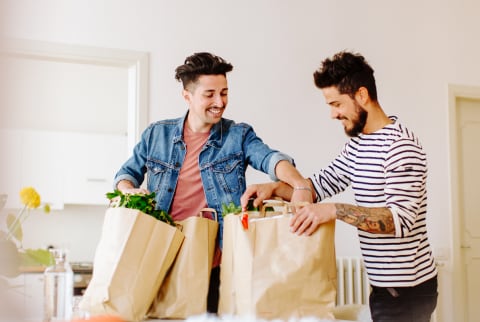 Image by Sofie Delauw / Stocksy
We carefully vet all products and services featured on mindbodygreen using our
commerce guidelines.
Our selections are never influenced by the commissions earned from our links.
The endless aisles and product options at grocery stores can be overwhelming—especially if you're shopping while hungry. Preparing a grocery list ahead of time can help you make healthy, informed decisions, and cut down your time spent in the store or ordering online.
Following these tips from registered dietitians will help you stock your kitchen smartly and may even relieve some supermarket-induced stress.
Produce
When you head to the produce aisle, registered dietitian Maggie Moon, M.S., R.D., recommends picking up at least one green vegetable. "Lacinato kale is long-lasting and packed with bioactives that support the body's cellular and digestive health," she says. Spinach, broccoli, Brussels sprouts, and bok choy are other healthy greens.
Follow your green with red or orange veggies like bell peppers or carrots. Then Moon recommends thinking about what's in season and what will last the longest.
"When picking out items, look for produce that does not have any visible spoilage," registered dietitian Maya Feller, M.S., R.D., CDN, tells mindbodygreen. Also keep in mind, some produce has a longer shelf life than others. For example, bananas, apples, or oranges will last you longer than berries or peaches, author of Eat Your Vitamins and registered nutritionist Mascha Davis, MPH, RDN, explains. Carrots, potatoes, and cauliflower tend to be less perishable as well.
Fruit to purchase:
Apples
Bananas
Berries (strawberries, blackberries, blueberries, raspberries)
Citrus fruits (lemons, limes, grapefruit, oranges, etc.)
Stone fruits (apricots, peaches, plums, nectarine, etc.)
Pears
Cherries
Melons (cantaloupe, honeydew, watermelon)
Grapes
Guava
Papaya
Kiwi
Mango
Pineapple
Pomegranate
Tomatoes
Avocado
Vegetables to purchase:
Artichoke
Asparagus
Brussels sprouts
Cauliflower
Dark leafy greens (kale, spinach, bok choy, broccoli, etc.)
Carrots
Mushrooms
Onions
Cucumber
Celery
Cabbage
Corn
Jicama
Bell peppers
Potatoes and sweet potatoes
Squash (butternut squash, acorn squash, spaghetti squash, etc.)
Zucchini
Garlic
Legumes and grains
When shopping for legumes, don't be afraid of canned varieties. "Just choose beans and legumes that are plain and don't have added salt and sugar," Davis says. If you do purchase canned beans, just drain and rinse before eating—this can help rinse excess sodium that leads to bean-induced bloat.
Once you make it to the grain aisle, keep two things in mind. One, always opt for whole grains when possible. Two, experiment with the wide variety of whole grains.
"Try wild rice if you normally get plain, white rice," Davis suggests. "Experience buckwheat or quinoa. Most grains are very easy to cook and have huge health benefits like fiber, plus key vitamins and minerals."
Legumes to purchase:
White beans (chickpeas, navy beans, great northern beans, cannellini beans)
Kidney beans
Black beans
Peanuts
Peas
Grains to purchase:
Protein
For animal-based proteins, research specialist in oncology nutrition L.J. Amaral M.S., R.D., CSO, recommends sticking with what you need. If you're trying to limit trips to the store, though, you may want to purchase extra meat and store it in the freezer.
When purchasing meat, look for grass-fed and organic options, when possible. If you're vegetarian, eggs and some dairy products can provide good sources of protein. For anyone following a plant-based diet, Amaral recommends tofu or tempeh, beans, lentils, nuts, or nut butters. "You could also get protein from seeds like chia, flax, hemp seeds, and pepita seeds," she says.
Protein to purchase:
Organic free-range eggs
Grass-fed, organic ground beef
Grass-fed, organic ground turkey
Organic chicken breast
Seafood
Legumes
Nuts (walnuts, almonds, pistachios, pine nuts, hazelnuts, cashews, etc.)
Seeds (sesame seeds, sunflower seeds, pumpkin seeds, chia seeds, etc.)
Tofu or tempeh
Cottage cheese
Sharp cheeses
Yogurt or kefir
Pantry staples
"When people are shopping for pantry staples, they should be looking for items that are long-lasting," Moon says. "That's what makes them staples—they're foods that are readily on hand, ready to be transformed into something healthy and delicious."
This can include dried grains and legumes, as well as canned foods. "Canned tomatoes are also a great source of nutrients such as the antioxidant lycopene," Davis says. "Be careful when it comes to canned fruits because they can be very high in sugar."
Meals and snacks should contain a balance of healthy proteins, carbs, and fats. When shopping for pantry staples, Moon suggests keeping those macronutrients in mind. Just because the product can last on a shelf does not mean it has to be thoroughly processed or loaded with preservatives.
Pantry staples to purchase:
Dried or canned beans
Dried lentils
Canned vegetables (roasted red peppers, artichokes, etc.)
Whole grains
Broth (bone broth, vegetable broth, chicken broth)
Oats
Nut butters
Nuts
Dried fruit
Apple cider vinegar
Olive oil
Spices
Freezer staples
Similar to pantry items, when purchasing frozen foods, look for minimally processed items. Frozen produce can be just as good as fresh, and sometimes even better.
"This is because fruits and vegetables are frozen at the peak of their freshness," Moon explains, "meaning all those vitamins and antioxidants get locked in for full benefit and flavor."
Frozen fruit can be used in smoothies, as a topping for overnight oats, or baked into muffins. "Frozen vegetables can be replaced for any fresh vegetable in a recipe," Davis says. "They are just as high in nutrients and very convenient."
Not only are they nutritious, but frozen items are often less expensive than fresh produce and won't spoil, saving you trips to the grocery store.
Frozen food to buy:
Frozen wild berries
Frozen vegetables (cauliflower, spinach, broccoli, etc.)
Grass-fed meat, wild-caught seafood, organic poultry
Grain-free bread or tortillas
For more frozen foods inspiration, see what the founder of Whole30 Melissa Urban, celebrity nutritionist Kelly LeVeque, and recipe developer Rachel Mansfield keep in their freezers.
Bottom line. 
"The best way to make sure you get everything you need during one grocery store run is to plan well," Davis says. "There are many ways to maximize nutrients without having to buy a ton of fresh produce."
If you are purchasing produce, though, don't panic about it perishing too quickly. Buy only how much you need, and learn how to store your food to keep it fresher for longer.
If you have food allergies, always check food labels to make sure what you're purchasing is gluten-free, dairy-free, or nut-free, depending on your need.

Abby Moore
mbg Nutrition & Health Writer
Abby Moore is an editorial operations manager at mindbodygreen. She earned a B.A. in Journalism from The University of Texas at Austin and has previously written for Tribeza magazine. She has covered topics ranging from regenerative agriculture to celebrity entrepreneurship. Moore worked on the copywriting and marketing team at Siete Family Foods before moving to New York.