mbg Sustainability + Health Director
By Emma Loewe
mbg Sustainability + Health Director
Emma Loewe is the Senior Sustainability Editor at mindbodygreen and the author of "Return to Nature: The New Science of How Natural Landscapes Restore Us."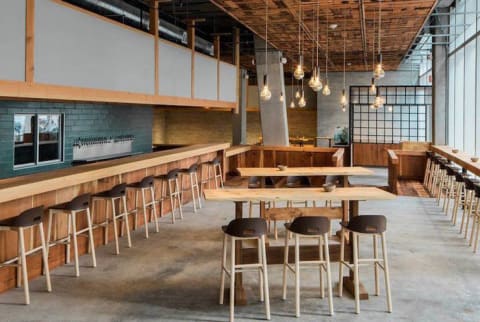 January 26, 2016
Anthony Myint and Karen Leibowitz — the couple behind popular Bay Area eateries Mission Chinese Food and Lt. Waffle — have made giving back their business since they first got started in the food industry in 2008. Over their tenure as restaurateurs, they've raised more than a million dollars for local food banks.
"After our daughter was born in 2012, we started to think about how we could improve our operations to make the businesses better for the environment," Leibowitz wrote in an email to mbg. "It didn't feel sufficient to use compostable containers and so forth — we wanted to see how far we could go."
Pretty darn far, it turns out. Along with head chef Chris Kiyuna, they've spent the last two years creating a space that showcases environmental innovation on and off its plates.
Opened on January 20, The Perennial's kitchen uses leftover scraps from its veggie-heavy dishes as compost for an off-site aquaponics greenhouse. There, the compost is fed to fish that fertilize the tank's water and various plants, which are eventually sent back to the restaurant to be served up. This close-looped, zero-waste system harnesses natural processes to make food waste edible again.
Chef Kiyuna complements these recycled veggies with small servings of grass-fed, ethically-raised cattle and lamb sourced from a nearby family ranch.
The sustainably-sourced produce and meat appears alongside bread made from Kernza — a new grain variety bred by The Land Institute. A perennial plant, Kernza harnesses soil nutrients year-round and uses them to extract excess carbon dioxide out of the atmosphere. The Perennial is the first restaurant to turn the eco-friendly grain into bread.
The creativity of the restaurant's sustainable fare is rivaled only by the space in which it's served. The Perennial's interior, designed by Zen Buddhist priest and architect Paul Discoe, is fashioned out of reclaimed California redwood and recycled tile and glass.
The open, industrial dining room is covered in rugs made from recycled fishing nets, and a "living pantry" of veggies, herbs and microgreens adorns the walls. Even the craft cocktail bar comes with its own green accolades: It's stocked with spirits from distilleries that incorporate production waste into its bottle labels.
The creativity of the restaurant's sustainable fare is rivaled only by the space in which it's served.
Though Myint and Leibowitz opened doors less than a week ago, the couple says they've already received high praise for their simple dinner menu that offers seasonal treats like cauliflower toast and pumpkin seed bisque.
"The response has been overwhelmingly positive," Leibowitz explained. "People seem very enthusiastic about our concept of making sustainable cuisine that is as delicious, fun, and satisfying as what you would find at any other fine dining restaurant."
The progressive California eatery speaks to an encouraging culinary trend. The public is becoming more attuned to how their food choices impact the planet, and the restaurant industry is responding with low-impact fare that people can feel good about eating.
"We want to spread the message that food has the potential to mitigate climate change," Leibowitz said. "We're very optimistic."
As are we. Here's hoping The Perennial's heightened farm-to-table mentality becomes the norm instead of the exception.