These Gingerbread Cupcakes Are The Perfect Combo Of Low-Carb + High-Fat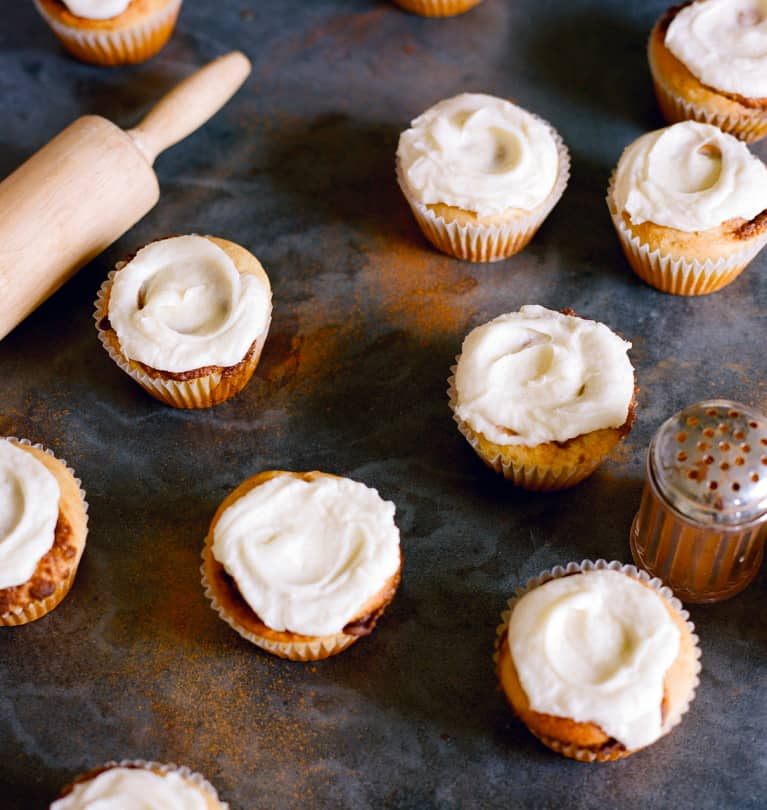 My journey with the ketogenic diet started when I realized that I didn't function very well on sugars and starches. At one point I was eating a lot of grains—like quinoa and simple sugars from fruits—and my stomach was always a mess. I couldn't figure out why, because in my mind I was eating such clean, whole foods.
One day I stumbled across some information on Bulletproof coffee when it was just peeking into the health food industry. I liked what I read, so I ordered all the ingredients and began to educate myself on the idea that "fat" could be a very positive source of fuel. This went against everything I thought I knew—as I had been an athlete all my life—and thought the only calories that would give me energy came from carbohydrates. But I was desperate to feel better and was convinced that my gut issues stemmed from antibiotics I had used in the past, too high of a sugar/starch diet, and the stress I felt about not being able to fix my health issues.
So I went all in. I was drinking the bulletproof coffee, eating higher fat meals with moderate protein and cruciferous veggies, and intermittent fasting from my last meal at night to about 12 to 1 p.m. the next day. I went through a small detox period, which I assumed was a withdrawal effect from cutting out all sugars, but after week one I could feel my energy levels picking up and my awareness and focus sharpened. I dropped a couple of pounds right away, and my overall body inflammation subsided.
How the ketogenic diet transformed my gut health.
By the end of the first month I was feeling really good, and my stomach wasn't having as many problems. I was still having a bit of die-off, but I credited that to the supplements I was taking to kill the fungus and bad bacteria that had been building up in my body, fed by the copious amount of carbs and sugars that they thrive on.
I was starving my body of glucose and slowly switching my brain over to understand a different type of fuel: ketones. It took some time, but with high-powered energy sources like MCT oil and discovering that my body loves grass-fed butter, olive oil, and fatty omega-rich fish and beef, I was healing, my brain fog was clearing, my body was leaning out and getting stronger. And most importantly I was digesting and absorbing nutrients more efficiently.
By staying away from carbs for a long period of time, I ended up resetting my system and became more insulin sensitive, so when I did have carbs, my body wouldn't store them but instead used them for energy. I was at the top of my game, intermittent fasting and in intermittent ketosis, where I would dip into a keto state for most the week but then have a couple carb-load meals to replenish glycogen levels and teach my body to use both glucose and ketones for energy as best as I could. I believe it's really all about balance and being able to adapt to both carbs and fats for fuel.
Why I started to experiment with ketogenic desserts.
Eventually, though, I really started to miss my sweets and felt like it was about that time to hack the dessert. I found a company that uses monk fruit as its main sweetener and I fell in love. I started making ketogenic dessert-tasting shakes and Vitamix-blended ice creams. I moved on to making all different types of keto chocolate spiked with Chinese herbs and superfoods, and then eventually started to use the oven, popping out the most delicious baked goods from chocolate chip cookies, snickerdoodles, pumpkin spice Bundt cakes, to all different flavored cupcakes with protein-packed frostings.
The more I eat keto, the less I actually crave sweets altogether, but when I do have them, I just make my own. And my desserts are so low on the glycemic index that I don't encounter any insulin spike at all. I am not in ketosis all the time—nor do I test my urine with keto strips—but I have adapted to having more good fat in my diet, and it will forever be a main staple in my lifestyle. Healthy fat is your friend, and having a balance of omegas, monounsaturated, and saturated fat is beneficial for your hormones, skin, body composition, joints, bones, nervous system, gut, mood, sex drive—you name it! Just remember to stay away from trans fats.
Gingerbread Cupcakes With Probiotic Cinnamon Frosting
Makes 8 cupcakes
Cupcake Ingredients
½ cup minus 2 tablespoons coconut flour
2 tablespoons Otto's cassava flour
½ cup powdered lakanto (blend lakanto on high in blender until powdered)
¼ teaspoons baking soda
¼ teaspoons pink salt
4 pastured eggs
2 tablespoons full-fat organic coconut milk
⅓ cup melted grass-fed ghee (or combination of ghee and brain octane)
2 tablespoons cold-pressed or juiced ginger
1 tablespoon blackstrap molasses
2 teaspoons cinnamon
2 tablespoons BodyLogix whey protein or a grass-fed whey
2 tablespoons Bulletproof collagen protein
2 tablespoons powdered lakanto
pinch pink salt
2 tablespoons grass-fed ghee (preferably ancient organics for taste)
2 tablespoons Original BioK (or dairy-free version: 2 tablespoons full-fat coconut milk/cream)
4 drops vanilla lakanto liquid
4 pats of cinnamon
Preheat oven to 350°F.
Combine all wet ingredients in one bowl, except for eggs, and all dry ingredients in another.
Mix them both separately. Then add dry to wet mix and hand stir until mixed.
Last, add one egg at a time and whip into batter.
Let batter sit for a second then add a large scoop to each cupcake liner until about ¾ way up.
Bake for 16 to 18 minutes. Check by sticking fork in them to make sure they aren't still too gooey.
Take them out and let them cool off.
For the frosting, combine all dry ingredients in a round-bottom coffee cup and mix.
Then add ghee and BioK and mix again until thick and fluffy. Scoop into plastic bag or piping instrument.
Once cupcakes have cooled down, top them with a two-second count of frosting.
And do you want to turn your passion for wellbeing into a fulfilling career? Become a Certified Health Coach! Learn more here.