The 6 Best Vegan Mac & Cheese Options You Can Get In Grocery Stores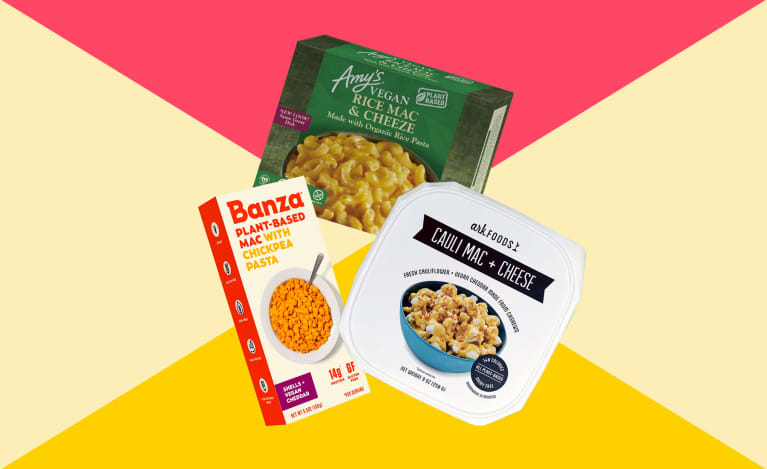 Mac and cheese is the ultimate comfort food. It's warm, creamy, and satisfies those carb cravings like no other. But if you're vegan or lactose intolerant, the reality of losing out on your usual mac and cheese may have felt like a serious loss.
But as plant-based alternatives go mainstream, more and more vegan macs are popping up. Trader Joe's, for example, just released their very first ready-made vegan mac and cheese, and folks are loving it. It's not available online, but you can grab it in stores.
And as far as our other faves, let us be the first to reassure you—they're seriously delish. So if you're sorely missing your mac, you're in luck. Here are our top six.
Annie's Homegrown Vegan Mac
We're big on Annie's for all their vegan picks, and this cheddar-flavor mac is no exception. It's organic, with no extra nonsense like artificial flavors or colors. And for the gluten-free folks, they've even got a gluten-free version made with rice pasta that uses the same tasty "cheddar" flavor.
Organic Vegan Mac, Annie's Homegrown ($2.79)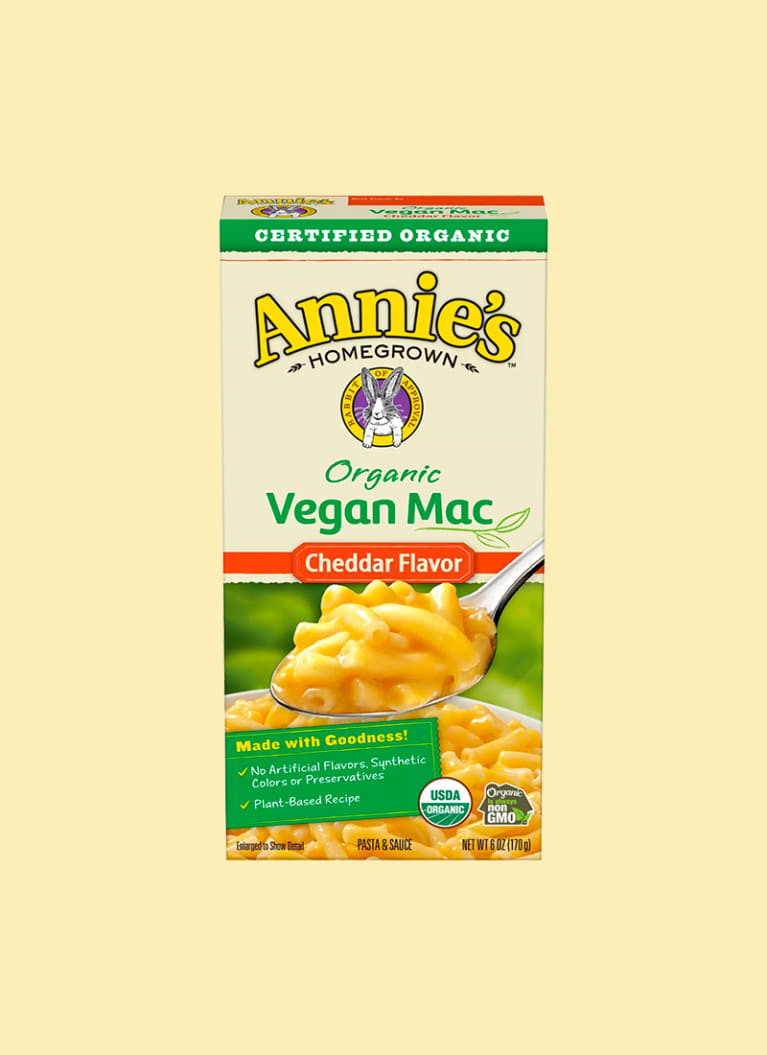 mbg Creative
Banza Plant-Based Mac With Chickpea Pasta
When Banza hit the market, we were absolutely stoked to see gluten-free pasta that also packed a protein punch, thanks to the use of chickpeas. So when Banza released their own version of vegan mac and cheese made with their legendary noodles, we were super eager to try. And it did not disappoint! The cheddar flavor is ultra-convincing, and the texture is equally satisfying.
Plant-Based Mac With Chickpea Pasta, Banza ($3.49)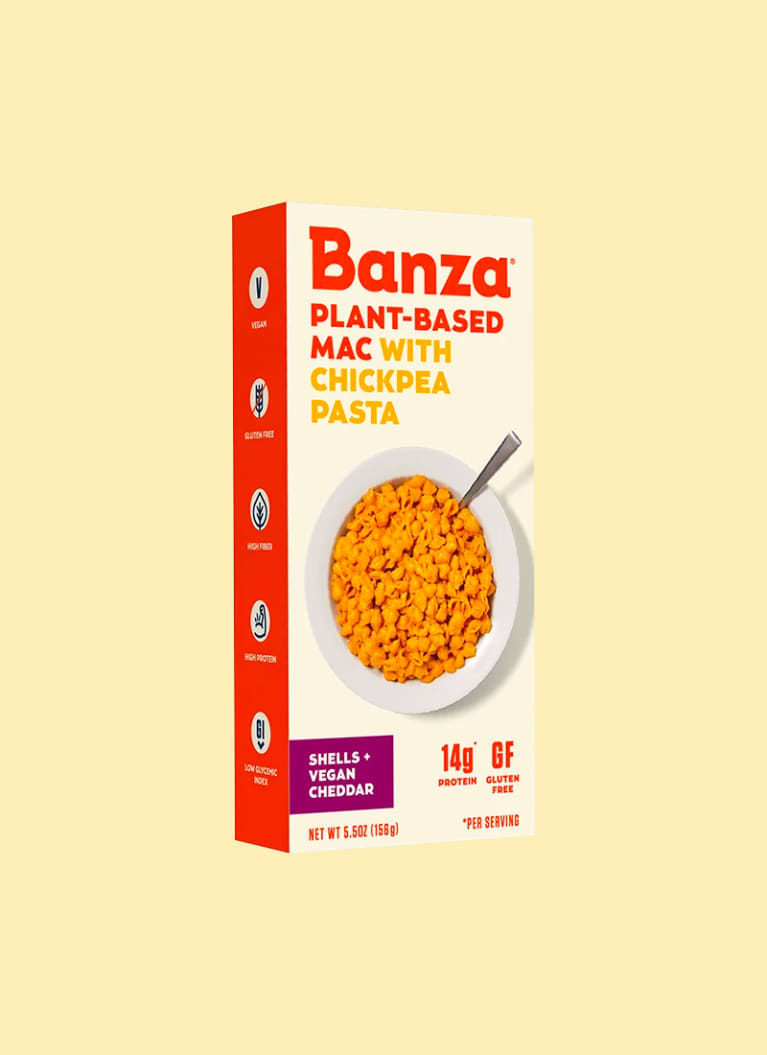 Amy's Vegan Rice Mac & Cheeze
For another gluten-free and plant-based option, enter Amy's Vegan Rice Mac & Cheeze. We're into this variety because you can cook it in the microwave, or the oven, for a little baked-pasta action. The recipe is also free of soy, making this a safe bet for lots of dietary restrictions—but you'd never think twice based on its taste.
Vegan Rice Mac & Cheeze, Amy's ($5.49)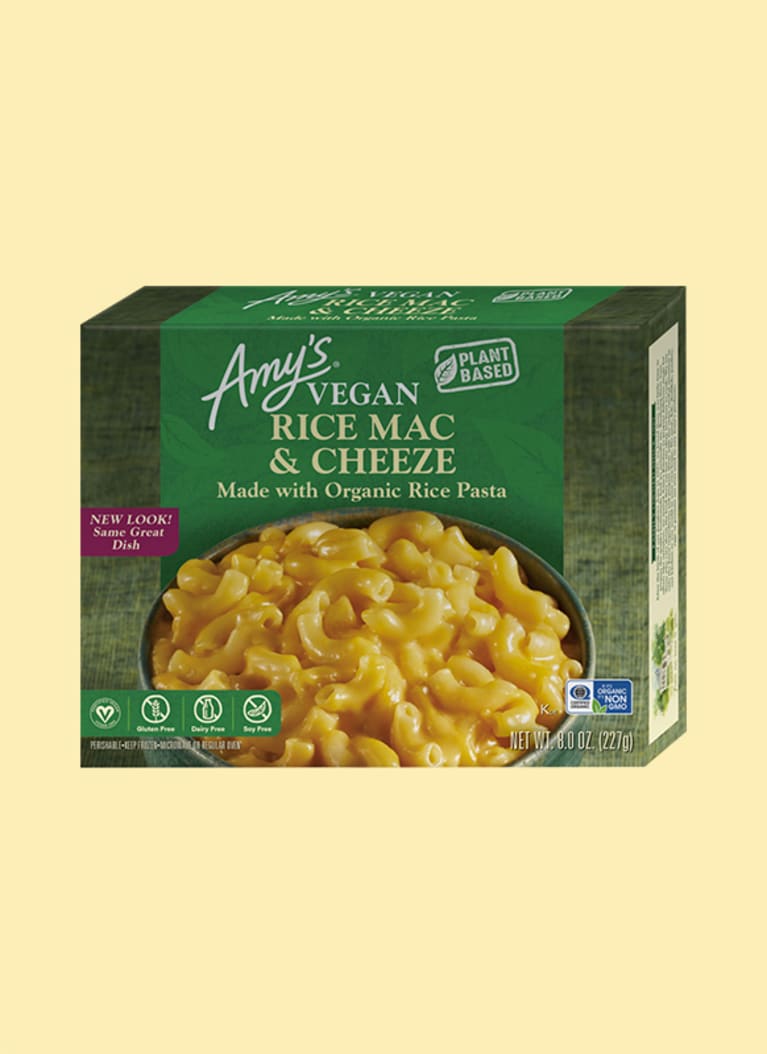 Daiya Deluxe Cheddar Style Cheezy Mac
If you were a Velveeta kinda kid, this is the mac for you. It's über-creamy, reminiscent of your cheesiest childhood faves. And like the others so far, this mac is also gluten-free, made with brown rice pasta. In fact, it's actually free of all the most common allergens, like tree nuts, peanuts, and soy. And if you're feelin' fancy, they've also got Alfredo, White Cheddar, Four Cheese, and Bac'n and Cheddar varieties.
Deluxe Cheddar Style Cheezy Mac, Daiya ($4.99)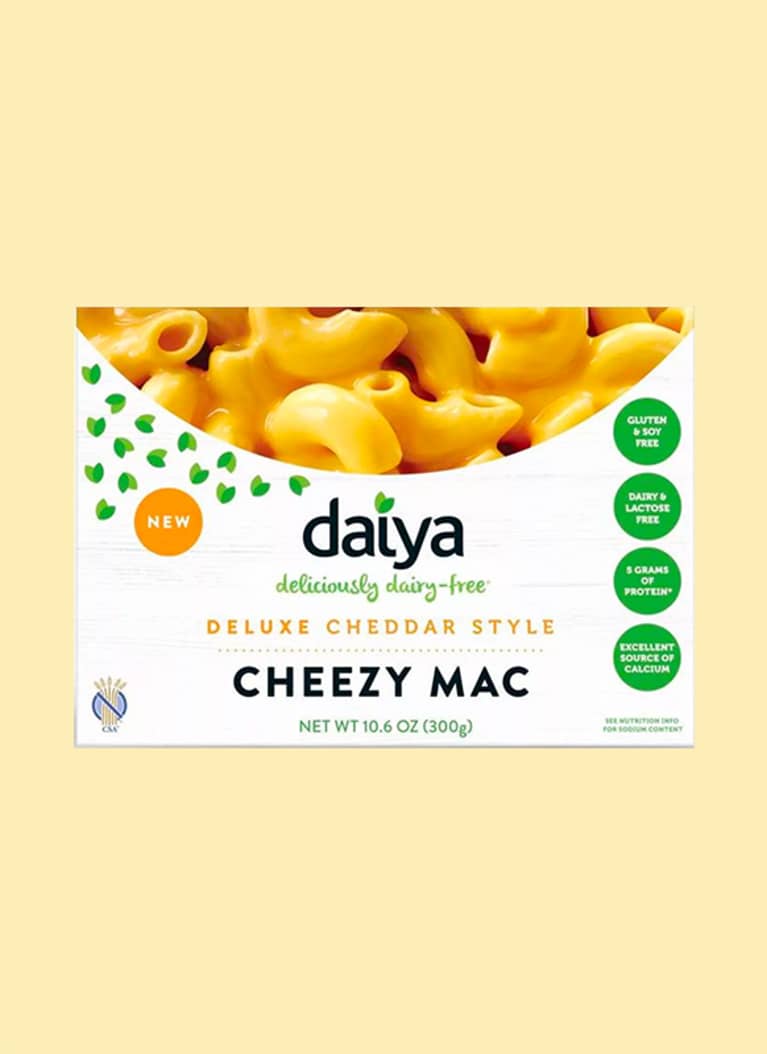 Chao's Creamy Mac 'n Chao
If you're not familiar with Chao's plant-based cheeses, you're going to want to be after this. Their parent company Field Roast serves up vegan staples like sausages and burgers, and Chao's cheeses are some of the most convincing we've had. This variety isn't gluten-free like the others, but if that's no biggie for you, you'll be amazed by the Chao's signature taste.
Creamy Mac 'n Chao, Chao Vegan Creamery ($5.54)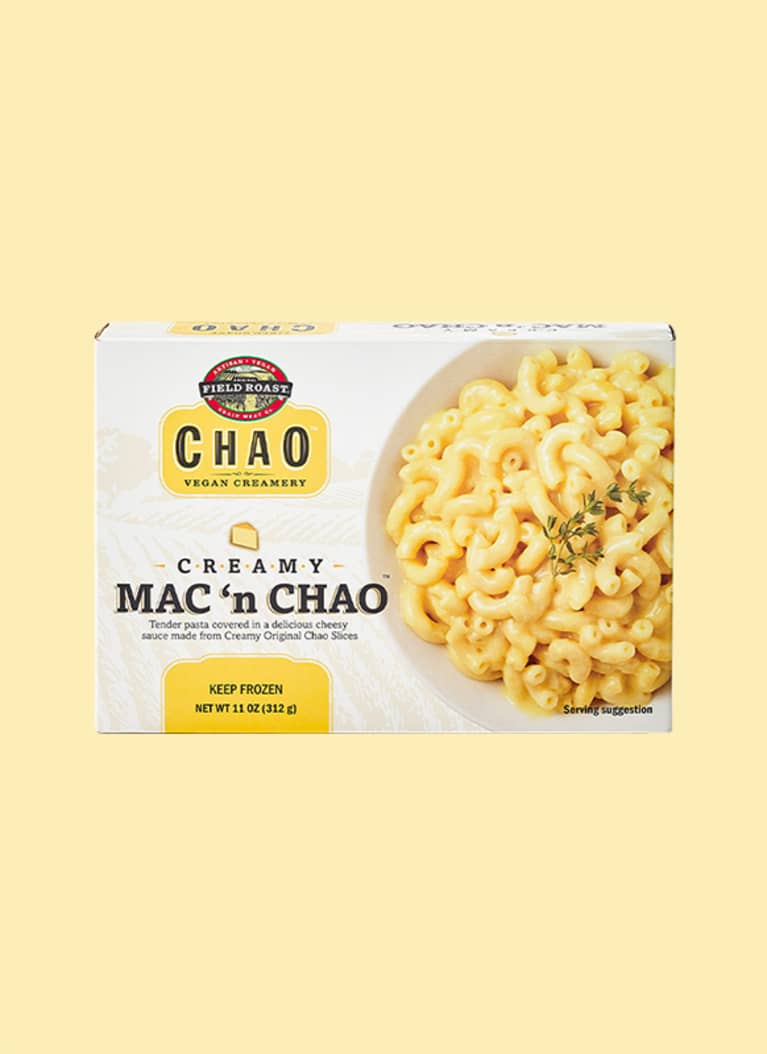 mbg Creative
Ark Foods Cauli Mac + Cheese
And last but not least, for the folks who can't get enough cauliflower, we have Ark Foods' Cauli Mac + Cheese. This low-carb option uses a creamy cashew "cheese" sauce that's pretty dang satisfying despite being only 140 calories per container. And like Daiya, they also have a few other flavors, like alfredo and buffalo-style.
Ark Foods, Cauli Mac + Cheese (only available in stores)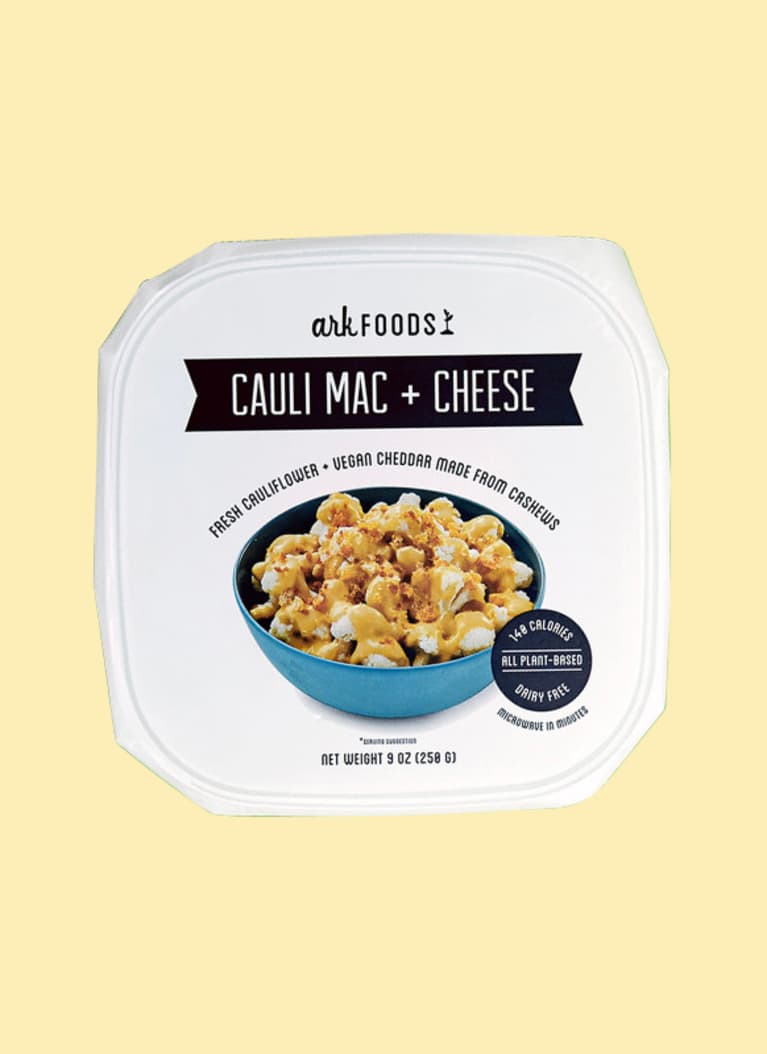 mbg Creative
With these six picks, you'll never have to miss out on mac and cheese again. Because while there are healthier mac and cheese recipes you can make yourself, sometimes your schedule (or taste buds) is looking for something a little simpler. Bon appétit!
Want to turn your passion for wellbeing into a fulfilling career? Become a Certified Health Coach! Learn more here.